You have /5 articles left.
Sign up for a free account or log in.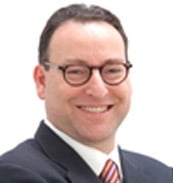 The announcement by the White House last week of the nomination of Kenneth L. Marcus to be the next head of civil rights at the Department of Education will draw attention to his views on issues related to sexual assault while opening up a potential new front for controversy: the issue of Israel.
Marcus, should he be confirmed, will assume the duties of Candice Jackson, who has served as acting assistant secretary for civil rights at the department since April. Marcus was previously the staff director of the U.S. Commission on Civil Rights for four years under the George W. Bush administration from 2004-08 and, prior to that, served as deputy assistant secretary for civil rights at the Department of Education. He is currently president and general counsel of the Louis D. Brandeis Center for Human Rights Under Law, a civil rights organization that, according to Marcus's official biography, he founded in 2011 to "combat the resurgence of anti-Semitism in American higher education."
While how his office will address complaints related to sexual assault will likely be central in his confirmation hearings, Marcus's passion has been combating anti-Semitism on college campuses. He has been at the forefront of many of the recent contentious debates about Israel-related speech and activity in academe. Opponents to his nomination argue that he too readily conflates criticism of Israel with anti-Semitism and say his appointment as OCR head could have a chilling effect on speech and activism critical of Israel on college campuses.
Marcus has written that the boycott, divestment and sanctions movement against Israel, a movement that has found traction in a few scholarly groups and some student government bodies, is anti-Semitic. He is one of the lawyers for a group of current and former members of the American Studies Association who filed a lawsuit against the group over its 2013 vote to endorse the boycott of Israeli academic institutions. In April a federal judge dismissed the plaintiffs' claims that support for the boycott was outside the scope of the ASA's mission but allowed the suit to move forward with claims that ASA violated its own procedures in voting for the boycott.
In 2014, the Brandeis Center joined with pro-Israel groups in calling on Congress to "end or mend" federal funding for Middle East studies centers due to what the center described as anti-Israel bias in their programming. The Middle East Studies Association at the time condemned "such politically motivated attacks on scholars and academic institutions" as "a serious threat to free speech but also to academic freedom and to the essential role of our colleges and universities as arenas of free and open discussion of even the most controversial issues."
Of more direct relevance to Marcus's appointment is how he will seek to enforce Title VI of the Civil Rights Act when it comes to investigating complaints of anti-Semitism. In a 2011 paper published in the Journal for the Study of Antisemitism, Marcus wrote that the Office for Civil Rights "must address anti-Semitic incidents that masquerade as anti-Israelism. On college campuses -- and especially in protests brought by the anti-Israel boycotts, divestment and sanctions movement -- it is now widely understood that attacking 'Jews' by name is impolitic, but that one can smear 'Zionists' with impunity."
In that 2011 paper Marcus argues that OCR should incorporate into its policies what's known as the State Department definition of anti-Semitism, which gives examples of ways that anti-Semitism can manifest as criticism of Israel. Others argue that adoption of the State Department definition -- which singles out speech that demonizes, delegitimizes or applies a double standard to Israel -- is overly broad and would chill critical speech about Israel on college campuses. The lead author of the definition, Kenneth S. Stern, has argued against its usage by the Department of Education, writing in The New York Times that it was developed for the purposes of data collectors monitoring anti-Semitism and was "never supposed to curtail speech on campus."
Marcus wrote in the 2011 paper that the "OCR needs to demonstrate that it can protect Jewish students from hate and bias while guarding the First Amendment and academic freedom" (see full quote in text box below).
"Second, OCR needs to demonstrate that it can protect Jewish students from hate and bias while guarding the First Amendment and academic freedom. On many campuses, anti-Israel activists suppress pro-Israel advocacy by heckling Jewish-sponsored speakers, vandalizing Jewish posters and fliers, and intimidating students who wear clothing or jewelry that connects them with the Jewish state. University leaders must condemn these attacks on free speech and academic freedom.
At the same time, OCR must explain that nothing in its new policy requires any encroachment on constitutionally protected expression by either advocates or critics of Israel. In many cases, campus anti-Semitism includes nonspeech elements such as assault and vandalism. In other cases, anti-Semitic incidents include forms of speech that are excepted from protection under the First Amendment, such as threats of imminent illegal actions or perhaps incidents of 'fighting words.' In these circumstances, universities may regulate anti-Semitic incidents without First Amendment issues arising. Similarly, universities may reasonably regulate the time, place or manner of on-campus expression, and they may reasonably relate speech in nonforum locations. When expressive conduct is used to create a hostile environment for Jewish students in traditional or designated campus fora, the extent to which university officials may (or must) regulate the expression itself is a difficult but important question beyond the scope of this short paper. What is clear, however, is that universities must take some action in these circumstances. Even where public university administrators are constitutionally precluded from punishing offensive anti-Semitic speech, the correct response is never to do nothing. The best university response is often to condemn the hate or bigotry, rather than to censor or punish the speaker. Universities which fail to do so deserve to get a call from the federal agency that funds them."
-- Kenneth L. Marcus, from 2011 paper in the Journal for the Study of Antisemitism on "The New OCR Anti-Semitism Policy"
The OCR under the Obama administration investigated and rejected several high-profile complaints that claimed, among other things, that anti-Israel protests or speakers created a hostile environment for Jewish students. Writing in The Jerusalem Post of the dismissal, in short succession, of three complaints against three University of California campuses in 2013, Marcus wrote that the cases had nonetheless put universities "on notice" of the risk of bad publicity.
"If appointed, Marcus will try to do from the inside of the [Department of Education] what he has failed to do from the outside: advance Title VI cases that push universities to punish students who exercise their First Amendment right to advocate for justice in Palestine," Dima Khalidi, the director of Palestine Legal, a legal organization focused on Palestinian rights, said in a statement opposing Marcus's nomination.
"Kenneth Marcus has really orchestrated the strategy of using civil rights laws to pressure universities to censor and punish Palestine activists," Khalidi said in an interview. "The basis of this strategy has been to conflate criticism of Israel with anti-Semitism. This conflation has really serious consequences for those who advocate for Palestinian human rights and are being condemned and censored and punished as a result of the enormous pressure being placed on universities by the likes of Marcus and dozens of other Israel advocacy groups."
Jewish Voice for Peace, an organization that supports the boycott, divestment and sanctions movement against Israel, similarly says in an open letter that Marcus's appointment "will have catastrophic effects on free speech and civil rights on campuses."
"His tactics dilute the definition of antis-Semitism so much that it becomes useless and have contributed to widespread repression on college campuses, where students and faculty fear studying Palestinian history or advocating for Palestinian rights," the letter states.
But others say there is a real problem of anti-Semitism masquerading as anti-Israelism, as Marcus has put it -- and that Marcus is well positioned to address it.
"I think that the No. 1 issue that Ken himself dealt with at Brandeis is when anti-Israelism bleeds into anti-Semitism," said Asaf Romirowsky, the executive director of Scholars for Peace in the Middle East, a pro-Israel faculty group. "We at SPME believe that the majority of what you're seeing today is indeed anti-Semitic and I think that those fine lines need to be established. I would hope and I believe that Ken does have that grasping of that situation and will be able to convey those messages as it relates to the campus environment."
Marcus formerly held a position as the Lillie and Nathan Ackerman Chair in Equality and Justice in America at the City University of New York's Baruch College. He is author of two books, The Definition of Anti-Semitism (Oxford University Press, 2015) and Jewish Identity and Civil Rights in America (Cambridge University Press, 2010).
Cary Nelson, a leading opponent of the academic boycott movement against Israel and a former president of the American Association of University Professors, praised Marcus's appointment. "Ken Marcus is a scholar with wide and deep knowledge of the history and character of anti-Semitism. Bringing that knowledge to bear on the activities of the Office of Civil Rights would be welcome," Nelson, an emeritus professor of English at the University of Illinois at Urbana-Champaign, said via email.
"At the same time it is important to remember that even explicit hate speech has constitutional protections," Nelson said. "The basic principle both in the public sphere and on campus is that good speech -- and more of it -- is the best corrective to ignorance, bias and prejudice. But educating everyone about that nature of anti-Semitism is essential. That should inform regulations sanctioning speech that crosses the line into threatening groups or individuals. Title VI is a remedy when university leadership neglects its job to stop bigoted harassment of students; it is not a tool to define 'politically correct' campus speech."
Sexual Assault
Marcus has less of a public record on other issues that could fall within the purview of the Office for Civil Rights.
If confirmed, Marcus would be tasked with overseeing a rule-making process that will produce a new regulation on campus sexual assault policies. Education Secretary Betsy DeVos in September rescinded 2011 and 2014 federal guidance issued by the Obama administration that survivor advocates credit with pushing colleges and universities to take sexual misconduct seriously.
Marcus has few stated views on issues such as the appropriate standard of evidence for campus misconduct findings, or how OCR should balance the thoroughness of investigating civil rights complaints with efficiency of resolutions for complainants and institutions.
But he would bring to the task of rule making more experience than the official who preceded him. Jackson, currently the acting assistant secretary for civil rights, had no previous government experience before joining the department in April. And she's been beset throughout her tenure by controversy over her statements on victims of sexual assault.
Senator Patty Murray, the ranking Democrat on the Senate education committee, in a statement last week welcomed the news that Jackson would not be staying on at OCR while promising to scrutinize Marcus's views on civil rights in confirmation hearings.
"I look forward to hearing more from Mr. Marcus and determining whether he will commit to protecting the civil rights and safety of all students and maintaining the mission of the Office for Civil Rights to 'ensure equal access to education and to promote educational excellence throughout the nation through vigorous enforcement of civil rights,'" Murray said.
In 2004, Marcus authored a Dear Colleague letter to colleges and universities that addressed discrimination against white male Christian students. The letter cited a specific incident in which a student was allegedly harassed by a college professor for expressing "conservative Christian views" about homosexuality.
The same letter -- which was issued just after the third anniversary of the Sept. 11 attacks -- also addressed and warned against discrimination targeting Arab Muslim, Sikh and Jewish students.
"No OCR policy should be construed to permit, much less to require, any form of religious discrimination or any encroachment upon the free exercise of religion," he wrote in the letter. "While OCR lacks jurisdiction to prohibit discrimination against students based on religion per se, OCR will aggressively prosecute harassment of religious students who are targeted on the basis of race or gender, as well as racial or gender harassment of students who are targeted on the basis of religion."
Civil rights organizations on Friday said they were still looking into Marcus's record and would reserve judgment for now. But they also said given the Trump administration's actions on civil rights so far, they would have many questions.
"This administration has taken aim at LGBT people, and transgender students in particular, by (among other actions) rescinding guidance documents that clarified schools' obligations to keep students safe and to promote equal educational opportunity," Sharon McGowan, director of strategy at Lambda Legal, said via email. "For this reason, we view any nominee from this administration -- particularly for an office charged with defending civil rights -- with tremendous skepticism, and hope that the Senate will scrutinize his record carefully."
Vanita Gupta, president and CEO of the Leadership Conference on Civil and Human Rights, said DeVos's "dismal record on civil rights and her failure to support students" heightens the need for a qualified individual to lead the Office for Civil Rights.
"In its confirmation hearing, the Senate Health, Education, Labor and Pensions Committee has an obligation to thoroughly examine the qualifications of Kenneth L. Marcus and his record, the actions of the Office for Civil Rights since the beginning of this administration, and planned future actions," she said. "Our nation's students deserve no less than the full, robust protection of their rights and an assistant secretary who will meaningfully enforce them."