You have /5 articles left.
Sign up for a free account or log in.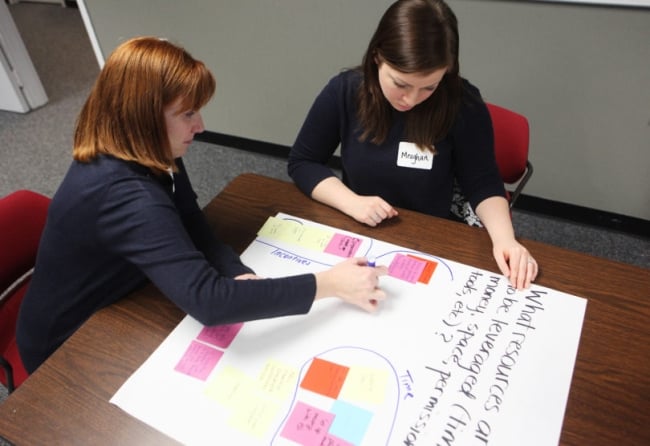 Advocates for competency-based learning, and for new approaches to teacher education, can chalk up another victory: the Massachusetts Board of Higher Education approved the Woodrow Wilson Academy of Teaching and Learning's application to become a degree-granting graduate institution.
The academy, which will grant master's degrees in education, is planning on enrolling about 25 aspiring teachers in fall 2018, spokesman Patrick Riccards said. The program, first announced in 2015, will be competency based, without formal requirements regarding courses, credit hours or semesters, instead requiring students to show mastery in areas and subjects relevant to teaching. The program is a collaboration between the Massachusetts Institute of Technology and the Woodrow Wilson National Fellowship Foundation.
"This doesn't look like a traditional higher education program," Riccards said. "There are no courses, there are no semesters, there are no classes. Instead, what we're doing is we're building a series of challenges."
According to a draft of the academic programming, degree seekers will have to demonstrate competency in subjects such as defining and measuring learning outcomes, designing lesson plans, and professionalism.
Through the institution's blended program, mixing online and in-person teaching, students will still have readings and assignments, but the program also aims to use virtual reality -- which technology firms have been developing software for recently to simulate difficult interactions with students and parents -- and heavy emphasis on clinical hours spent in the classroom.
"Each of the students is working in a K-12 school, working with a strong, veteran teacher so they can apply what they're learning in a real classroom setting," Riccards said. "There's nothing here that says in two years, you'll have your master's degree. There's nothing here that says 36 credit hours means you're ready to become a teacher … When they feel like they've gone through the challenge far enough that they know they're able to demonstrate that mastery, they're then able to work with their faculty mentors and put it to the test."
"This is a very different approach to teacher education."
Riccards said development of the curriculum is still in the draft stages but was being finalized with feedback from a group of students with STEM backgrounds who have been going through the academy's postbaccalaureate licensing program, which was approved by the state last year for licensing middle and secondary school biology, chemistry and math teachers. Another facet of the program that is still to be determined is an estimate for completion time.
The emphasis on clinical experience -- and the departure from traditional student-teaching practices that might only enter a teacher's education in the late stages of a degree -- caught the eye of professionals.
"They're really leveraging the idea of clinical practice as the most effective way to prepare teachers to be learner ready," said Roderick Lucero, vice president of the American Association of Colleges for Teacher Education. "What clinical practice really holds to is the idea that throughout their entire learning process, they're embedded in the school, with real teachers, real administrators, real kids."
Lucero commended the Woodrow Wilson Academy, as well as the state of Massachusetts, for "looking at innovative practices," and added that the association would be watching the results of the academy's experiment in teacher education.
"One of the things in teacher preparation that we continually need to do is look at innovative ways to reach children," he said. "We'll be interested to see what happens in the future … We'll study it and see if it made a difference in the lives of children, and that's really what's most important."