You have /5 articles left.
Sign up for a free account or log in.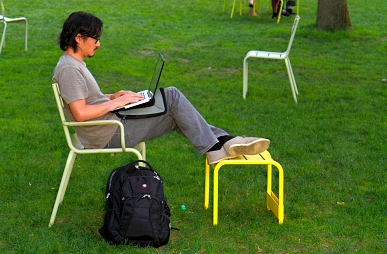 Major education publishers -- including Pearson, Cengage and McGraw-Hill Education -- report that the number of colleges offering "inclusive-access" programs has grown rapidly in recent years. Where previously students might have been assigned textbooks individually, now many institutions are signing up whole classes of students to automatically receive digital course materials at a discounted rate, rather than purchasing individually. The "inclusive" aspect of the model means that every student has the same materials on the first day of class, with the charge included as part of their tuition.
For publishers with struggling print businesses, the inclusive-access model is a lifeline. Tim Peyton, vice president of strategic partnerships at Pearson, said it was no secret that publishers like Pearson had made textbooks too expensive and had seen sales drop as a result. "The print model is really a broken business model for us," he said, adding, "we're thinking about how to move away from print, and move towards digital."
Pearson's inclusive-access business is growing quickly, said Peyton. "Since the beginning of 2016, which is when we launched a repeatable and scalable model around inclusive access, we've signed agreements with over 200 institutions," he said.
Scott Virkler, chief product officer at McGraw-Hill Education, said that the publisher had also seen "significant growth" in inclusive access, with its customer base doubling in the last year. Lori Hales, senior vice president of institutional partnerships at Cengage, said that Cengage, too, has seen rapid expansion in this space. The publisher currently works with more than 275 institutions and expects its revenue from inclusive access to double this fiscal year, said Hales.
The growth is not only due to new institutions trying inclusive access, but institutions that already offer inclusive access expanding it to more courses, said Hales. Typically, an institution will start with a pilot in one or two courses before scaling up, she explained. Hales said that at Cengage, which has been offering inclusive access for around four years, they are now starting to see some institutions going "all in" on the model, and more "seriously considering" the same.
A Win for Publishers, Discounts for Students
The inclusive-access explosion appears to have been precipitated by a 2015 Department of Education regulation, which enabled institutions to include books and supplies in their tuition or fees. Now instead of buying textbooks with credit cards or cash, students can be automatically charged for course materials by the institution when they enroll. To do this, institutions must give students the option to opt out, and they must have deals with publishers to ensure materials are "available to students below competitive market rates."
Publishers can offer discounts of up to around 70 percent with inclusive access because their customer share is increasing, explained Peyton. Publishers previously lost a lot of revenue from textbooks because many students bought secondhand, rented, pirated or just skipped buying textbooks altogether. Inclusive-access programs have changed that. Now whole classes are automatically signed up and charged when they enroll in a class, with a typical opt-out period of around two weeks. "In these models, the institution charges every student that enrolls -- that uptick in volume allows us to lower the price," said Peyton.
Publishers have moved quickly to diversify their inclusive-access offerings in the past few years. All offer digital versions of textbooks, which are often integrated into learning management systems through partner companies such as Redshelf or VitalSource. In addition, many publishers are also building new digital course materials from scratch and using their own proprietary platforms to distribute them. With enhanced features, however, come enhanced prices. While these materials are still cheaper than the retail price of equivalent print textbooks, the savings are much less impressive than for typical etextbooks.
The Lure for Institutions
Inclusive access is a simple way for institutions to bring down the cost of college attendance, said Anastacia Morrone, professor of educational philosophy and dean of information technology at Indiana University-Purdue University at Indianapolis. She said that her institution, which has inclusive-access agreements with more than 25 publishers, had saved students more than $2 million this semester alone. Morrone said this figure was calculated by taking the retail price of a textbook, subtracting the cost that students paid for the equivalent etextbook and then dividing the cost saving in half to account for the fact that many students would not have bought the book new.
Many other institutions with established inclusive-access programs, such as the University of California, Davis, also say that they have saved students millions of dollars, offering average savings of 50 to 70 percent off print retail price of equivalent materials.
For faculty members, a key selling point of the inclusive-access model is that students have all the materials they need ready on the first day of class. Robin Anderson, a lecturer in child and family studies at the University of Tennessee at Knoxville, said she was a fan of the inclusive-access model and used it in all her classes. She took part in a pilot two years ago and said that it wasn't difficult to adjust for her or her students. Students like the convenience of the system, said Anderson, and all have access to the most up-to-date content, instead of some students having different editions of the same textbook.
A key difference between inclusive access and buying print textbooks is that students effectively lease the content for the duration of their course, rather than owning the material. If students want to download the content to access it beyond the duration of their course, there is often an additional fee. This model also means that students typically only have access to the material where there is Wi-Fi access, which can occasionally cause problems, such as students not being able to complete assigned in-course assessments or reading. Anderson said that problems like this were rare, though.
The Role of Campus Stores
Campus stores are often the ones driving inclusive-access initiatives, as they receive a cut of the sales. While the profit margins are smaller than for print, inclusive access means that the stores receive revenue from a larger number of customers. Donovan Garcia, course materials manager at the University of Mary Washington, said that lower margins were also mitigated by lower overheads. "We're not purchasing books, we're not paying shipping, we're not having to put any time or effort into returning unused books or paying restocking fees," said Garcia.
Garcia said that he felt inclusive access was a good deal for students. The institution works primarily with Pearson as its inclusive-access provider, as "they have the titles that we thought would work for us," said Garcia. Typical discounts are 60 percent off print price, he said. The inclusive-access materials for one psychology course cost $86, versus $245 for the bundled print package sold previously. Garcia said that currently five courses are offering inclusive access, but the institution is looking to expand and is inviting interested faculty to discuss whether the option would work for them.
Shirley Streeter, assistant director of the University of Tennessee at Knoxville's campus store, Volshop, said typical savings at her institution were around 40-45 percent across 105 courses. Knoxville does not yet have any statistics on whether inclusive access has improved student learning outcomes, but Streeter said anecdotally that faculty members felt that students having materials on the first day of class helped them to progress faster. She added that in-house surveys indicated that students like the program, and that almost all instructors who piloted inclusive access decided to stick with it.
A spokesperson for the National Association of College Stores said that stores are often best placed in the institution to lead inclusive-access programs because they have established relationships with faculty, publishers and students. The association shared the results of a soon-to-be-published survey of independent college stores, which found that 23 percent of these stores had inclusive-access programs in place for the 2017-18 academic year, and another 32 percent said they were considering it.
Mike Hale, the vice president of education in North America for VitalSource, and Tim Haitaian, the CFO and co-founder of Redshelf, both said that they had seen many more college stores introducing inclusive access in recent years, both noting, however, that they had seen greater growth at independent -- rather than leased -- college stores. Patrick Maloney, president of Barnes and Noble College, said that many leased stores were offering inclusive access through Barnes and Noble College's program First Day. He said that the number of campuses using First Day had doubled since last year, but did not indicate how many campuses this represents.
Inclusive or Exclusive?
Though inclusive access is becoming popular, there are some who criticize the model. Nicole Allen, director of open education for the Scholarly Publishing and Academic Resources Coalition, said that she feels the term "inclusive access" is a misnomer. "It's the opposite of inclusive, because it is premised on publishers controlling when, where and for how long students have access to their materials, and denying access unless they pay for it," she said.
Though inclusive access ostensibly solves a crisis created by too-expensive textbooks, Allen said the model replicates many of the same structures that led to high prices in the first place, with little real price competition between vendors. She also questioned whether the savings presented by publishers were genuine, since few students buy books new, and those who do often resell them.
An alternative to inclusive access is open educational resources, which Allen's organization, SPARC, supports. OER has also seen a "tremendous increase" in popularity over the last few years, said Allen. Unlike inclusive access options, OER is completely free. OER texts can also be downloaded, edited and adapted by instructors in the way that best suits their teaching approach, as there are no copyright restrictions on the materials.
Unrestricted Choices
Rajiv Jhangiani, university teaching fellow at Kwantlen Polytechnic University in British Columbia and open education adviser at BCcampus, an OER initiative in Canada, said that he had concerns that inclusive access limits students' choice. He said that many students still prefer using print over digital materials when they are offered at the same price. With OER content, institutions are free to adapt and share content without the need to obtain permissions, and print copies can be made cheaply and without restriction, said Jhangiani. In one of Jhangiani's psychology courses, for example, students can have a professionally bound 400-page copy of their OER course materials made for just $13, while the rest of the online content is free. An equivalent print textbook might cost $150, said Jhangiani.
Academic freedom for faculty using inclusive access is also a concern for Jhangiani. "Limiting faculty to one particular publisher or conglomerate of publishers is certainly an issue," he said.
Joe Wert, professor of political science and Faculty Senate president at Indiana University Southeast, disagreed, however, that academic freedom was a big issue in inclusive access. "I don't think it's the case that some faculty are feeling pressured to adopt these materials," he said. "At least, I haven't heard any complaints or concerns from faculty along those lines."
With OER, Jhangiani said, faculty have complete autonomy over their course materials, as everything can be customized. The quality of OER is also improving, he said. "If you look for OER that is low in quality, you will find it, because anyone can produce OER. But just like with commercial resources, many OER resources have strict criteria for what goes into their repositories," he said.
"Ultimately, it is up to faculty what kind of content is used in their courses," said Allen, of SPARC. "I do think it is likely that traditionally published content will continue to be used at colleges and universities, although whether or not it is through inclusive access remains to be seen. Textbook publishers have been through many iterations of models for proprietary digital content -- it is hard to know how long any one will last."