You have /5 articles left.
Sign up for a free account or log in.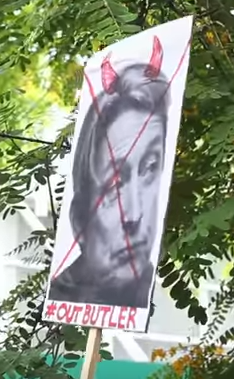 Judith Butler is no stranger to controversy. Her books and speeches about philosophy, literature and gender have won her both critics and fans. In philosophy and gender studies, she is among the leading academics in the United States today. Her lectures at scholarly conferences are standing room only.
In Brazil last week, where she helped organize a conference at SESC, a research organization in São Paulo, she faced an ugly protest at which she was called a witch and accused of trying to destroy people's gender identities and trying to undercut the values of the country. Those protesting were largely critical of ideas in Butler's famous work Gender Trouble (Routledge), which many of those protesting seemed to think would be the topic of a Butler lecture.
In fact the conference was about democracy, and Butler didn't give and hadn't planned to give a lecture, but was one of the organizers. Butler was burned in effigy as police kept groups of protesters -- for and against Butler -- apart. A pink bra was attached to the figure that was burned. People held signs with her photo and phrases like "Go to hell" (and far worse). Others held crosses and Brazilian flags in the air. The event took place as scheduled, and the protests were widely covered in the Brazilian press.
Local news reports said that far-right Christian groups organized the protest and a petition that urged Butler to stay away from Brazil (she didn't).
As word circulated about the incident in recent days, humanities scholars have voiced support for Butler and drawn attention to the attacks she has had to face. Francois Soyer, a medieval historian at the University of Southampton, in Britain, wrote on Twitter, "How can you know if your research is having an impact? When a mob holding Bibles and crucifixes burns an effigy of you outside your seminar."
Via email, Butler discussed what happened. Butler is the Maxine Elliot Professor in the Department of Comparative Literature and the Program of Critical Theory at the University of California, Berkeley. She is also the lead investigator on an Andrew W. Mellon Foundation grant for a series of conferences, including last week's event, on the state of democracy. The event in Brazil was on the theme of "the ends of democracy."
In advance of her arrival in Brazil, Butler said that a "petition called for the cancellation of my lecture, and assumed that I would be speaking on gender since the allegation is that I am the founder of 'the ideology of gender.' That ideology, which is called 'diabolical' by these opponents, is considered to be a threat to the family. There does not seem to be any evidence that those who mobilized on this occasion had any familiarity with my text Gender Trouble, published in late 1989. But they took that text to be promoting the idea that one can become any gender one wants, that there are not natural laws or natural differences, and that both the biblical and scientific basis for establishing the differences between the sexes would be, or already is, destroyed by the theory attributed to me."
Not only were the protesters talking about a topic that wasn't on the agenda of the conference, Butler said, but they didn't understand her work or portray it even close to accurately.
"Of course, gender studies, and gender theory, turns out in actuality to be a much more complex field, and I don't know of anyone within that field who holds the kind of position that has been attributed to me or to 'the theory.' Indeed, the theory is not singular," Butler said. "The performative theory of gender that I proposed then accepted that we are all born into social norms and conventions that define our genders, but that we can also craft our genders within that scene of constraint.
"The aim of the theory was to offer more language and recognition to those who found themselves ostracized because they did not confirm to restrictive ideas of what it means to be a man or a woman. But that theory never denied the existence of constraints, and as I developed it in later years, I sought to show how it served the moral purpose of creating a more livable life for all people who span the gender spectrum."
Butler said that the conference itself featured the kind of good discussions she had hoped for, attracting an engaged, international audience. But she said that the nature of the protests were upsetting. "It was of concern to see so many people driven by ignorance, opposing a theory that in no way resembles the caricature, and engaging in effigy burning, recalling the hideous tradition of burning dissidents as 'witches.' I understand that the puppet/poster representing me included both a witch's hat and a bright pink bra, signifying gay or trans life in some way. I am not sure they thought about what it meant to accuse me of being both a witch and trans. If I am trans, then I would presumably be a man, but if I am a witch, I am presumably a woman. It seems they were engaged in a bit of gender trouble of their own."
As to what the protesters are really after, Butler said, "My sense is that the group who engaged this frenzy of effigy burning, stalking and harassment want to defend 'Brazil' as a place where LGBTQ people are not welcome, where the family remains heterosexual (so no gay marriage), where abortion is illegal and reproductive freedom does not exist. They want boys to be boys, and girls to be girls, and for there to be no complexity in questions such as these. The effort is antifeminist, antitrans, homophobic and nationalist, using social media to stage and disseminate their events. In this way, they resemble the forms of neo-fascism that we see emerging in different parts of the world. Indeed, they reminded us at the conference why we were right to worry about the state of democracy."
The protesters also turned up at the airport when she left the country. "On the morning that I was leaving São Paulo, my partner, Wendy Brown, and I were in the airport and we were accosted by a group of about 20 people, holdings signs with a blown-up picture of me (doctored) with banners telling me to go home or go to hell," Butler said.
"They were screaming at me to leave Brazil, where I was not wanted. And there seemed to be some mention of pedophilia (which I strongly and absolutely oppose, as would any feminist scholar and activist). There were physical fights between the protesters and some bystanders who intervened physically to stop them from harassing us, but neither one of us were hurt. As I entered the security area, one of them yelled out in English that 'Trump will take care of you!'"