You have /5 articles left.
Sign up for a free account or log in.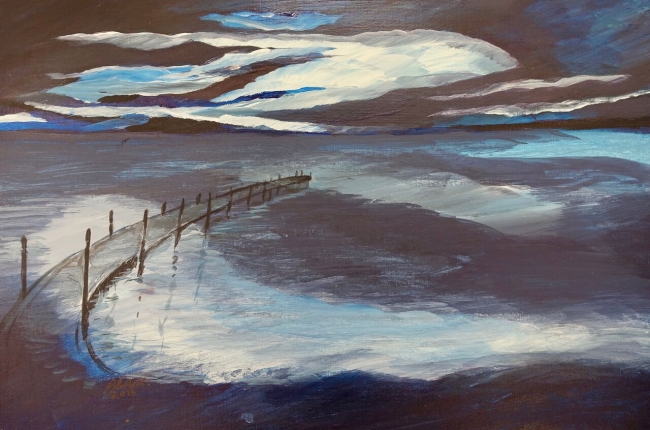 Is it art? Or government property? Or both?
The John Jay College of Criminal Justice is currently hosting an exhibit of art from eight current and former detainees at the detention camp at Guantánamo Bay Naval Base in Cuba. Earlier this month, however, the Department of Defense halted the export of artwork made by prisoners there, declaring that works made by the prisoners are property of the United States government.
The exhibit, "Ode to the Sea: Art From Guantá​namo," went on display at the City University of New York campus Oct. 2, when Department of Defense policy still allowed detainees to export art from the island prison where the U.S. government currently detains 41 people. A total of 779 people, all men, have been detained at Guantá​namo Bay since the prison's controversial opening in 2002.
"On the opening pages of Moby-Dick, [Herman] Melville writes about the 'water-gazers' of New York, office-dwellers who spent their free time looking at the rivers and sea that surround the city," Erin Thompson, the exhibit's co-curator and an assistant professor in John Jay's Department of Art and Music, wrote in an essay for The Paris Review when the exhibit debuted. "The detainee artists told me that they thought of the sea as a symbol of both hope and fear. They represented it in order to dream about escape and to escape as best they could. By immersing themselves so fully in making art, they could imagine that they were in a ship at sea -- until the work was finished."
The New York Post characterized the exhibit as "controversial," noting that some of the first responders who died in the Sept. 11 attacks had attended John Jay. (On the other hand, Thompson noted, only one of the current detainees whose work is on display has actually been charged with a crime.)
After going through an examination by prison authorities, art created through prison programming was allowed to be released and sent abroad. That policy was changed earlier this month.
"Items produced by detainees remain the property of the U.S. government," Ben Sakrisson, a Pentagon spokesman, said Monday, adding that the policy was in firmly in place and not under review, which previous reports had suggested was a possibility. Even if a detainee is eventually released, Sakrisson acknowledged that the policy implicitly states that any art made by the detainee would still be government property.
He said that media reports that mentioned that some of the artwork was being sold provided the impetus to "institute an appropriate policy, which effectively eliminated transfer of detainee-produced artwork from the detention facility." (Thompson said that only the artwork made by released detainees -- not those currently at Guantá​namo Bay -- was for sale.)
"My tenure approval came through this month, and then five days later news broke that I had pissed off the Pentagon," Thompson told Inside Higher Ed. "That was good timing, rather than the other way around."
Art programs will remain underway at Guantá​namo, Sakrisson said, and the Department of Defense is not moving to strip John Jay or any other institution or person of art produced in Guantá​namo.
The clarity of the directive was news to Thompson Monday, and she lamented that no one from the Department of Defense had reached out to her directly and that the policy had seemed unclear.
"My main moral responsibility at this point is to the detainees who are still at Guantá​namo. Because to them, making art is an incredibly important psychological measure," she said.
Rumors have swirled since the policy was announced, and some detainees have told their lawyers that guards informed them their art might be burned if they are released, or that "excess" art in their possession would be confiscated.
Sakrisson said that there has been no directive on incineration from the Department of Defense.
A petition on Change.org, titled "Stop the Destruction of Art at Guantá​namo," currently has about 500 signatures, and calls for a restoration of the previous policy.
The exhibit includes artwork from both former and current detainees. The current detainees, most of whom have never had charges filed against them, much less fair trials, would be drastically affected by this policy. Taking away their ability to find and create beauty and communicate with the outside world through their paintings, drawings and sculpture is both incredibly petty and incredibly cruel.

Help us send a message to the Pentagon by signing this petition. Let them know that burning art is something done by fascist and terrorist regimes -- but not by the American people.
Thompson said that her combination of holding a doctorate in art history as well as a law degree has been useful in navigating the curating of the exhibit from the beginning and through the more recent developments.
"My role, which has recently become much more relevant, has been to sort of translate between the art world and the law world and the academic world," she said. "Which has not been an easy job."
Despite the setback from the Pentagon, however, she expressed confidence in the exhibit's strength going forward.
"It depends on your risk averseness," she said. "A number of other institutions and curators have reached out and are interested in displaying this or other art. There's a little bit of a come-at-me attitude, because people realize the importance of displaying this."
(Update: The Pentagon elaborated on the reasoning behind changing its policy on detainee artwork on Tuesday.)