You have /5 articles left.
Sign up for a free account or log in.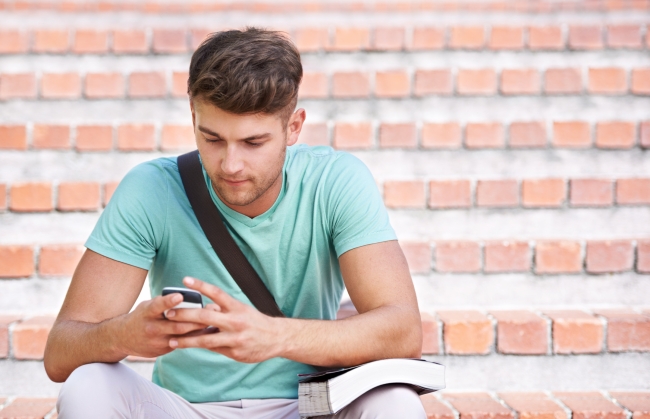 Nationally, just three out of five high school seniors complete an application for federal student aid. And completion rates are lowest among low-income students, meaning those students leave billions of dollars in aid on the table.
The Office of Federal Student Aid wants to boost those numbers by putting the Free Application for Federal Student Aid in front of students on the device that rarely leaves their hands -- their cellphones.
Betsy DeVos, the education secretary, told student aid professionals in Orlando, Fla., Tuesday that her department will move the FAFSA to a mobile application as part of a larger effort to modernize the federal student aid system.
"The goal is a customer service experience that will rival Amazon or Apple's Genius Bar," DeVos said.
A. Wayne Johnson, FSA's chief operating officer, will unveil further details about the project today, including a projected April rollout that would mean the app goes live well before the 2019 aid application cycle begins next fall.
Both college-access advocates and veterans of the Obama administration praised the news, although they said a technological solution ultimately won't solve many of the obstacles that prevent wider completion of the form.
Johnson views the app not just as a tool for easier filing of aid applications, but rather as part of a modernized experienced for students and borrowers in all stages of the federal aid process -- from submitting an application to paying off a loan. He said in an interview ahead of the announcement that the mobile app could also handle many of the functions currently conducted by student loan servicers in interactions with borrowers via the web and over the phone.
FSA prioritized a mobile tool partly in acknowledgment of how often college students use mobile devices over computers. The move also was made in response to feedback the department heard directly from customers about how FSA could improve the student loan experience, Johnson said.
"Whether it was a millennial all the way up to people in their 60s, they wanted to be able to deal with this not having to sign in to a computer," he said.
The announcement is the most detailed look yet at the Education Department's work on issues involving federal student aid and the servicing of student loans since DeVos in April withdrew an Obama administration solicitation with comprehensive new requirements for student loan servicers that was designed to improve the experience of borrowers. (The department later released a plan to award servicing of loans to a single contractor, which it scrapped after receiving heavy criticism.) FSA's plan for a mobile financial aid application delivers on a key plank of the Obama servicing plans -- a single interface for every borrower regardless of which servicer handles their loan.
Capitol Hill's Role
While the mobile technology push fits within a broader framework of FSA seeking to modernize how it awards and services student aid, it also reflects discussions among lawmakers and DeVos this week about simplifying the aid application process.
Senator Lamar Alexander, the Republican chairman of the Senate education committee, held a hearing Tuesday on proposals to simplify the FAFSA. Alexander in the past has floated ideas including a FAFSA questionnaire the size of a postcard -- an eye-catching, if mostly conceptual, illustration of the brevity he'd like to see.
Alexander said the complexity of the FAFSA has been the single biggest impediment to more students taking advantage of Tennessee Promise, the free community college program in his home state.
"We've heard over and over again from parents, students and financial aid officials how difficult it is the first time," Alexander said of the application. "This complexity frustrates the goal of the Pell Grant, which is to help low-income students attend college, because it discourages them from applying for aid."
The department views the mobile app as a first step toward a smoother aid application process. But actually reducing the length of the application -- which includes roughly 130 questions and can be an impediment for students with limited access to family financial records -- will require action from Congress.
Johnson said FSA is still working on proposed revisions to FAFSA questions for a briefing document to be sent to Congress. In the meantime, the office is moving ahead with the mobile app it said will improve student interactions with the federal aid system as they apply for aid and manage student loans.
Developing the technology cost about $849,000, although additional costs will be associated with the tool's rollout, the department said.
While officials at the Education Department under Obama periodically discussed a mobile FAFSA, it was never prioritized -- either because of funding or challenges involving technology.
"It's not a simple project, but I think it's a worthwhile one given how many people are accessing the internet primarily through their phones," said Clare McCann, a former department official during the Obama administration who is now deputy director for federal higher education policy at New America.
The previous administration took significant steps to improve the federal aid application process. In 2010, it introduced the IRS data retrieval tool, which allowed applicants to automatically import family income data already on file with the federal government into the online FAFSA. That feature cut down on errors and reduced the time it took to complete the application, student aid advocates said. (Some questioned whether the department would face challenges integrating the data retrieval tool into a mobile app. The department said in an email that the IRS has been part of the planning process for the tool.)
And last fall, the department paired an earlier FAFSA release date (Oct. 1) with the use of prior-prior year income data in student aid applications -- a policy change that had aid applicants submit the most recent family income data on file with the federal government. A year later, those changes appear to have had a significant effect on completion rates. But numbers are still far short of what advocates want.
Carrie Warick, director of policy and advocacy at the National College Access Network, said a mobile application would be a definite step forward for many students served by the group's partner organizations across the country.
"Many low-income students only have access to the internet when they're in their school building or are on their smartphones," she said.
Warick said every positive change moves the needle a little bit, but getting the level of FAFSA completion advocates would like to see would require a much simpler form.
FSA said a significant increase in submitted student aid applications would pay big dividends for college attendance. Moving from current numbers to a 100 percent completion rate would open up an additional $4 billion in federal student aid each year for low-income students who struggle to pay for college otherwise, according to Johnson.
The department hopes the mobile app will boost current numbers. But Johnson also said the new tool will help students select a college by connecting the application with the College Scorecard. When a student picks a college or colleges to send their FAFSA to, the app will show key Scorecard metrics for each institution.
FSA said the app also will improve borrowers' experiences of managing their federal student aid. It will allow students, for example, to track their spending of student aid funds on tuition, fees or food -- and to compare that spending to what they actually budgeted. And Johnson said the app will mean student borrowers will be able to answer many questions on their own that currently require reaching a call center by phone, such as finding the repayment plan that's best for them.
"If we can let people do a majority of what they need to do with mobile, when they call the call center, they only need to talk about serious stuff or more interesting stuff," he said.