You have /5 articles left.
Sign up for a free account or log in.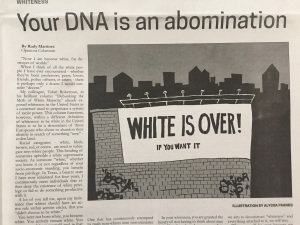 A quick skim of any student newspaper across the country will likely yield some sort of column denouncing white privilege. What's more unusual is a college president taking notice, criticizing such a piece and calling it racist -- but such is the case at Texas State University, where an op-ed has student groups warring.
In its Tuesday issue, The University Star published a column titled "Your DNA Is an Abomination," about an "oppressive world" that white men and women have built to "subjugate" people of color. The author, student Rudy Martinez, referred to white people as "an aberration."
"Whiteness will be over because we want it to be. And when it dies, there will be millions of cultural zombies aimlessly wandering across a vastly changed landscape," Martinez wrote in his op-ed, which has since been pulled from the University Star website. Martinez reposted the column on his Facebook page.
"Ontologically speaking, white death will mean liberation for all. To you good-hearted liberals, apathetic nihilists and right-wing extremists: accept this death as the first step toward defining yourself as something other than the oppressor. Until then, remember this: I hate you because you shouldn't exist. You are both the dominant apparatus on the planet and the void in which all other cultures, upon meeting you, die."
His words prompted widespread fury, with threats by the student government president to try to take away the newspaper's funding. The president, Conor Clegg, demanded the resignation of the editors and Martinez, who is a periodic columnist for the Star. In turn, groups representing minority students have sided with the newspaper, asking instead for Clegg to step down. Despite the strong rhetoric, Martinez was not advocating for white people to be killed, as some accused him of, but the destruction of a certain type of white identity.
Typically, administrators remain laissez-faire on the operations of student press, even when the publications receive university funding. But Texas State President Denise M. Trauth released a statement deeming the column racist and said its themes were "abhorrent."
She also delivered a mild rebuke to University Star staffers.
"As president of a university that celebrates its inclusive culture, I detest racism in any manifestation," Trauth said in her statement. "While I appreciate that the Star is a forum for students to freely express their opinions, I expect student editors to exercise good judgment in determining the content that they print."
The editors have apologized. Editor in Chief Denise Cervantes did not respond to a request from Inside Higher Ed for comment, but the paper posted a statement on Twitter.
"The original intent of the column was to comment on the idea of race and racial identities. We acknowledge that the column could have been clearer in its message and that it has caused hurt within our campus community," it says.
Trauth in her statement said the editors will examine their editorial process -- though it's unclear what that means.
Matt Flores, a Texas State spokesman, said in an interview that the administration is "looking further" into the situation and reviewing editorial practices of the newspaper, but said he could not specify further.
Flores said he could not comment on the thinking behind Trauth releasing a statement, or the online petition that calls for the institution to defund the University Star (it has been signed 500 times by Thursday afternoon.) He said he was unsure if or when the university would make any other announcements.
The mood at Texas State has been tense, particularly since Trauth published her statement, said Yunuen Alvarado, a sophomore and programs coordinator of the Student Community of Progressive Empowerment -- which advocates for immigrants and refugees. The university has already been plagued this year by the kind of racist fliers that tend to proliferate on college campuses now.
While the president has responded to these incidents, Alvarado said it was "surprising" that Trauth used such strong language in this case when it involved white people being criticized. She described Trauth's reactions before as "fake" or "sugar-coated."
"When this happened to students of color or other minorities, there was never this much outrage," she said.
Alvarado said she didn't find the column offensive, saying it had largely been misinterpreted -- it didn't call for white genocide, as some implied it had. Martinez is a man of color and was expressing his anger, she said.
In a statement, Clegg said The University Star is no longer aligned with the values of Texas State and that tuition dollars shouldn't pay for such "behavior."
Should Cervantes, the opinion editor, and Martinez not resign, Clegg said he would call for an emergency meeting of the committee charged with handling student fees and ask it to divest from the paper.
"I am confident that these cuts will be well received with my fellow students, their parents and future Bobcats," Clegg said in his statement. "If the Star wishes to maintain its operations without student funding, they can do so like any other paper -- by earning subscribers and selling more advertisements. There is no reason for over 39,000 students to be forced to invest their student fees toward this brand of journalism."
Clegg has drawn the ire of some student groups -- one, the Pan African Action Committee, published a statement on Twitter calling Clegg "unfit" for office, asserting he has disregarded minority populations on campus.
"To directly threaten a major student publication because of the content of an opinions piece that Clegg happens to disagree with is not only a threat to constitutional free speech as we know it, but also a gesture of censorship reminiscent of an authoritarian regime," the statement reads.
The tweet containing the statement had been retweeted more than 400 times as of Thursday evening. Other organizations, like Alvarado's, reposted it, saying the Student Community of Progressive Empowerment "stands in unity" with the Pan African Action Committee. The statement asks for the more than $11,000 devoted to Clegg's position to be taken away if he does not resign.
It's uncertain now how much oversight administrators exercise over the Star, though Flores said it is "primarily student run." He could not identify how much money the paper receives, exactly, but said that every full-time student taking 15 credits pays $90 in student fees, about 1.6 percent of which (a little more than $1.40) is allotted for the student newspaper.
The institution reported undergraduate enrollment in fall 2016 as 34,276 students.