You have /5 articles left.
Sign up for a free account or log in.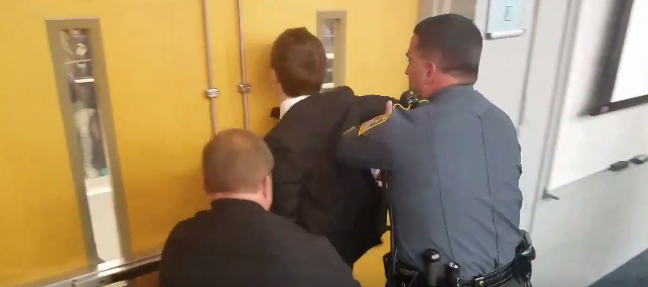 An incident at the University of Connecticut last week became the latest case to attract considerable attention over issues of campus free speech and the environment for minority students. The event ended up in chaos, with students in the audience shouting at the speaker and the speaker arrested over an altercation with an audience member who took his notes. The speaker, the conservative pundit Lucian Wintrich, was trying to speak on the topic "It's OK to Be White," which is widely seen by minority students and others as a way to mock efforts to draw attention to the bigotry faced by minority individuals in the United States.
Wintrich was arrested after he had an altercation with a woman who took his notes from the podium at which he was speaking. That woman -- whom Wintrich and his supporters have blamed for the altercation -- was widely assumed to be one of the students protesting the event. But a community college administrator has come forward to say she was the one who took the notes.
The woman is Catherine Gregory, associate director of career services and advising at Quinebaug Valley Community College. Her decision to come forward has set off a new round of debate about the incident.
Wintrich is calling for Gregory to be arrested for stealing his property (the notes), and for UConn's police department to drop the charges against him. The police department is continuing to investigate the incident and has not dropped any charges. Gregory's lawyer said he has heard reports that her conduct is under investigation, but that no charges have been brought.
Criticism of Gregory has come from many besides Wintrich, and from some who say his message is hateful but that taking his notes was not appropriate. An editorial in The Hartford Courant, which previously said that Wintrich shouldn't have been invited to campus and that he "was spewing ignorant, and hateful, baloney," nonetheless found fault with Gregory.
The editorial said Gregory was "ill suited" to be advising college students, given her conduct at the speech. "There are time-honored ways to practice nonviolent civil disobedience at speeches: signs, walkouts, audience members turning their backs on a speaker. But grabbing his speech off the podium isn't one of them," the editorial said.
Wintrich has said in a series of tweets that UConn should be more outraged by what Gregory did than his action to seek to reclaim his notes, which he said was entirely justified.
Carlee Drummer, president of Quinebaug Valley Community College, issued a statement about the incident, without naming Gregory, suggesting that the incident had no relevance to Gregory's college role.
"Quinebaug Valley Community College confirms that one of its employees attended a speech given by Mr. Wintrich at the University of Connecticut," the statement said. "The employee attended on her personal time and QVCC learned about the incident when reported in the media. The college does not condone the behavior and encourages peaceful discourse and compassionate debate. The employee attended the event as a private citizen."
Gregory did not respond to an email request for comment, but her lawyer, Jon Schoenhorn, did talk to Inside Higher Ed about her view of what happened and why her actions were justified.
He said that Wintrich grabbed Gregory around her neck in a threatening way after she took his notes, and that police were correct to arrest him.
As to Gregory's actions, he said that Wintrich engages in "hate speech" that is designed to inflame audiences where he appears. He said that Wintrich's actions "are beyond the First Amendment" in their insults of black and Latino and other students.
Schoenhorn said it was incorrect to say, as Wintrich and many others have, that Gregory stole his papers. Schoenhorn said that Gregory never intended to keep the speech but was trying in a "mild and measured way" to calm the situation. "What Ms. Gregory did was the equivalent of unplugging a microphone," he said. "It was not to stop a speech."
On Friday, about 200 students at UConn marched on campus to protest the university's decision to allow Wintrich to speak on campus. Susan Herbst, president of the university, has said repeatedly that she finds Wintrich's rhetoric to be hateful, but also that he has a right -- protected by the First Amendment -- to speak, and that students should protest him in ways other than shouting him down.
A letter to the editor in The Daily Campus, the student newspaper, criticized Herbst for defending Wintrich's rights without having attended the event and seeing the pain it produced. "When your students were faced with the words of a man intending to incite anger, deny the reality of oppression and ultimately physically assault someone over A PIECE OF PAPER you were not there," wrote a student, Emily Steck. "What about this event made your administration believe that freedom of speech should be prioritized over hate speech?"
On Saturday, Herbst published a column in the Courant in which she suggested that student groups should exercise judgment on whom they invite to speak on campus. "Students should be thoughtful in their invitations and are responsible for them. Having the right to invite a speaker does not necessarily mean it is a good idea," Herbst wrote.
At the same time, she wrote, students have the right to invite to campus people of all views, and speakers have a right to be heard. "It is never the role of a university to shield our campuses from speech that is disagreeable, purposely provocative or even outright hateful, such as Wintrich's. These characterizations are in the eye of the beholder, and so it is unwise for us to attempt to draw lines in the sand about what is or is not protected speech," Herbst wrote. "Our Constitution and courts have already broadly defined free speech. Universities should not attempt to create our own narrower interpretation, which would never withstand a challenge."