You have /5 articles left.
Sign up for a free account or log in.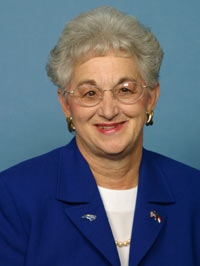 The massive Higher Education Act bill that the House of Representatives education committee will begin debating today got a slight revision Monday, as the panel's Republican leaders offered a modest nod to greater transparency about student outcomes.
But advocates for a federal student-level data system say the additional language, part of a package of changes to the original bill text known as a manager's amendment, just kicks the can down the road on resolving transparency questions.
The new language would direct the U.S. secretary of education within two years to study the feasibility of having the National Student Clearinghouse, a private nonprofit entity, set up a third-party data system for analysis of institution- and program-level student outcomes. A bipartisan bill introduced this summer would direct the National Center for Education Statistics, the Education Department's research arm, to connect existing data maintained by several agencies for purposes of tracking, on a program-by-program level, issues such as graduates' employment prospects, earnings and typical student debt loads.
Higher ed research groups have argued that the data system would allow them to answer questions such as why students transfer and to examine how colleges and universities can better close equity gaps between demographic groups.
Representative Virginia Foxx, the Republican chairwoman of the House Education and the Workforce Committee, has long opposed a federal student unit record system, citing concerns over privacy and data security. She wrote a ban on a federal data system in 2008, which the initial language of her Higher Education Act update, known as the PROSPER Act, recommended sustaining.
Ahead of a markup of the bill in committee today, Foxx said she continues to have "a lot of concerns with privacy" involving a federal student-level data system.
"We're going to have the clearinghouse look at the feasibility of what some people want to do," she said.
While Republicans have periodically offered the clearinghouse as a potential solution to greater transparency, data advocates say it wouldn't address many of the questions potentially answered by a federal data system because it doesn't track the income of graduates. And they say it doesn't have the standards of a federal agency for maintaining publicly accessible data.
Amy Laitinen, director for higher education at New America's education policy program and an advocate for a student-level data system, said that a federal statistical agency like the NCES has incredibly high standards for data collection and security.
"That's why folks were pushing for it to be there instead of FSA," she said of the Department of Education's Office of Federal Student Aid. "That's their job -- to work with very private data sets and keep them secure."
Laitinen said the clearinghouse has high rates of participation from colleges partly because its data are never made public. She also questioned how the federal government would connect graduate earnings data with other data maintained by a private entity.
"We're bending over backwards to make sure this isn't going to live at a statistical agency, so we can pretend like it's not a government function, when it is," she said.
Ben Miller, senior director of postsecondary education at the Center for American Progress, said that when Congress doesn't want to take a stand on a difficult issue, it commissions a study.
"So it's basically trying to let Congress punt on weighing in on the student unit record situation for two years by putting the ball back in the administration's court," he said via email. "The suggestion of using the National Student Clearinghouse appears to be another way to provide an out. Of course, none of those approaches are sufficient."
Miller said the Department of Education already did a feasibility study of a student-level data system as recently as 2005.
Even as Foxx has maintained firm opposition to student-level data, there has been movement within her own party on the issue. In the Senate, Utah Republican Orrin Hatch and Louisiana Republican Bill Cassidy have signed on as co-sponsors of the College Transparency Act. And in the House, Representative Paul Mitchell, a Michigan Republican who also sits on the education committee, has sponsored the legislation while a number of other Republicans have signed on as co-sponsors. (Independent colleges and the American Civil Liberties Union have opposed a federal student-level data system on privacy and security grounds.)
Foxx's comments Monday, however, indicated she is no closer to embracing federal management of a student-level data system or, for that matter, reporting of outcomes for students who do not receive Title IV federal student aid.
Additional changes to the PROSPER Act released Monday include language barring colleges that recognize single-sex campus organizations like fraternities and sororities from imposing new requirements on those groups. Foxx said the committee wanted to make it clear that it upheld the First Amendment by including the language.
Some all-male organizations have been criticized by college leaders (Harvard University is one leading example) as incubators for sexual assault, heavy drinking and other bad behavior. A federal mandate to campuses on an issue like this would seem to conflict with Republicans' stated desire to minimize government intrusion into campus affairs.
Foxx also said Monday night she is prepared to work into "the wee hours of the morning" Wednesday to finish the markup of the Higher Education Act rewrite and vote on all amendments in one marathon session.
And she dismissed concerns raised by some higher ed groups Monday about the short time frame between the bill's introduction just over a week ago and the markup today. Foxx argued that her committee has held more than two dozen hearings ahead of the bill's introduction and said members had a range of issues beyond higher ed to get to in the coming months. Despite the 542 pages of the original bill and the 590 in the manager's amendment, she said advocacy groups and committee members shouldn't need extra time to process the changes contemplated for higher education in the legislation.
"This is not a rushed process," Foxx said. "It's not a complicated bill."