Residents in poor parts of New York City tend to have less student debt but more trouble paying it off, providing a window into how national trends play out at the local level.
Among New York City boroughs, the Bronx has the lowest percentage of residents with student loans. Bronx residents with loans tended to borrow smaller amounts than those living elsewhere in the city, and the Bronx has the smallest percentage of borrowers who owe more than $100,000.
Yet the Bronx also has the highest student loan delinquency rate out of New York's five boroughs.
The seemingly contradictory statistics can be explained by comparing student loan balances to income. The median student loan balance represents 43 percent of the median income in the Bronx -- the highest percentage in New York's five boroughs and a full 11 percentage points higher than the citywide average.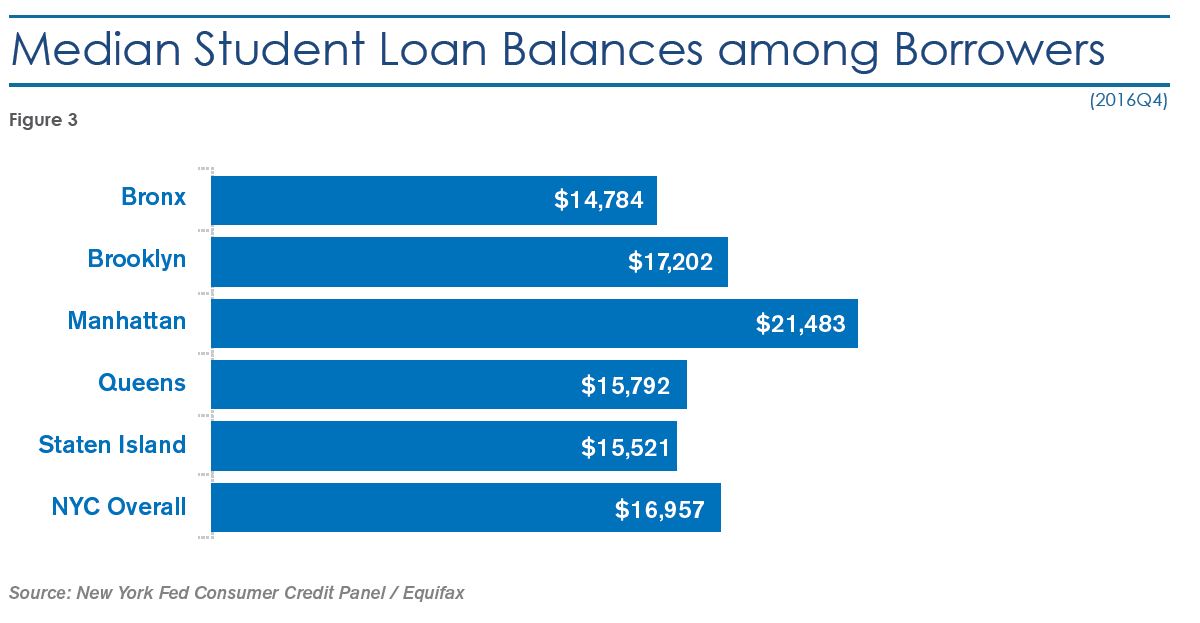 In other words, many Bronx residents just don't seem to be earning enough to pay back student loan balances that look relatively modest on paper. Those loans turn out to be a significant burden in reality.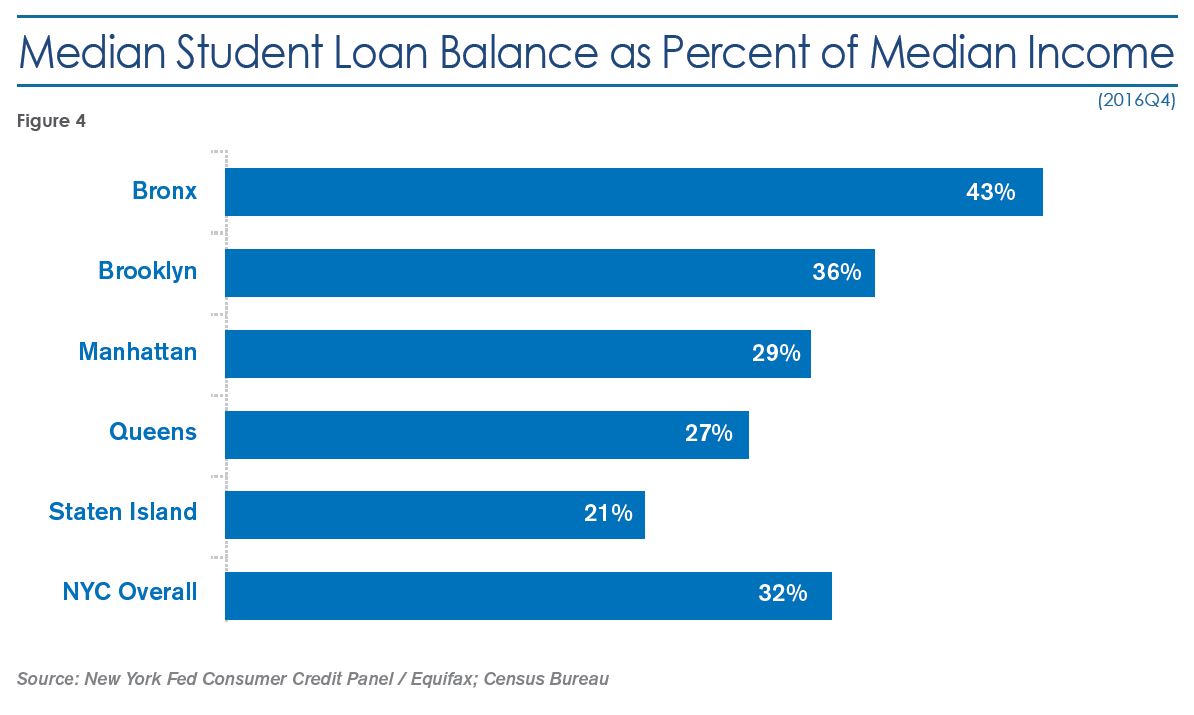 The findings don't surprise experts, who often point out national statistics showing students who leave college early are likely to have small loan balances but struggle the most to pay off their debt. Indeed, only 12.3 percent of Bronx residents have a bachelor's degree, the lowest percentage in New York. Just 6.6 percent have a graduate or professional degree, also the lowest percentage in the city.
The student loan problem extends beyond the Bronx but is not pervasive in all parts of the city, according to a new report out Friday that is a joint venture between the Federal Reserve Bank of New York and the city's Department of Consumer Affairs. The report, which is the first neighborhood-level look at student debt of its kind, found default rates are troublingly high among New York's poorest neighborhoods. Low-income areas -- defined by boroughs, neighborhoods or zip codes -- have disproportionately high delinquency and default rates, even though those living in those neighborhoods tended to have lower loan balances, it said.
"This potentially indicates that those borrowers either didn't complete their degrees, or it calls into question the quality of the education they paid for," said Joelle Scally, administrator for the New York Fed's Center for Microeconomic Data, during a conference call with reporters.
While experts might not be surprised by the report's findings, it still offers a new way to examine student loan data: through the local geographic boundaries that help to shape residents' everyday lives. Mapping out the data makes clear just how borrowers who live in low-income areas like the Bronx and Brooklyn struggle to pay back loan balances that tend to be much smaller than those in high-income areas like Manhattan.
Almost a fifth of borrowers in the Bronx, 19 percent, have student loans that are delinquent -- 90 or more days past due. In Brooklyn, 15 percent have delinquent loans. Only 12 percent of borrowers in Manhattan and Queens have delinquent loans, compared to 11 percent in Staten Island.
The trends continue when breaking down data at a smaller scale, by neighborhood. Three of the five neighborhoods with the highest percentage of delinquent borrowers were in the Bronx. The other two were in Brooklyn. Four of the five neighborhoods with the city's highest default rates were in the Bronx. The fifth was in Brooklyn.
Student loan repayment corresponds with income, the report found. Neighborhoods were sorted into five buckets based on income level. Borrowers in the lowest quintile posted delinquency rates of 20 percent. More than half of those who were delinquent were in default. In the highest-income-quintile neighborhoods, the delinquency rate was less than 10 percent.
The same trend held true when looking at whether borrowers in certain neighborhood income brackets had ever defaulted.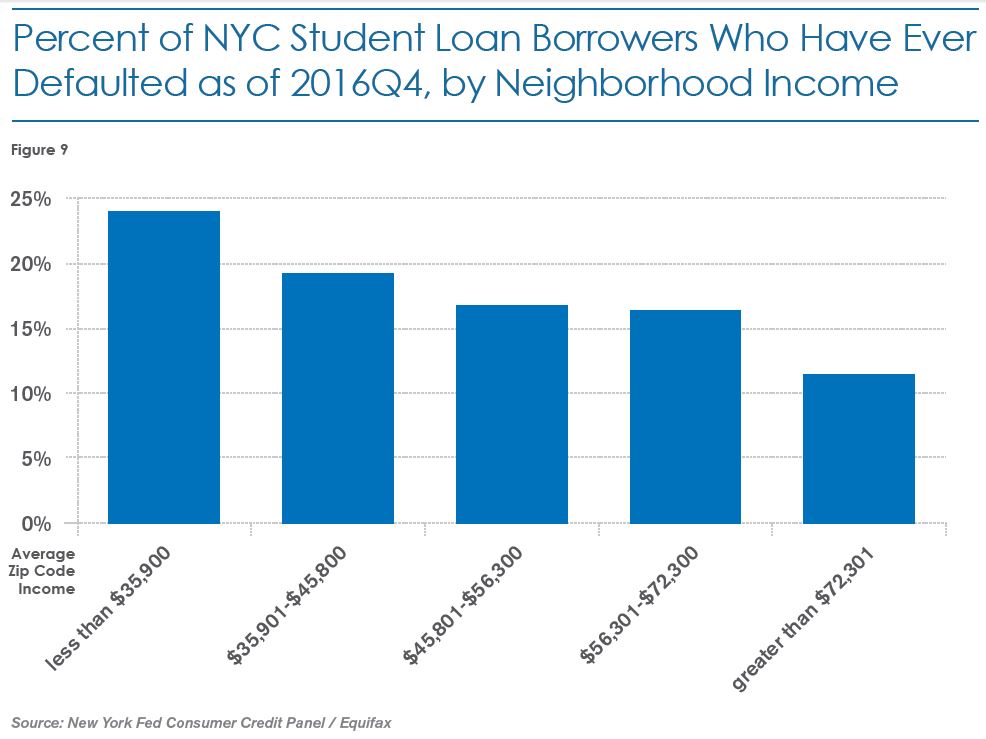 Over half of borrowers in high-income areas were found to be making payments and reducing their loan balances. Just 25 percent of those in the lowest-income areas were making on-time payments and reducing balances.
The link between student loans and geography could be important for policy makers, experts said.
"While the high degree of geographic concentration among similar types of borrows is not surprising, it is an important finding for policy makers to be aware of," Douglas Webber, a professor of economics at Temple University, said via email. "It suggests that efforts to help the most troubled borrowers can be cost-effectively targeted to specific communities."
New York's Office of Financial Empowerment is planning to act on such an idea. The office plans to start student loan clinics in certain neighborhoods in January in order to offer services like financial counseling to those worried about student loan debt.
Such clinics could help borrowers navigate a complicated system more effectively, according to Sandy Baum, a senior fellow at the Urban Institute. For instance, it could help some enroll in income-based repayment plans available for federal student loans.
But it would be better if advice could be offered in targeted low-income neighborhoods even before students enroll in college, Baum said.
"This helps to sort out where there are people who have actually tried college and not done so well," she said. "This is great, and there are a lot of people in this situation, and we have to solve those problems. But let's get to them before they are borrowing."
The New York Fed used data from its Consumer Credit Panel for the report. The panel is based on anonymized individual credit reports from Equifax. Detailed information was available on loans' balances, payments, delinquency rates and origination dates. Private and federal loans were included.
The Consumer Credit Panel does not include individual information on income, so report authors pulled data from other sources, like the U.S. Census Bureau and Internal Revenue Service, for income data by geographic region.
New York City is home to about 6.5 million adults. About a million of them have student loans, and together their collective student loan balance totals $34.8 billion. That's a significant slice of the 44 million adults across the country with outstanding loans totaling about $1.3 trillion as of the end of 2016.
New York City residents' student loan balances tend to be higher than those in the rest of the United States, but their overall delinquency and default rates are lower than the national average. That's likely because the city has a high number of borrowers with advanced degrees earning enough to pay for their debt. Despite New York's unique aspects, experts said lessons from the new report can likely be applied in jurisdictions across the country.
New York has a large number of people working many types of jobs -- from the high-earning lawyers with more than $100,000 in law school debt to the students who dropped out of college after a year or two and now work entry-level positions, said Webber, of Temple. That makes it the perfect place for analysis.
"You have every slice of the population in New York, and I think that you're likely to see those same patterns in any other city that has the same type of economic diversity as New York," he said.
There is a question of why students with certain debt levels and ability to repay debts seem to be clustering in particular parts of the city. Some could be living in areas where they grew up, while others could be finding their way into neighborhoods based on their own economic status.
The report didn't attempt to address that question.
"A lot of people go back to where they came from or end up sorting into areas that are similar," said Wilbert van der Klaauw, senior vice president in research and statistics for the New York Fed, during the conference call. "We see very similar patterns."
Borrowers in New York City who are 45 years old or older have higher delinquency rates than younger borrowers, the report found. Younger borrowers are more often still enrolled in class and are therefore less likely to have reached the point of repayment. They are also more likely to be eligible for income-based repayment plans.