You have /5 articles left.
Sign up for a free account or log in.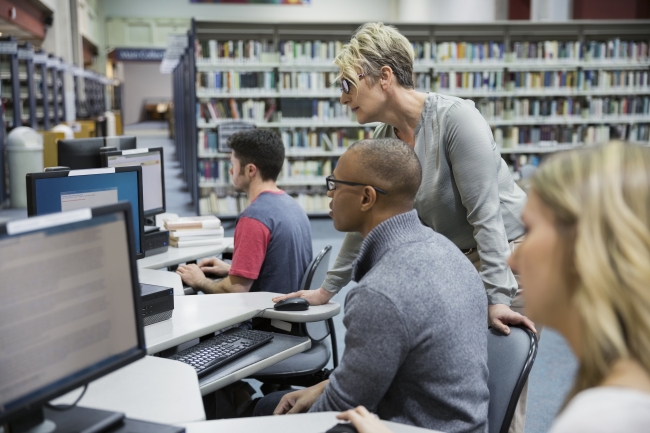 Last month a publication called 24/7 Wall St. published an article titled "America's 25 Dying Industries." Using data from the Bureau of Labor Statistics, the article analyzed how employment levels in various sectors changed between 2007 and 2016.
The article, which was recently republished by USA Today, Yahoo Finance and many others, ranked libraries and archives as one of the fastest-declining industries in the U.S., second only to video tape and disc rental. The publication of the article prompted a strong response from librarians, who questioned the validity of the analysis.
24/7 Wall St. calculated that the employment change in libraries and archives from 2007 to 2016 was -80.3 percent, with a current employment total of 33,033. The article correctly points out that the number of libraries in the U.S. has increased since 2007, but suggested that due to financial pressure in local municipalities, some libraries may have been replacing retiring library workers with volunteers.
But let's unpack that. The total number of library and archive employees reported in the Quarterly Census of Employment and Wages data published by BLS was 168,079 for 2007. Could 80 percent of those workers (over 130,000 people) really have lost their jobs between then and 2016?
Almost certainly not. In 2007, employment data for libraries and archives was reported for the federal, state and local governments as well as the private sector. In the following years, however, data for state and local government employment were reported to BLS but not disclosed to the public, as "data do not meet BLS or state agency standards." The years in which the data were withheld were incorrectly counted as zero in the "dying industries" analysis, explaining the purported 80 percent drop in employment.
Inside Higher Ed spotted the discrepancy and brought it to the attention of the article's authors and officials at the labor bureau.
Officials at the Bureau of Labor Statistics were not able to share the undisclosed data with Inside Higher Ed but have projected, using separate survey data from the National Industry-Occupation Employment Matrix, an increase in employment for both librarians and archivists in the next 10 years.
Following re-publication of the article in USA Today, libraries leaders were quick to cast doubt on the validity of the claims in the article, though the scale of the error had not been pinpointed. James Neal, president of the American Library Association, tweeted late last month that he thought the data in the article were "grossly inaccurate, indeed laughable." He pointed to statistics from the RSL Research Group, which reported in 2015 that there were 139,213 full-time employees at public libraries, 44,623 at school libraries and 85,752 in academic libraries -- a great deal more than the total 33,033 figure originally reported by 24/7 Wall St.
"Visit a library in your community," urged Neal. "You'll be amazed by the energy and the innovation, and by the extraordinary growth in use of collections, services, programs and staff expertise." He added that visits to public libraries remained stable from 2007 to 2015 at 1.4 billion, and said that the use of electronic resources like ebooks, streaming services and archival databases "is exploding."
Anne R. Kenney, interim executive director of the Association of Research Libraries, told Inside Higher Ed that, in 2016, ARL's 124 university, public and national libraries in the U.S. and Canada alone had 35,493 full-time employees. Kenney said that while visits to ARL libraries remained high at 240 million in 2016, there has been a decline in faculty use of library buildings at universities as more academics turn to online library resources for their research.
Roger Schonfeld, director of Ithaka S&R's libraries and scholarly communication program, said that while libraries and the role of librarians are changing, they still play a vital role. "I've spent time in dozens of academic libraries and I don't see any evidence that they're dying," said Schonfeld. He added that public libraries have been "transformed" into "vibrant centers for community engagement" in recent years, despite reports of funding crises.
Following several emails from Inside Higher Ed, 24/7 Wall St. issued a correction on the story (now titled "America's 24 Dying Industries"), stating that "due to Bureau of Labor Statistics data suppression, 24/7 Wall St. incorrectly identified libraries and archives as one of the industries losing the most workers. In fact, employment has remained stable."
However, some reproductions of the uncorrected article are still online, and 2016 and 2015 versions of the "dying industry" article (which place libraries and archives in second and sixth place, respectively) are still on the 24/7 Wall St. site.
The article was the second article published by USA Today in recent months to incorrectly characterize librarians' job security as poor. An article published in October listed the role of librarian at No. 1 of "8 Jobs That Won't Exist in 2030," prompting numerous angry responses.
Barbara Fister, a librarian at Gustavus Adolphus College, a small liberal arts college in Minnesota, said that contrary to some media reports, both public and academic libraries seem to be thriving, despite tight budget constraints.
"There's a tendency to think books, reading, libraries and liberal arts education are always on the decline and in crisis, and it's never actually true."