You have /5 articles left.
Sign up for a free account or log in.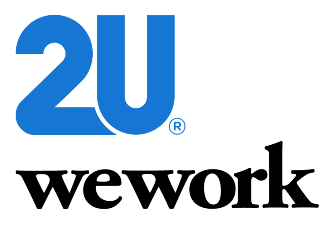 The online program management company 2U on Monday announced a partnership with the co-working space behemoth WeWork that takes aim at the burgeoning marketplace of workers looking to burnish their career prospects through a widening array of credentials.
Through the partnership, which also incorporates technology from the WeWork-owned boot camp Flatiron School, the companies hope to gain a significant foothold in the lifelong learning market, in direct competition with companies such as General Assembly and Galvanize, which also offer non-degree-level credentials and short courses in hip shared office spaces that the companies call campuses.
As part of the partnership deal between 2U and WeWork:
WeWork spaces are available to 2U students enrolled in graduate degree programs.
WeWork members and employees can access $5 million in scholarships to enroll in 2U programs.
WeWork will license Flatiron School's Learn.co technology in perpetuity.
WeWork and 2U will work together to create a physical learning space at a WeWork location next year.
According to federal filings, 2U will be paying over $13 million to lease the Flatiron School's Learn.co online learning platform. The Flatiron School is a coding boot camp that WeWork acquired in October 2017, marking the company's first deliberate step into the business of education. (Plans to create a private elementary school to foster "conscious entrepreneurship" followed a month later.)
The Learn.co technology will become the front end of 2U's online graduate degrees, for which it is best known, and the short certificate courses that it has begun offering as it expands its footprint in postbaccalaureate education. For several years, 2U has been working with universities to help them provide online master's degrees, and the company began offering nondegree credentials following its purchase of GetSmarter last May.
Chip Paucek, CEO and co-founder of 2U, described the partnership with WeWork as a "transformational collaboration." He said 2U would gain a new learning management system, which he described as "like going from Outlook to Slack." In addition, 2U will be offering WeWork members and employees access to its courses through a $5 million scholarship fund over three years.
Another facet of the deal is a plan to create a "Future of Learning and Work" center at an as-yet undecided WeWork location in 2019. A press release from 2U and WeWork said that the center would provide a physical space for students and faculty and staff members from 2U programs to take part in master classes, lecture series and "other events designed to showcase the future of work and learning."
Adam Enbar, CEO and co-founder of the Flatiron School, said WeWork's partnership with 2U was a "giant leap forward" in "creating a global campus" that would help people get the most out of online education. One of the problems of online education is that there is a gap between the technology and human interaction, said Enbar. As a company, 2U has been "far ahead of the curve" in thinking about solutions to bridge that gap, he said.
By partnering with WeWork, 2U is tapping into a ready-made community of over 175,000 WeWork members in 65 cities around the world, said Enbar. He added that the Learn.co platform, which 2U is leasing under an exclusive license in the education space, was developed to help students interact with their classmates online and "learn by doing." When students log in, they can see who else is online and interact in study groups, said Enbar. "I think the 2U team were kind of blown away by it," said Enbar.
Ryan Craig, co-founder and managing director of investment firm University Ventures, which has invested in Galvanize, said that he thought the partnership between 2U and WeWork was a smart move for 2U, allowing it to promise students networking through WeWork that could lead to employment opportunities.
"Online degree programs are now so expensive, providers have to promise positive employment outcomes to justify the price tag," said Craig. "2U is smartly trying to get closer to employers through this partnership -- WeWork hosts thousands of employers in their office space."