You have /5 articles left.
Sign up for a free account or log in.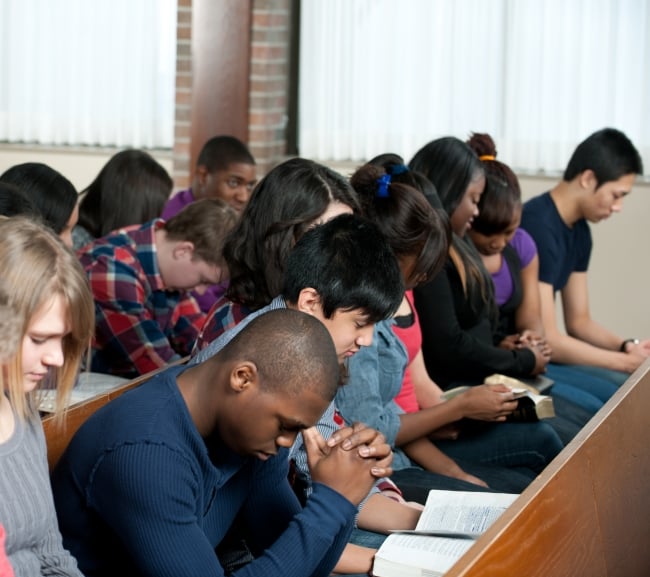 istockphoto.com/FatCamera
First-year students might come to campus open to new spiritual perspectives, but a new survey shows that in their freshman year, their exposure to religious diversity plummets.
Colleges and universities across the U.S., 122 of them, provided data to the Interfaith Youth Core around the 2015-16 academic year about their students' religious habits and beliefs for the nonprofit's Interfaith Diversity Experiences and Attitudes Longitudinal Survey (IDEALS). The data were provided at two different points to show change -- researchers will follow a national cohort of students until they are rising seniors in spring 2019 to show how the college experience can shape students' religious and world views.
Per the report, 7,194 college students responded to the survey.
"We know that students enter college with a commitment to religious pluralism," Eboo Patel, founder and president of the Interfaith Youth Core (and an Inside Higher Ed contributor), said in a statement. "The IDEALS survey shows that a vast majority report respect for people of other religious or nonreligious perspectives. However, it is important that colleges and universities continue to provide opportunities for these ideas to expand and grow."
Patel said otherwise, student may retreat into their own social groups, which is particularly troubling in "a moment of heightened division" in the country.
About 91 percent of the students indicated in the survey that they respect people who have religious perspectives different from their own -- 85 percent said they admire people of other faiths and beliefs.
Despite this, students aren't discussing or engaging with religion as much after entering college, the survey found.
Nearly half of students -- 43 percent -- said they had talked about religious or spiritual topics with their teachers before college, but that number dropped by 18 percentage points in their first year on campus.
In high school, 37 percent of students said, they attended a religious service involving views other than their own, but that decreased to 20 percent in college.
Exposure to different religions through more informal channels -- such as studying or socializing with somebody of another faith -- was reported more widely. Roughly 79 percent of students indicated they had studied with someone of a different religious view, up from 66 percent prior to college. The number of students who socialized with a person of a different faith in high school to college remained relatively the same.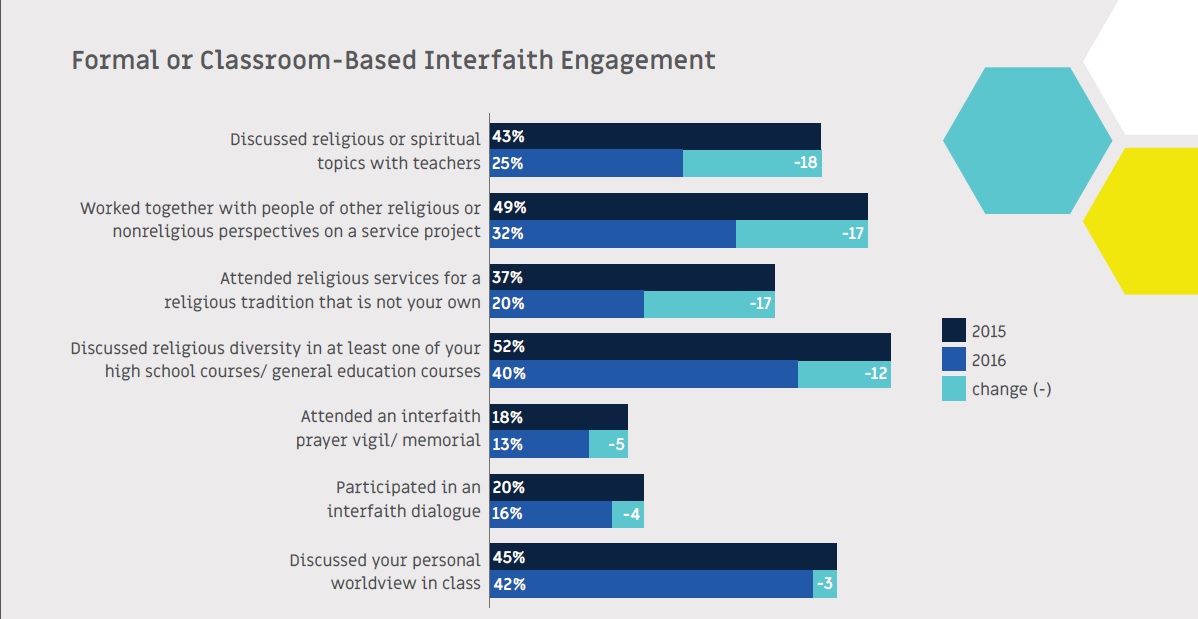 "Compared to the 12 months prior to arriving on campus, declines in interfaith engagement are common in the first year of college," Alyssa Rockenbach, one of the principal investigators and a North Carolina State University professor of higher education, said in a statement. "The good news is we know what works when it comes to students' interfaith learning. Turning the tide on trends in the first year will require closely attending to campus climate, creating space for students of diverse worldview identities, inspiring productive and challenging encounters across difference, encouraging interfaith friendship formation, and cultivating interreligious literacy."
Matthew J. Mayhew, the William Ray and Marie Adamson Flesher Professor of Educational Administration at Ohio State University, is Rockenbach's co-author.
Religion and Politics
The survey also links students' religious views with political engagement.
After a year of college, the survey found that students are more welcoming of others on both sides of the political spectrum. About 55 percent of students were appreciative of liberals at the beginning of college, and 41 percent indicated the same about conservatives.
After a year of college, those appreciation numbers jump to 63 percent for liberals and 49 percent for conservatives -- eight percentage points for both groups.
It also explores religious prejudice on campuses. Students reported that while there's rarely overt discrimination, sometimes they feel restrained in other ways.
Only 18 percent of students reported conflict among people of different religions.
But more than half of students said they felt pressured to change their worldview and 62 percent indicated they intentionally kept their viewpoints to themselves.
"Even though campuses, on average, are not rife with conflict, it appears that students at times felt pressured to change who they are," Rockenbach said.
Another study on student religion, conducted a decade ago, found that participation in traditional religious services declines steeply in college, but students are still exploring their spirituality. Many students -- 67 percent in that study -- said they still prayed, for example.
(Note: This story has been updated from an earlier version to clarify some of the findings.)