You have /5 articles left.
Sign up for a free account or log in.
The embattled president of Adams State University, Beverlee McClure, is negotiating her departure from the institution, hounded by accusations she bullied staffers and failed to remedy the university's enrollment and financial woes.
But McClure, in an interview with Inside Higher Ed, maintains she is the victim and was subject to relentless online attacks by a former university employee, Danny Ledonne, who set up a blog, Watching Adams, dedicated to the failures of Adams State.
In the interview, McClure said that operating under the backdrop of Ledonne's constant digital warfare -- which she claims is sexist -- became a daily stressor. Ledonne criticized her constantly and dredged up "private" photos from Facebook, she said. McClure had, at a 2016 Halloween party, mockingly dressed as an obese plumber, which some faculty members and the public have said was in poor taste and inappropriate for a college president.
McClure said she requested that she be placed on leave to avoid distraction. She said the Board of Trustees started mentioning in October that she might leave the university -- she said she could not explain their reasoning other than the trustees wanted someone to focus on the "internal," when McClure's push has been fund-raising and winning greater support from lawmakers. McClure declined to comment further, citing potential litigation between her and the board, though she said she hopes "it doesn't come to that."
Never before in her career has she dealt with someone like Ledonne, said McClure, who before her hiring in 2015 was president and chief executive officer of the New Mexico Association of Commerce and Industry, the statewide chamber of commerce.
"It takes its toll," McClure said. "It took a toll on the institution. It's unfortunate. I will say this, too -- I consider myself a confident, successful woman, concerned about cyberbullying. Truthfully, if telling my story helps one other woman in this situation -- a public official -- that needs to be the focus."
Ledonne worked at the university for four years in its mass communications program. His contract expired in 2015 and he was not picked for the next job he applied for there. He is perhaps best known as the creator of Super Columbine Massacre RPG!, a role-playing video game in which the user re-enacts the 1999 Columbine High School shooting. Players act as the gunmen, complete the massacre and then must toil through levels of hell before defeating Satan.
He sued the university after McClure had him banned from campus. She said in the interview she had been told of reports of Ledonne harassing people on campus, particularly women, though she said she could not provide details of his behavior for fear it would reveal his targets' identities. Ledonne would also attend employee meetings despite no longer working there, she said. Ledonne has argued against McClure's accusations in depth on his blog, claiming they weren't truthful.
On the advice of the state attorney general's office, McClure barred Ledonne from campus, though the ban was later lifted after his lawsuit, which was backed by the Colorado branch of the American Civil Liberties Union. Ledonne still writes his blog, most recently focusing on the Board of Trustees voting to place McClure on leave, in which he once again referenced the Halloween costume.
McClure said she was regretful but also defended the costume, saying other guests at the party found it "funny" and she was later contacted by local plumbers who said the same.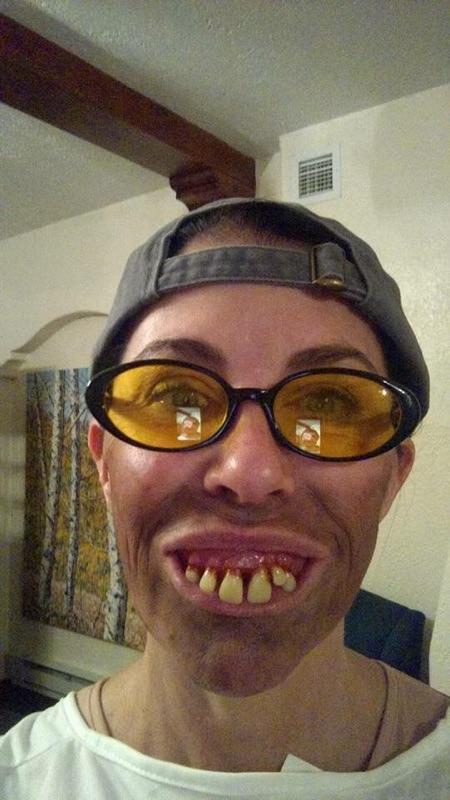 She said she never intended to offend anyone and that men attended the party dressed in full drag. Never did she publicly address the photos when they first emerged because the university didn't want to "validate" what Ledonne was doing.
"At the time, in that context, folks at that party found it funny," she said. "It wasn't until Ledonne took it, spun it and made it negative that people jumped on the bandwagon. I just see this happening -- it's a story across the country -- that social media will do this kind of thing, particularly to women. It's cyberbullying."
The Halloween party was hosted by Chris Gilmer, Adams State's former vice president for academic affairs, who left the university last year amid an apparent dispute with McClure. In negotiating his resignation, Gilmer received the rest of his salary and some money related to benefits, and he published a statement in which he acknowledged McClure had been accused of homophobia and creating a hostile work environment.
His agreement with the university forbade him or his husband from speaking ill of McClure, who said in her interview legally she could not talk much about Gilmer, though she did say his husband had become a "co-editor" of Watching Adams, Ledonne's blog.
Ledonne's supporters influenced the state chapter of the American Association of University Professors' Colorado Conference, McClure said. Colorado's AAUP wrote to Inside Higher Ed with concerns over "mismanagement" of Adams State, arguing that professors were intimidated by McClure and her administration to the point they met off campus and used outside email accounts to communicate.
McClure said she had invited the AAUP to campus to help address some faculty concerns and perhaps diversify the staff, with an eye toward adding more women.
Adams State has been plagued by the typical problems of a small public institution. Enrollment has continually slipped, with roughly 1,570 students enrolled in the spring 2018 semester. It also remains on probation by its accreditor, the Higher Learning Commission, after HLC identified problems with Adams State's distance-learning courses.
McClure stressed that when the commission visited in November, it found that Adams State had met its standards once again and she anticipated the university would be removed from probation once the accreditor meets in June.
She also touted that during her tenure, the university restructured its debt, enrollment of minority students jumped and the graduation rate among Hispanic students -- who make up a large portion of the university's enrollment -- has climbed.
Asked if any of the criticism of her performance as president was justified, McClure said, "I don't believe so."
She said she has no relationship with the trustees any longer but wishes them and Adams State well.
"I think I did particularly well to elevate the reputation of Adams State in context of how someone was trying to destroy it," McClure said.