Another Merger Likely; Another Closure
Lasell and Mount Ida announce that they may combine. Concordia in Alabama will shut down -- second small college in a week to announce such plans.
Students and faculty members at two Massachusetts colleges who checked their email early Sunday morning received a shock. The two institutions -- Lasell and Mount Ida Colleges -- are discussing a merger.
Supporters of Concordia College in Alabama, meanwhile, received news that struck many of them as tragic. The college, the only Lutheran historically black college, will shut down. That was the second closure in a week, coming days after a similar announcement from Atlantic Union College, in Massachusetts. Both Concordia Alabama and Atlantic Union are in a category of college -- very small, religiously affiliated institutions -- that many experts say are especially vulnerable these days.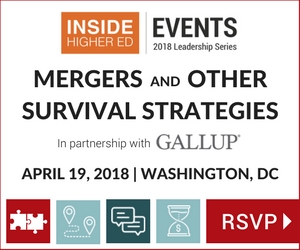 Similarly, Lasell and Mount Ida are both small institutions, with small endowments, in the Northeast, where demographic trends are not favorable to higher education.
The potential merger follows an agreement by Wheelock College to merge into its neighbor, Boston University -- and amid speculation that the number of mergers and closures in higher education is about to increase. (Inside Higher Ed, in partnership with Gallup, is holding a conference on mergers and other forms of collaboration among private colleges on April 19. Information is available here.)
A Midnight Announcement
The news about the latest merger talks went out very early Sunday morning and surprised many.
"Both colleges understand that it has never been more important to plan for the long-term future, and not just that of the next five to ten years. The goal of a union would be to create a more robust learning experience that would take advantage of distinctiveness of the programs, curricula and experiences of each institution. Under the potential merger, we would have the opportunity to add academic depth to our traditions of small classes and faculty mentorship, while maintaining the benefits of a high-quality independent education," said a joint announcement by Michael Alexander, Lasell's president, and Barry Brown, Mount Ida's president.
The statement added that "with the prospect of pooling resources and a shared commitment to controlling the cost of tuition, together we will have the opportunity to give students of all income levels an elevated educational experience."
Both colleges are primarily undergraduate and have similarly sized enrollments (1,500 for Mount Ida and 2,000 for Lasell). Both institutions enroll primarily students from Massachusetts. Both charge tuition rates (not counting aid) of a little more than $34,000 a year. And both focus on professionally oriented programs. The Education Department's College Scorecard lists the most popular programs at Lasell as business, communication, and parks and recreation. For Mount Ida, the most popular programs are personal and culinary services, and health professions.
And both operate out of the exclusive zone of elite Boston-area colleges that admit only a fraction of applicants. Lasell and Mount Ida admit 76 and 68 percent, respectively, of applicants, according to the U.S. Education Department's College Navigator site.
Mount Ida's endowment is valued at $15.6 million, and Lasell's at $45 million, meaning that both institutions depend on tuition revenue for their budgets.
Reactions on social media from alumni, students and parents were tepid, with many expressing surprise and disappointment. Some of that may of course be based on the limited information released and the midnight weekend announcement, something that drew criticism from supporters of both colleges for coming at a time of day when people couldn't immediately seek more information.
Lee Pelton, the president of Emerson College, which is based in Boston, closely watches trends in Massachusetts higher education.
Of the merger plans, he said that they were "part and parcel of a market correction in our industry, as small struggling institutions with small endowments and high discount rates, and volatile enrollments, are seeking to find their way." He said that these were particularly difficult times for colleges that depend on the shrinking number of students from Massachusetts. Emerson might have been such a college a generation ago, but now it enrolls only about a third of its students from all of New England. The college also has campuses in Los Angeles and the Netherlands and is about to start programs in France and Switzerland. The college admits a little more than one-third of applicants.
Pelton said there are risks when two institutions, neither of which have considerable resources, merge. Stressing that he was not talking about Lasell or Mount Ida, he said that "in general the merger of two struggling institutions with similar assets does not guarantee a stronger single institution but may in fact produce a single struggling institution."
Closure in Alabama
The announcement of the closure of Concordia came from the Lutheran Church, Missouri Synod, which noted "great sadness" over the decision.
A statement from the synod said in part, "Since July 2006, of the total subsidy (not including scholarships) given to the 10 campuses of the Concordia University System, CCA [the Alabama college] alone has received more than 44 percent of that amount. But in spite of this assistance and funds from other sources, CCA -- whose own efforts to stay viable have been robust -- was not able to achieve acceptable and sustainable financial performance."
The statement added, "The synod must continually evaluate how it allocates its limited resources in the face of so many worthy mission-and-ministry opportunities both at home and abroad. This often requires the synod's Board of Directors to make difficult decisions in following the principles of wise and faithful, Scripture-mandated stewardship."
Concordia was founded -- as the Alabama Lutheran Academy -- in Selma in 1922. Rosa J. Young, known as "the mother of black Lutheranism in America," started the college.
The college has about 400 students. More than 90 percent are black, and more than 90 percent are eligible for Pell Grants, meaning that they come from low-income families.
The statement on closure noted that Concordia Alabama "has hardly been alone in facing such difficulties. In recent years, many small, private, liberal arts colleges have closed owing to financial pressures and other factors, such as low enrollments and small endowments. Religiously affiliated colleges have been particularly hard hit, as have historically black colleges and universities."
Atlantic Union College, in Massachusetts, will also close this year, its board announced Wednesday. The college is affiliated with the Seventh-day Adventist Church.
You may also be interested in...
Today's News from Inside Higher Ed
Inside Higher Ed's Quick Takes