Topics
Angry, Galvanized and Ready
College students organize protests and become activists on gun reform after the deadly shooting in Florida.
Two weeks ago, Zach Xu drove to his hometown of Parkland, Fla. Few had heard of the sunny suburb until Valentine's Day, when 17 people were gunned down at Xu's former high school.
After he arrived, he stayed up past 3 a.m. with his best friend, who lost his sister 10 hours earlier.
But Xu couldn't sleep.
At 5 a.m., he was up on Facebook making an event, a vigil for the University of Florida, which he attends, to remember the victims and call for gun reform.
"I think that's different about our community," Xu said in an interview. "In regard to other school shootings have happened, we're extremely proactive. We're never going to give this up. We're going to make change happen, and we're going to fight tooth and nail for this so 17 lives weren't lost in vain."
The phenomenon he described became a national fixation mere hours after the killings at Marjory Stoneman Douglas High School. The students there were galvanized and angry. They did not shy away from media interviews -- they challenged lawmakers and the National Rifle Association to a televised debate while organizing national marches and becoming Twitter sensations.
Their aggressive activism -- declared by some observers to be a "tipping point" on gun violence -- also has caught on at college campuses, where students like Xu have created their own demonstrations, petitions and plans for walkouts.
Xu said around 400 people attended the event that occurred just a few days after he sent out his Facebook invite. Students who attended, many of them from South Florida, told their stories.
Many of the students at the vigil have siblings still in high school and they love their communities, Xu said -- just like the people of Parkland. Hearing about the personal experiences from those who were touched by the Stoneman Douglas shooting affected the crowd deeply, he said.
The movement is grassroots and student founded, said Xu, who added that he "truly believes change is going to happen, and it will happen."
Another Parkland native, Stevie Schapiro, who is now a sophomore at George Washington University, said she had not previously been an activist.
The day of the shooting, a friend from high school texted her, asking if she had seen what was happening in the news.
Schapiro called her mom, who told her, "This is bad -- this is more than what you think."
Schapiro described the next few days as "insanity." People she went to elementary school with checked up on her while blood drives popped up and camera lenses were trained on the place where she grew up.
Schapiro wanted to do something but had no direction. She was particularly frustrated by a lack of feedback from faculty members and administrators on her campus. For example, Schapiro said she did not receive a response to an email she sent to the university's president. (The president did later meet with her.)
So instead, she scribbled ideas -- including for a vigil -- on a yellow notepad after a poor night's sleep.
A professor showed her sympathy, she said, listening to her ideas and staying with her "every step of the way." Schapiro was impressed, too, that the professor brought up the shooting in her classes, when other faculty members hadn't acknowledged it, creating an emotional bottleneck for her.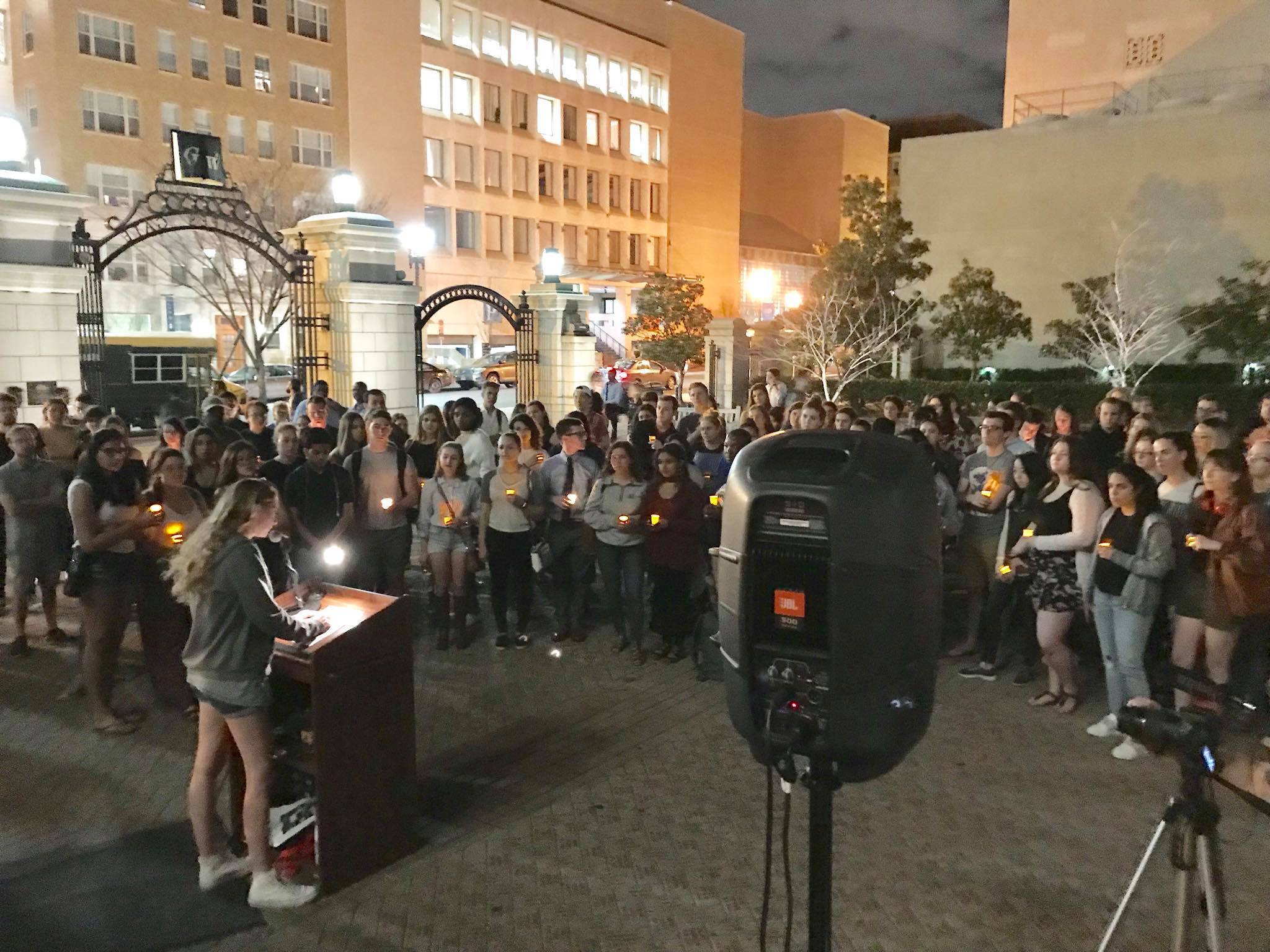 The vigil drew more than 300 attendees, with an ever-growing Facebook group and plans to do more.
"I'm so saddened that it took me this long to be on top of this issue," she said.
Schapiro recently declared her major in psychology, with a dual minor in public health and social justice -- a choice in part fueled by her newfound interest in gun-violence awareness.
"I was scared," she said. "I don't like public speaking, but when you are directly impacted, you'll do whatever it takes."
Chicago native Marley Rosario, a first-year student at the University of Chicago, has been fighting for social and policy changes for much longer. After the shooting, a student group he belongs to rallied -- Gather Activism partners with other Chicago-based activist organizations, such as Indivisible Chicago (a campaign against President Trump's policies), and helps students to connect with the rich base of activists in the city, Rosario said.
Many students want to be involved with these causes but are unsure how to do it, Rosario said. Following the shooting, a lot of students came to the group's leaders with that question -- what now?
Gather Activism helped bus students to a march downtown, where the state branch of Indivisible Chicago requested that students speak at and lead the demonstration.
"They wanted to make sure students were front and center at the event … and are leading this movement going forward," Rosario said. "In terms of if you look at who is being victimized by gun shootings, overwhelmingly it's students in schools and churches on the South Side of Chicago."
Gather Activism will be helping register high school and college students to vote, Rosario said, to inspire the next generation and to vote out lawmakers who don't enact new laws. Students also will be participating in the Chicago version of a national march on March 24. Hundreds of thousands are anticipated to flock to Washington to protest during that event, which is dubbed the March for Our Lives.
"They weren't necessarily involved before," Rosario said. "But they are now."