You have /5 articles left.
Sign up for a free account or log in.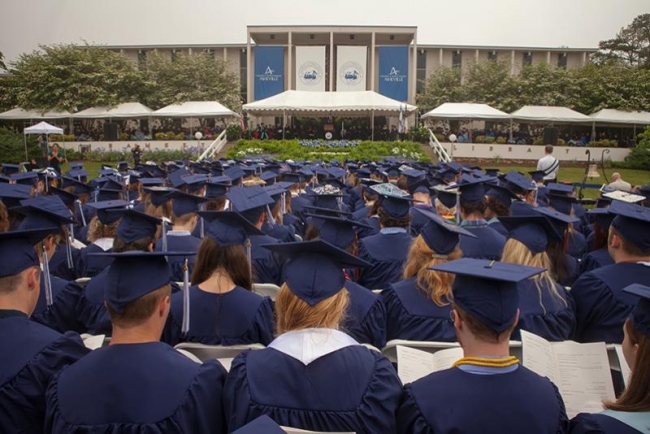 Many students no longer enjoy summers off, and some colleges are seeing this months-long break as key to promoting on-time graduation. But the cost of attending classes may discourage students from enrolling in the summer.
The University of North Carolina at Asheville has come up with a remedy: free summer courses. The university is offering students who are one or two classes shy of junior or senior status (60 or 90 credits) free summer courses to encourage them to complete the 120 credits required to graduate in four years. The six-year graduation rate at Asheville is 60 percent, according to Deaver Traywick, interim senior director of student success. And the four-year rate, according to the U.S. Education Department, is just under 40 percent.
The second, expanded pilot, called the "first to finish" program, covers tuition for four general education courses, each worth four credits, in the summertime (HUM 214, Communities and Selves; HUM 324, The Modern World; and HUM 414, The Individual in the Contemporary World; and ARTS 310, Arts and Ideas). According to Traywick, the university selected these courses because they help fulfill the university's liberal arts core requirements. Undergraduate summer school classes at Asheville cost $288.80 per credit hour for in-state residents and $610.80 for out-of-state residents.
This year, the program has expanded significantly, with Asheville set to offer 75 to 100 students one or two summer classes. The initiative is funded by a $95,000 grant from the University of North Carolina system. (Note: This article has been updated from an earlier version to clarify the benefits to students.)
Last summer, the university accepted 23 of 38 applicants to the original pilot, the "back on track" program, after advertising directly to 148 individuals who met the requirements and were one or two courses away from being seniors at the end of their junior year. Of the 23 students, 19 are on track to graduate this May. The program was funded by a $31,500 grant from the state university system; individual packages averaged $1,369 each. While Asheville pledged to cover room and board as well, all 23 students had housing arrangements and didn't need that money.
Asheville's interim chancellor, Joseph Urgo, said that the program focuses on low-income, rural and first-generation students. Of the 23 students selected last year, two were from rural counties and 10 were eligible for Pell Grants at some point during their enrollment.
To Urgo, graduating in four years has both academic and psychological benefits. "It can change your personal narrative," he said.
At the moment, Asheville is the only college in the state university system to offer free summer tuition to rising seniors. But according to Andrew P. Kelly, senior vice president for strategy and policy at the system, the initiative may pilot at other UNC campuses. Western Carolina University announced a similar program recently -- the college is set to offer 70 scholarships of $500 each to matriculating low-income students or those who attended the school for a year but have yet to earn 30 credits, to attend six to eight credit hours' worth of summer school.
Kelly said Asheville's program is a "smart idea" because it challenges the traditional academic calendar and gives juniors "a bit of a nudge to stay on track."
"Many of our institutions are interested in this and we're actively considering ways to leverage the full calendar," Kelly said. "Asheville is a really important test case."