You have /5 articles left.
Sign up for a free account or log in.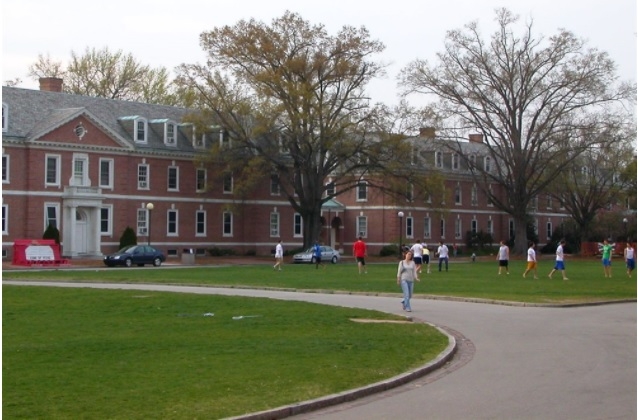 Duke University has removed from students what has become one of the most significant aspects of matriculation at many colleges: picking a first-year roommate
Beginning with the Class of 2022, the roommate-selection process will be entirely governed by the university, with assignments largely made at random -- a shift, officials said, meant to stem the recent movement of students self-selecting peers with similar perspectives and backgrounds to their own, fueled by social media connections made before arriving on campus.
While many students and higher education professionals applaud the Duke decision, others fear that forcing two people of particularly dissonant backgrounds -- a gay student or a student of color paired with one who holds bigoted views, for instance -- could lead to fear, but not much meaningful interaction.
University administrators announced in a letter addressed to the Class of 2022 that they would take into account certain preferences -- sleep schedules, study habits -- but beyond such factors, roommate assignments would be random.
"Our experience over many years assures us (and thus, you) that you'll be fine … better in fact!" reads the letter from Larry Moneta, vice president for student affairs, and Steve Nowicki, dean and vice provost for undergraduate education. "We believe that you'll enjoy the opportunity to meet someone you've not previously known and will have a great opportunity to explore your roommate's history, culture and interests. Who knows … you may get invited to a part of the world you wouldn't otherwise get to see."
Moneta and Nowicki assured the students that the institution would help them in cases of roommate incompatibility and "make a change" if necessary, and that medical and other exceptions could be made.
Over the last decade, students have started to "meet" -- if only digitally -- long before arriving on campus. For most colleges, it is quite common to have a designated Facebook group for incoming classes (generally unaffiliated with the institution). Here, students can chat, plan for their first semester and, in some cases, find a roommate match. Other platforms, solely designed for this purpose, have sprung up -- websites where students and their families can pay to be coupled with a compatible roommate, and some institutions have even designed their own sorts of networks for this. Many colleges honor requests from students to be matched in their first year.
But the downside is that students can gravitate toward comfort, a natural reaction, given they're about to be thrown into an entirely new and independent environment -- but one that won't lead to new experiences for them, higher education experts said in interviews.
"It's a courageous move on Duke's part," said Kevin Kruger, president of NASPA: Student Affairs Administrators in Higher Education.
Kruger said even when roommates do choose one another, there's no guarantee they would benefit from sharing a room, especially since for many people, their first year in college is their first time living with another person in one room.
But guiding students from varying experiences together can "create opportunities for dialogue," Kruger said. Paired with programs in the residents halls -- colleges teaching students how to talk to one another -- this change could broaden perspectives, he said.
Research backs that theory -- David R. Harris, president-elect of Union College in New York and Tufts University provost, and previously a University of Michigan and Cornell University sociologist, published research more than a decade ago suggesting that white roommates who were paired with students of color became more open-minded about race.
And a study by Bruce I. Sacerdote, the Richard S. Braddock 1963 Professor in Economics at Dartmouth College, shows that white students who lived with black students in the same dormitory were three times more likely to interact with black students in their dormitories.
But Ryan Briggs doubts these "kumbaya" scenarios.
A sophomore from Duke, and vice president of the Black Student Alliance there, he lambasted the new policy in a series of Twitter posts, saying it was detrimental to students who fear their roommate has more institutional power then they do.
While in theory he liked the idea of students learning about new culture, he wrote that, as a black person from a lower-socioeconomic-status background, it would be "terrifying" to be paired off with an affluent white man.
"There are so many cultural things that would have to be taught to my roommate to have a comfortable living experience," Briggs said. "And I do not have to work for the school to make sure some ignorant student learns how to be a better attribute to the community."
Student journalists at The Duke Chronicle, the campus newspaper, also expressed some skepticism about whether the system would actually alleviate any of the racially related problems the campus faced.
In a staff editorial, they called the change a "hastily-created, quick fix solution."
"Simply forcing students from different regions of the world to eat, sleep and work together is not a fix-all for racial and class disharmony on campus," the editorial board wrote. "Policy solutions like the one touted by Moneta and Nowicki are concerned more with the outward, feigned appearances of neoliberal, brochure-worthy multiculturalism, and are less concerned with the needs and requests of actual students living here."
Matthew King, a Duke senior, had a slightly more optimistic take -- and he helped create a student group that wants to overhaul the housing model at Duke. Like many the Ivy League institutions, Duke has some housing for upperclassmen students (in addition to the Greek system) in which students control the selection process. King, who is a part of one of these selective groups, said Duke Students for Housing Reform would prefer these homes not be controlled by groups.
After the first year, students who try to get into the selective group either move into one of their homes or another hall, but those lack the same community, King said.
He was appreciative of the step Duke took.
"The Duke admissions office goes to such lengths to recruit students all across America, people of different religious, socioeconomic backgrounds, political views, sexual orientation, and bring them to this campus," King said. "If you choose your own roommate, you may miss out on that."
Eboo Patel, founder and president of Interfaith Youth Core, and an Inside Higher Ed blogger, said he lived with a high school friend his first year in college and later regretted not being open to a random roommate -- he said he was plagued by adolescent fear, similar to many students, and now he wished he had lived with a rural farm kid from Illinois.
In particularly polarizing political times, colleges serve a great purpose in "increasing understanding of people of different identities," Patel said. He said he trusted Duke administrators to make judgments on a case-by-case basis in the event that roommates were truly oil and water.
"One of distinctive features of the roommate situation is that you are in effect required to negotiate a set of lifestyle dimensions and make things work for all parties involved," Patel said. "Ninety to 95 percent of the time, that's highly constructive."
Bowdoin College, a small liberal arts institution in Maine, assigns first-year roommates, with a conscious attempt at pairing those from different backgrounds, said its dean of student affairs, Tim Foster.
Students fill out a questionnaire indicating preferences, similar to the one at Duke -- sleep patterns and more -- and then the college will intentionally couple students from different races, financial backgrounds and states, Foster said.
The college also will break up members of sports teams so they don't live together, which goes against some other major institutions' models, where players intentionally room together or are placed with one another.
Foster said the college wants to "mix it up," because they want students to learn not only about new backgrounds and perspectives, but also how to navigate conflict. He called the recent phenomenon of roommate-by-Facebook to be a "lost opportunity."
"Especially what makes the residential experience special is the ability to live in close proximity within one another, and it's an educational experience of who you surround yourself with … it's shortchanging the opportunity to mix it up and stretch yourself," Foster said.
Sacerdote, from Dartmouth, said that colleges will likely be exploring this idea more with the continued power of social media. Universities don't want to be too heavy-handed by deliberately pairing up white students and nonwhite students, for example.
"But this system -- it can work out well," he said.