You have /5 articles left.
Sign up for a free account or log in.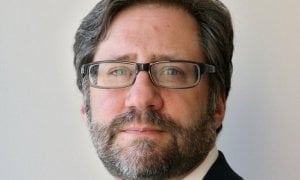 President Trump nominated Jon Parrish Peede Friday to become chair of the National Endowment for the Humanities. Peede has worked at the NEH since April 2017, serving as senior deputy chairman. Since William D. Adams, an appointee of President Obama, stepped down as chairman in May, Peede has been the senior person at the NEH.
In his first two budget proposals, Trump proposed eliminating the NEH, but Congress has rebuffed him.
Peede has experience in the humanities publishing world and in government. He has served as publisher of Virginia Quarterly Review, at the University of Virginia; literature grants director at the National Endowment for the Arts; director of communications at Millsaps College; and an editor at Mercer University Press.
Presidential nominees typically do not give interviews about their thoughts on the agencies they have been selected to lead. But the National Humanities Alliance published an interview with Peede in October in which he discussed the humanities and his career.
He spoke of growing up in a small town in Mississippi and of the importance of literature and the arts in helping people understand their worlds. "We often live in a bifurcated society with those who are engaged in their communities and the world and those who are not, and humanities are a path toward that engagement," he said.
Perhaps reflecting his background in small-town America, Peede said it was important for the NEH to have peer-review panelists "from all 50 states." He believes that when these peer reviewers finish with their panels, they end up encouraging more people in their regions to apply to the NEH for grants.
Peede said he counted among his most important mentors William R. Ferris, who led the NEH during President Clinton's second term in office. Peede earned a master's degree at the University of Mississippi in the Southern studies program Ferris led.
He said he worries about the trend of people earning Ph.D.s in humanities fields and then having difficulty finding good jobs in academe.
"We produce these doctoral students and then we say there are no tenure-track jobs," he said. The answer to the problem may be in careers built -- as his has been -- on master's degrees. Humanities programs need "to create a path" for people to work in humanities-related fields, in publishing, museums, nonprofit groups, he said.
Peede said when he's asked about various M.F.A. programs, he suggests that they look at programs with internships or experiences that prepare people for jobs outside academe.
People who make careers outside academe may also support important work in the humanities, he said. Peede likes reading literature and scholarship "free of jargon," which he called "important for those of us who spend our careers outside the tenure track." Peede described himself as a "generalist" with a strong interest in Southern fiction. He is the co-editor of Inside the Church of Flannery O'Connor: Sacrament, Sacramental, and the Sacred in Her Fiction (Mercer University Press).
With regard to the NEH, Peede said it should be "a catalytic funder" that can encourage "institutional buy-in." He added that in looking at grants, "I don't want to look at anything and only see federal dollars" in a project.
When it comes to examining grants that are awarded, Peede said the NEH has tended to ask for reports on the activities supported by grants, but that he would like to see more information collected on the outcomes of projects.
Asked what he would do if the NEH suddenly had much more money, Peede said he wasn't focused on such questions. He believes it is very important for the endowment to maintain the rigor that is reflected in its grants. He said NEH fellowships, because of their strong reputation, "transform" careers, and he worries that if the NEH expanded the number of fellowships in a significant way, that reputation might be eroded.