You have /5 articles left.
Sign up for a free account or log in.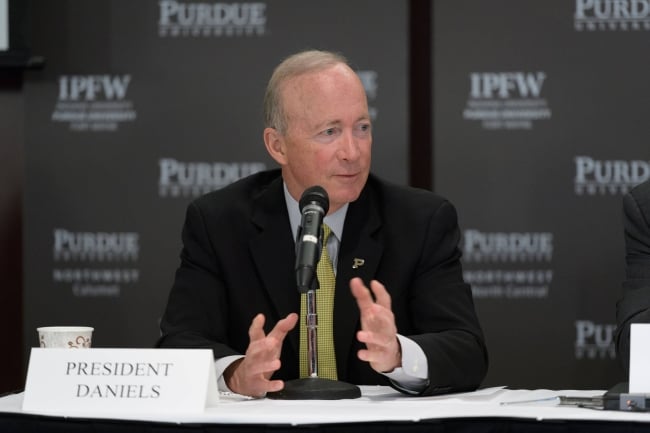 Purdue University Global has cleared its third and final regulatory hurdle, with the Higher Learning Commission following state and federal agencies in backing Purdue's acquisition of the for-profit Kaplan University.
Yet questions remain about the final structure of the boundary-pushing Purdue Global, which has drawn both strong praise and criticism. The online university will combine aspects of public, private nonprofit and for-profit higher education after its anticipated launch in April.
Meanwhile, experts said more nonprofit entities, including some colleges, will seek to acquire for-profits. And the tax-status conversion of Kaplan University has stoked interest among for-profits, many of which are hemorrhaging students and money, to follow suit with their own bids to become nonprofits.
"There's going to be a lot of activity between now and 2020," said Trace Urdan, an expert on the for-profit industry and a managing director at Tyton Partners.
Also this week, Grand Canyon University, a publicly traded for-profit that enrolls roughly 70,000 students online and has a growing physical location in Phoenix, got a green light from the Higher Learning Commission to convert to a nonprofit. It's the second attempt for the university, which still needs approval from the feds and state regulators. And officials from Grand Canyon have cited Purdue Global in their latest bid.
Industry analysts and lawyers said as many as 12 proposed for-profit conversions or sales are in the works. While most of those attempts will be smaller in scope than the ambitious Purdue deal, some could involve other public universities, experts said. And another blockbuster deal is possible.
Several conversion bids languished at the U.S. Department of Education during the Obama administration, said Neil Lefkowitz, a lawyer with the firm Loeb & Loeb LLP, who focuses on mergers and acquisitions.
Congressional Democrats and some state attorneys general have generally opposed for-profit conversions and sales, according to Lefkowitz and other experts. But the environment has changed under the deregulation-minded Trump administration, although the department required some changes to the arrangement between Purdue and Kaplan as part of its approval of the deal, including a limit on some fees the for-profit can charge.
"People will try to finish them up because there's a limited political window," Lefkowitz said. "The political winds will change again."
Purdue is expected to formally close the deal with Kaplan before April, when the new online university is slated to become a separately accredited nonprofit within the public Purdue system. Kaplan University's roughly 30,000 students and 2,000 faculty members will join the new university, along with Kaplan's 15 campus locations and its 80 or so degree programs, which range from associate to doctoral degrees.
Kaplan Inc., however, isn't going away. The company's international and test preparation divisions brought in more than half of its $1.5 billion in revenue last year, according to a corporate filing. And Kaplan will continue to run a large portion of the nonacademic operations of its former university under a complex 30-year contract with Purdue.
The public university is paying only a nominal fee for the acquisition. Kaplan will be paid for handling Purdue Global's marketing, admissions support and financial aid administration, as well as other services (see the box below for a list of responsibilities under the partnership).
Kaplan is guaranteeing that Purdue Global will generate at least $10 million a year in new revenue for the first five years, chipping in money to cover any shortfalls. The company will be reimbursed for its support activities and will receive a fee of 12.5 percent of the university's revenue.
As a result, Kaplan's role with Purdue Global in some ways will resemble that of an online program management company, albeit one that charges a relatively small fee and with a long-term contract that Lefkowitz said "transcends outsourced program management agreements prevalent in U.S. higher education in complexity, anticipation of future changes, operational control and payments to Kaplan in most termination scenarios."
Under the contract, Kaplan gets an enviable big client in Purdue and could expand by offering similar services to other universities.
Shared Services for Purdue Global
Purdue Global oversees: student admissions, academic standards, curriculum, student records, academic reporting, faculty and faculty support, student support services, degree-granting procedures, career services, educational approvals and related matters.
Kaplan will provide: marketing and advertising, front-end student advising, admissions support, financial aid and student finance, international student recruitment, test preparation, business office, technology support, human resources, finance and accounting functions, and related services.
In exchange, Purdue immediately becomes a major national player in online education -- joining a growing group of nonprofit colleges with the largest online enrollments, including Western Governors University, Southern New Hampshire University, Liberty University, the University of Maryland University College and Arizona State University.
Mitch Daniels, Purdue's president and Indiana's Republican governor from 2005 to 2013, has said Purdue is far behind in distance education and lacked a competitive means of delivering online courses.
"The chance to acquire overnight that delivery competence was an opportunity not to be missed," he said in a January open letter to the university.
Purdue anticipates that the former Kaplan University's enrollment will increase by an estimated 13 percent this fall semester, according to a Higher Learning Commission report from January.
Faculty members, particular at Purdue's West Lafayette campus, have been fiercely critical of the Kaplan deal. More than 300 in November signed a petition to the HLC that opposed the acquisition, with much of the criticism centering on Kaplan's role in the new university. (Professors at Purdue also have complained about not having an adequate say in Purdue Global's creation.)
The acquisition will be expensive in the long term and pose reputational and other risks to the university, its students and faculty members, said David Sanders, an associate professor in Purdue's department of biological sciences who is a past chair of the University Senate. He said Kaplan's involvement threatens Purdue's priorities in several areas, including its commitment to academic rigor and keeping students' debt levels in check.
"We no longer have the high moral ground," said Sanders. He asked of Purdue Global, "Is it an educational entity or is it a corporation?"
Purdue officials, most notably Daniels, have pushed back hard on the faculty criticism. A centerpiece of the president's argument for the new university is that it will help Purdue better fulfill its land-grant mission by making high-quality degrees available to working adults who have some college credit under their belts but no credential. (Roughly 750,000 people in Indiana fit that profile.)
"The democratization of higher ed, and its broader accessibility to wider sections of society, has always drawn detractors from within the incumbent system of the day," Daniels said in his January letter.
Unresolved Questions and Faculty Concerns
The Higher Learning Commission approvingly cited Purdue's desire to reach adult students in its 60-page January report about the proposed university, which the Journal & Courier obtained last month. The report also included results from a commission team's visit to the university.
Judith Eaton, president of the Council for Higher Education Accreditation, said the HLC's decision sends a "very powerful message" that accreditors are adapting to exciting innovations.
"It's an acknowledgment of significant change in higher education," she said of the accreditor's decision.
However, the commission, which is the regional accreditor for Purdue and Kaplan, also identified several ambiguities and unresolved questions about Purdue Global. In the letter this week about its decision to approve the transaction, which Purdue opted to release, the accreditor said it will conduct a focused evaluation of Purdue Global during the next six months.
Specific areas of interest during that review, the commission said, include questions about how students might transfer credit from Purdue Global to other universities in the Purdue system, an as-yet-unestablished code of conduct for students and employees, and the autonomy of Purdue Global's governing board.
Kaplan's suite of degree programs is unlikely to change much in the immediate future, according to the HLC report. But the university has said it may add programs in human resources, social work and marketing and management.
Purdue Global's new board voted to approve a tuition discount of approximately 45 percent for Indiana residents who enroll in undergraduate programs at Purdue Global -- at $220 per credit hour, the total sticker price for a bachelor's degree would be $39,600.
Daniels also told the accreditor that Purdue plans to tighten admissions requirements for graduate programs, including increasing the minimum grade point average required for admission to 3.0 from Kaplan's 2.5.
"The process for aligning educational quality is just beginning," the commission said in January.
Likewise, HLC said Purdue and Kaplan's approach to shared services "seemed ambiguous" to the site visit group.
"The team could not determine if Purdue officials embraced the philosophy of the shared services or were simply accepting the proposed shared services as a part of the agreement to compensate Kaplan Higher Education for the market value of Kaplan University," according to the commission's report.
However, the accreditor largely dismissed concerns Purdue faculty members shared with the site team. For example, it pushed back on worries about the qualifications of Kaplan University's faculty members.
"Purdue has numerous full-time and part-time non-tenure-track faculty, as well as graduate students, who teach an appreciable amount of total student credit hours on the campus. Teaching loads and research expectations for tenured and tenure-track faculty are very different on Purdue's two existing regional campuses than at Purdue, further demonstrating that existing teaching roles are already differentiated across Purdue University," the commission's report said. "Significantly, KU faculty meet HLC's assumed practice expectations for faculty quality and the team heard no evidence to suggest that KU faculty would not be qualified to assume non-tenure-track positions at any of Purdue's existing campuses."
Sanders said faculty members at Purdue were not given much time to prepare for the commission's site visit, just as he and others complained about the university giving them an hour's notice before it announced the transaction.
"The Higher Learning Commission wasn't ultimately interested in faculty opinions about the deal," he said. "We weren't really listened to."
'A Different Animal'
Purdue officials said they are working on the outstanding questions the commission identified.
For example, a university spokesman said Purdue is working with Kaplan to review course catalogs at Purdue's three branch campuses to evaluate them for transfer to Purdue Global. And the university will use its current process to evaluate the transfer of Purdue Global courses to the university's other campuses.
Purdue will use learning outcomes to determine equivalency between those courses. If a Purdue Global course meets those equivalencies, "it will be treated the same as a Purdue course and applied toward meeting the degree requirements of the program," the spokesman said, although he added that Purdue Global's adult learners mostly will be place bound and unlikely to transfer to another Purdue campus.
Bob Shireman has been a prominent critic of Purdue Global. In particular, Shireman, a senior fellow at the Century Foundation and a former senior Education Department official during the Obama administration, has questioned the public-university status of Purdue Global.
For example, he has criticized Purdue's decision not to publicly release several attachments to its contract with Kaplan, including a policy manual that describes how and when Purdue could owe money to Kaplan for making academic changes that hurt Purdue Global's enrollment and bottom line.
Purdue Global is exempt from some open-records laws that apply to Indiana's public universities and to others around the country. That's because of language the state's Legislature inserted into a bill that paved the way for the university's creation.
The Higher Learning Commission said it inquired about those exemptions. Purdue told the commission that it selected an existing statute that is "not open to public records" and that the "goal was not to facilitate hiding information; rather the statute in question requires this approach, at least for the time being."
Shireman called that reasoning disingenuous. He also cited the commission's letter this week, which said Purdue Global's tax status is a legal matter outside its purview, and one that state and federal governments should determine.
"It is telling that HLC explicitly says it is not taking any position as to whether Purdue University Global is for-profit, nonprofit or public," Shireman said via email. "Purdue University Global really is a different animal, and HLC, the federal government and Purdue will need to grapple with what it is and what really drives it."
Purdue said in response that Indiana's Commission for Higher Education, in its letter granting approval to Purdue Global, said the university is considered to be a public university because it is under the supervision and control of Purdue's Board of Trustees, which the Education Department considers to be a "governmental entity equivalent to the state."
Beyond Purdue Global, higher education's regulatory "triad" likely will be forced to grapple with more line-blurring conversions and partnerships.
Urdan said nonprofits will continue to look for new sources of enrollment and revenue, particularly given serious worries about demographics and a declining number of college-bound high school graduates. Like Purdue, he said some will pursue a "buy versus build strategy" when it comes to online programs.
Meanwhile, even big for-profits might be looking to make a change, Urdan said, in part because their brands have taken a big hit in recent years. While a Republican-dominated Washington has substantially eased the regulatory pressure that contributed to the collapse of Corinthian Colleges and ITT Technical Institute, he said many in the for-profit sector expect the pendulum to swing back.
"Nobody wants to invest in a company that you can only own when there's a Republican in the White House," Urdan said.