You have /5 articles left.
Sign up for a free account or log in.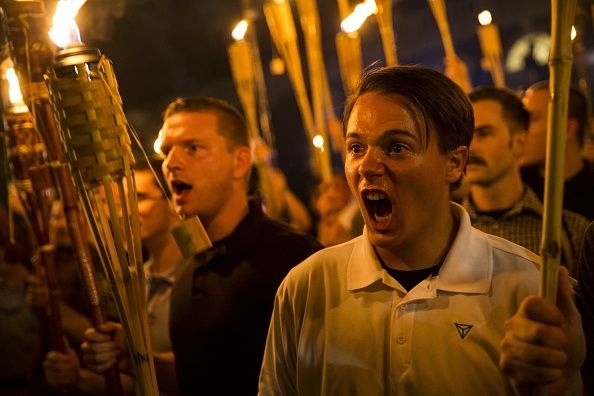 In 2016, white nationalist Richard Spencer visited Texas A&M University, intending to -- by his own admission -- rile the campus and shake the status quo. It was the start of Spencer's circuit of colleges and universities nationwide, but he was by no means the only controversial speaker to rattle students.
While always being hotbeds for issues of free expression, colleges in the past year have dealt with provocateurs who invite themselves to campus -- and some administrators are responding by making more restrictive their policies on outside speakers (or are at least reviewing those rules).
Shortly after Spencer's first Texas A&M appearance, the university changed its policy allowing any outside speaker or group to rent a space. Instead, they would need the backing of an affiliated student group -- this was a reaction to Spencer's talk, said spokeswoman Amy B. Smith. Spencer didn't have such a tie to the institution.
"We as public universities have to deal with greater challenges," Smith said of hosting controversial speakers. "Especially for the cost of higher ed, and you add into the mix security and everything else. Freedom of speech is precious and we have to guard that … and we upheld that and let him come. But we did change our policy, not to prevent controversial speakers from coming, but to have it in such a way that there is some kind of affiliation with our university stakeholders."
Public institutions, while subject to First Amendment obligations, can create limits on campus speakers, as long as the rules aren't biased based on the political views of the speaker. The Texas A&M policy would be considered content neutral because it applies to everyone and on paper wouldn't single out Spencer based on the offensiveness of his views.
Those restrictions can appear to pass legal muster but in a de facto sense constrain certain types of speech, said Azhar Majeed, vice president of policy reform at the Foundation for Individual Rights in Education, a civil liberties watchdog group.
Majeed said while colleges can review and make legal changes to their policies, FIRE is still concerned when the number of viewpoints on a campus is reduced and students aren't confronted by new ideas.
"And you really are getting into a problem of selective enforcement," Majeed said. "The proof is in the pudding -- it's hard to get that from plain language of the policy."
Smith said the new rule hasn't restricted people from using the campus spaces -- plenty of students or professors at Texas A&M would be willing to ask the Boy Scouts to campus, for instance. Texas A&M also has multiple conservative student groups, so it seems unlikely that most on the right would have a tough time securing an invitation.
And Texas A&M will continue to host controversial speakers, Smith said -- this move wasn't meant to clamp down on them.
Spencer, who helped create the "alt-right," a fringe right-wing movement characterized by its racist, anti-Semitic and misogynist views, made stops at multiple public colleges last year, his presence drawing protests that sometimes turned bloody. In a recent YouTube clip he posted, he suggested he might suspend his tour given the violence that surrounds his speeches.
One of Spencer's earlier targets, Auburn University, canceled his talk amid safety concerns, though Spencer's representatives successfully sued on his behalf and he addressed the campus. After Spencer's speech, Auburn, exactly like Texas A&M, changed its rules so only recognized student organizations and faculty may reserve university facilities for an outsider. A college student from Georgia rented the facility for Spencer -- he was not an Auburn student or faculty member. An Auburn spokesman did not respond to questions from a reporter, only providing a copy of the updated policy.
One of Spencer's most prominent appearances was his march around the University of Virginia grounds in August, leading his torch-wielding supporters shouting Nazi chants. The following day Spencer participated in events in the city of Charlottesville that turned violent, culminating when a white supremacist drove his car into a crowd of counterprotesters, killing a woman and injuring 19 other people.
UVA is now mulling alterations to its time, place and manner policy that are currently being vetted by students and professors, said Risa Goluboff, dean of the UVA School of Law and chairwoman of a working group assigned to assessing the university's response to Spencer's campus rally. An institutional review revealed that the university failed to enforce some of its own policies already on the books, including a ban on open flames.
Under the earlier policy, any outside party could gather on the UVA campus with few limitations. University leaders have proposed that people or groups unaffiliated with the institution who want to speak or pass out literature outdoors do so only in certain areas of campus. They would be required to register with the university's event planning staffers and the Office of the Dean of Students within seven days of an event.
They also could only reserve outdoor spaces in two-hour blocks on weekdays, from 9 a.m. to 5 p.m., and only once per week.
Groups can be only up to 25 people -- the white supremacist march on campus exceeded this requirement.
The university already required student groups to sponsor outside organizations that wanted to use indoor facilities.
UVA has heard criticism both that the plan is too restrictive or not inhibiting enough, Goluboff said.
Officials have urged detractors not to approach the proposal with a single speaker in mind, she said. Some people have a speaker that they theoretically wouldn't want on campus and want to make rules that would prohibit him or her, Goluboff said, and vice versa -- they want to ensure the policy wouldn't block a favored speaker from visiting the university.
"When you have a kind of an event like happened in August, it makes sense to look at all your policies," Goluboff said. "Colleges have had free speech issues before. The nature of the issues, the content of the speakers has changed in direction over the last 50 years, but it's not new for college campuses. There are questions of how do you protect unpopular things while also ensuring the protection of your community. This has been going on for a long time. The political inflection of them has changed, but the fundamental questions haven't changed all that much."
Administrators haven't determined when outgoing president Teresa Sullivan (or her successor) would approve a final policy.
Penny Rue, vice president for campus life at Wake Forest University and board chairwoman of NASPA: Student Affairs Administrators in Higher Education, said it makes sense that institutions are examining their practices "in light of recent events." Institutions both public and private are taking seriously their free speech commitments, which involve when a forum is open to the public, she said.
"Being mindful of how and by whom speakers are invited to campus seems an element of sound event management practices," Rue wrote in an email. "My experience tells me there has long been a wide range of practices regarding access to college or university facilities by affiliated and unaffiliated individuals and groups that have not been problematic. Recent events have called those practices, whether policy or not, into question."