You have /5 articles left.
Sign up for a free account or log in.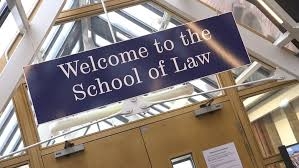 Nearly nine out of 10 law school graduates who sat for the bar exam within two years of graduating passed it, according to new data from the American Bar Association.
But more than 10 percent of law schools had at least a quarter of their students fail the exam, and more than one in six schools had rates below 80 percent, the ABA data show.
The new data represent the first time that the ABA has released data for all of its member schools on what it calls the "ultimate" bar passage rate, rather than the one-year rates by which law schools have typically been judged.
Barry Currier, managing director of the ABA Section of Legal Education and Admissions to the Bar, which oversees accreditation of law schools, said the change "allows for more current information to be collected and reported," to help prospective law students better choose schools. "It also gives us a snapshot of how law graduates are doing over a two-year span at each school," he said.
The ABA, not surprisingly, emphasized the positive in the bar-passage data. The aggregate one-year bar-passage rate for those 2017 graduates who sat for the exam rose to 77.2 percent, up from 74.3 percent in 2016. The one-year rates ranged from 100 percent for Marquette University and the University of Wisconsin at Madison to below 30 percent for Arizona Western Law School and Thomas Jefferson School of Law.
About 40,000 students graduated from the ABA's 202 law schools in 2015. Of those who sat for the bar within two years, the ultimate aggregate pass rate was 87.8 percent. (About 1,100 students did not sit for the exam, and law schools were unable to give the ABA information on about 1,000 more.)
But 24 schools had rates below 75 percent, and another 13 had rates below 80 percent, as seen in the table below.
| | | | | |
| --- | --- | --- | --- | --- |
| School Name | 2015 Graduates | Number Who Took Bar Exam Within 2 Years | Number Who Passed Bar Exam Within 2 Years | % That Passed Bar Within 2 Years |
| U of Detroit Mercy | 150 | 109 | 62 | 56.9% |
| Arizona Summit Law School | 417 | 395 | 236 | 59.7% |
| New England Law | 335 | 302 | 182 | 60.3% |
| Pontifical Catholic U of P.R. | 203 | 191 | 116 | 60.7% |
| Inter American U of Puerto Rico | 169 | 155 | 99 | 63.9% |
| Northern Kentucky U | 131 | 117 | 75 | 64.1% |
| St. Mary's U | 224 | 211 | 137 | 64.9% |
| U of District of Columbia | 71 | 67 | 44 | 65.7% |
| Atlanta's John Marshall Law School | 146 | 120 | 81 | 67.5% |
| U of Toledo | 99 | 89 | 61 | 68.5% |
| U of Wyoming | 77 | 74 | 51 | 68.9% |
| Valparaiso U | 132 | 124 | 86 | 69.4% |
| Western Michigan U | 680 | 628 | 438 | 69.7% |
| Syracuse U | 189 | 184 | 131 | 71.2% |
| Ohio Northern U | 67 | 64 | 46 | 71.9% |
| Florida Coastal School of Law | 407 | 394 | 284 | 72.1% |
| South Texas College of Law Houston | 325 | 312 | 225 | 72.1% |
| Golden Gate U | 161 | 155 | 112 | 72.3% |
| U of South Dakota | 62 | 55 | 40 | 72.7% |
| Howard U | 130 | 118 | 86 | 72.9% |
| U of North Dakota | 69 | 56 | 41 | 73.2% |
| Barry U | 244 | 234 | 172 | 73.5% |
| Whittier Law School | 140 | 136 | 101 | 74.3% |
| American U | 480 | 399 | 299 | 74.9% |
| Duquesne U | 144 | 139 | 105 | 75.5% |
| Ave Maria School of Law | 88 | 83 | 63 | 75.9% |
| Thomas Jefferson School of Law | 238 | 228 | 175 | 76.8% |
| Southern U | 214 | 142 | 109 | 76.8% |
| Mississippi College | 123 | 114 | 88 | 77.2% |
| U of Dayton | 93 | 88 | 68 | 77.3% |
| U of Puerto Rico | 186 | 165 | 128 | 77.6% |
| Appalachian School of Law | 60 | 60 | 47 | 78.3% |
| Florida A&M U | 135 | 120 | 94 | 78.3% |
| Charleston School of Law | 144 | 139 | 109 | 78.4% |
| St. Thomas U (Florida) | 159 | 154 | 121 | 78.6% |
| U of La Verne | 38 | 38 | 30 | 78.9% |
| Catholic U of America | 134 | 130 | 104 | 80.0% |
| Loyola U Chicago | 262 | 222 | 178 | 80.2% |
| Touro College | 182 | 177 | 142 | 80.2% |
| Texas Southern U | 155 | 146 | 118 | 80.8% |
| U of San Francisco | 167 | 163 | 132 | 81.0% |
| Creighton U | 125 | 117 | 95 | 81.2% |
| Western State College of Law | 112 | 108 | 88 | 81.5% |
| Florida State U | 250 | 237 | 194 | 81.9% |
| Drake U | 120 | 117 | 96 | 82.1% |
| McGeorge School of Law, U of the Pacific | 218 | 208 | 171 | 82.2% |
| U of St. Thomas (Minn.) | 138 | 135 | 111 | 82.2% |
| North Carolina Central U | 179 | 169 | 139 | 82.2% |
| U of North Carolina | 232 | 218 | 180 | 82.6% |
| Faulkner U | 89 | 87 | 72 | 82.8% |
| Southwestern Law School | 306 | 298 | 247 | 82.9% |
| Indiana U Indianapolis | 269 | 230 | 192 | 83.5% |
| U of Buffalo School of Law | 199 | 195 | 163 | 83.6% |
| Hofstra U | 301 | 285 | 240 | 84.2% |
| Suffolk U | 467 | 436 | 368 | 84.4% |
| U of Maine | 78 | 71 | 60 | 84.5% |
| Nova Southeastern U | 285 | 267 | 226 | 84.6% |
| William & Mary Law School | 179 | 165 | 140 | 84.8% |
| California Western School of Law | 218 | 214 | 182 | 85.0% |
| Southern Illinois U-Carbondale | 111 | 101 | 86 | 85.1% |
| Roger Williams U | 119 | 116 | 99 | 85.3% |
| Vermont Law School | 165 | 158 | 135 | 85.4% |
| Indiana U Bloomington | 195 | 186 | 159 | 85.5% |
| U of Texas at Austin | 357 | 338 | 289 | 85.5% |
| U of Baltimore | 268 | 250 | 214 | 85.6% |
| New York Law School | 353 | 338 | 290 | 85.8% |
| U of Arkansas at Fayetteville | 137 | 130 | 112 | 86.2% |
| Santa Clara U | 213 | 211 | 182 | 86.3% |
| Quinnipiac U | 116 | 110 | 95 | 86.4% |
| U of Arizona | 158 | 148 | 128 | 86.5% |
| Case Western Reserve U | 144 | 134 | 116 | 86.6% |
| U of Oregon | 119 | 112 | 97 | 86.6% |
| John Marshall Law School | 381 | 368 | 319 | 86.7% |
| Albany Law School of Union U | 172 | 169 | 147 | 87.0% |
| Elon U | 92 | 85 | 74 | 87.1% |
| Capital U | 149 | 141 | 123 | 87.2% |
| Pepperdine U | 199 | 196 | 171 | 87.2% |
| U of Pittsburgh | 200 | 189 | 165 | 87.3% |
| Georgia State U | 199 | 188 | 165 | 87.8% |
| Willamette U | 102 | 99 | 87 | 87.9% |
| City U of New York | 111 | 108 | 95 | 88.0% |
| West Virginia U | 134 | 125 | 110 | 88.0% |
| Widener U Delaware | 167 | 159 | 140 | 88.1% |
| Loyola U New Orleans | 198 | 187 | 165 | 88.2% |
| DePaul U | 253 | 240 | 212 | 88.3% |
| U of Arkansas Little Rock | 123 | 112 | 99 | 88.4% |
| U of Maryland | 255 | 235 | 208 | 88.5% |
| Mitchell Hamline School of Law | 230 | 209 | 185 | 88.5% |
| Northern Illinois U | 101 | 97 | 86 | 88.7% |
| U of Massachusetts Dartmouth | 58 | 53 | 47 | 88.7% |
| U of Minnesota | 239 | 233 | 207 | 88.8% |
| Michigan State U | 292 | 269 | 239 | 88.8% |
| U of Mississippi | 142 | 117 | 104 | 88.9% |
| Stetson U | 270 | 252 | 224 | 88.9% |
| Duke U | 214 | 200 | 178 | 89.0% |
| U of Hawaii | 108 | 101 | 90 | 89.1% |
| U of South Carolina | 211 | 202 | 180 | 89.1% |
| U of Nebraska | 128 | 121 | 108 | 89.3% |
| Lincoln Memorial U | 20 | 19 | 17 | 89.5% |
| U of Idaho | 108 | 105 | 94 | 89.5% |
| U of New Hampshire | 71 | 68 | 61 | 89.7% |
| U of San Diego | 246 | 241 | 217 | 90.0% |
| Temple U | 253 | 243 | 219 | 90.1% |
| Cleveland State U | 117 | 112 | 101 | 90.2% |
| Lewis and Clark College | 201 | 164 | 148 | 90.2% |
| U of Tennessee | 123 | 113 | 102 | 90.3% |
| U of Richmond | 159 | 156 | 141 | 90.4% |
| Rutgers U | 401 | 388 | 351 | 90.5% |
| U of California, Hastings | 301 | 294 | 266 | 90.5% |
| Texas A&M U | 227 | 221 | 200 | 90.5% |
| Washburn U | 117 | 116 | 105 | 90.5% |
| Pennsylvania State U Dickinson Law | 55 | 53 | 48 | 90.6% |
| Western New England U | 93 | 86 | 78 | 90.7% |
| U of California, Davis | 188 | 183 | 166 | 90.7% |
| U of Alabama | 144 | 140 | 127 | 90.7% |
| U of Montana | 79 | 76 | 69 | 90.8% |
| Samford U | 134 | 109 | 99 | 90.8% |
| Tulane U | 241 | 229 | 208 | 90.8% |
| Regent U | 125 | 121 | 110 | 90.9% |
| Northeastern U | 169 | 167 | 152 | 91.0% |
| U of Nevada Las Vegas | 139 | 135 | 123 | 91.1% |
| Oklahoma City U | 143 | 135 | 123 | 91.1% |
| U of Illinois | 177 | 169 | 154 | 91.1% |
| Pace U | 142 | 138 | 126 | 91.3% |
| Seattle U | 262 | 243 | 222 | 91.4% |
| U of Akron | 142 | 128 | 117 | 91.4% |
| Chicago-Kent School of Law | 282 | 257 | 235 | 91.4% |
| U of Memphis | 109 | 106 | 97 | 91.5% |
| U of New Mexico | 109 | 106 | 97 | 91.5% |
| Concordia Law School | 26 | 24 | 22 | 91.7% |
| Brigham Young U | 142 | 134 | 123 | 91.8% |
| Mercer U | 115 | 111 | 102 | 91.9% |
| Columbia U | 417 | 408 | 375 | 91.9% |
| Saint Louis U | 199 | 190 | 175 | 92.1% |
| Louisiana State U | 189 | 178 | 164 | 92.1% |
| U of Utah | 125 | 117 | 108 | 92.3% |
| Villanova U | 217 | 208 | 192 | 92.3% |
| U of Miami | 401 | 368 | 340 | 92.4% |
| Washington and Lee U | 176 | 173 | 160 | 92.5% |
| U of Houston | 219 | 214 | 198 | 92.5% |
| U of Kentucky | 126 | 124 | 115 | 92.7% |
| Loyola Marymount U | 372 | 362 | 337 | 93.1% |
| Liberty U | 61 | 60 | 56 | 93.3% |
| Arizona State U | 219 | 212 | 198 | 93.4% |
| Chapman U | 132 | 126 | 118 | 93.7% |
| New York U | 486 | 474 | 444 | 93.7% |
| Georgetown U | 692 | 656 | 615 | 93.8% |
| U of Missouri Kansas City | 140 | 130 | 122 | 93.8% |
| Texas Tech U | 203 | 198 | 186 | 93.9% |
| U of Denver | 271 | 254 | 239 | 94.1% |
| Southern Methodist U | 240 | 238 | 224 | 94.1% |
| Wake Forest U | 147 | 136 | 128 | 94.1% |
| U of Southern California | 216 | 211 | 199 | 94.3% |
| Cardozo School of Law, Yeshiva U | 365 | 353 | 333 | 94.3% |
| U of Louisville | 131 | 124 | 117 | 94.4% |
| U of California, Irvine | 114 | 107 | 101 | 94.4% |
| U of Tulsa | 111 | 108 | 102 | 94.4% |
| Drexel U | 132 | 127 | 120 | 94.5% |
| Boston College | 244 | 237 | 224 | 94.5% |
| Fordham U | 410 | 372 | 352 | 94.6% |
| Pennsylvania State -- Penn State Law | 98 | 93 | 88 | 94.6% |
| Emory U | 312 | 303 | 287 | 94.7% |
| Brooklyn Law School | 336 | 333 | 316 | 94.9% |
| Northwestern U | 288 | 276 | 262 | 94.9% |
| Widener Commonwealth Law | 85 | 82 | 78 | 95.1% |
| U of Georgia | 190 | 187 | 178 | 95.2% |
| Seton Hall U | 194 | 187 | 178 | 95.2% |
| Washington U | 231 | 219 | 209 | 95.4% |
| St. John's U | 249 | 246 | 235 | 95.5% |
| Wayne State U | 129 | 125 | 120 | 96.0% |
| Cornell U | 183 | 178 | 171 | 96.1% |
| U of Colorado | 157 | 153 | 147 | 96.1% |
| George Washington U | 465 | 436 | 419 | 96.1% |
| George Mason U | 145 | 141 | 136 | 96.5% |
| Belmont U | 87 | 86 | 83 | 96.5% |
| U of California, Los Angeles | 336 | 320 | 309 | 96.6% |
| Gonzaga U | 120 | 117 | 113 | 96.6% |
| Boston U | 208 | 206 | 199 | 96.6% |
| Vanderbilt U | 184 | 178 | 172 | 96.6% |
| U of Cincinnati | 104 | 101 | 98 | 97.0% |
| U of Notre Dame | 179 | 178 | 173 | 97.2% |
| U of Oklahoma | 155 | 148 | 144 | 97.3% |
| Ohio State U | 172 | 162 | 158 | 97.5% |
| U of Missouri | 127 | 124 | 121 | 97.6% |
| U of Kansas | 134 | 129 | 126 | 97.7% |
| U of California, Berkeley | 281 | 267 | 261 | 97.8% |
| U of Connecticut | 152 | 138 | 135 | 97.8% |
| Campbell U | 142 | 140 | 137 | 97.9% |
| Florida International U | 141 | 141 | 138 | 97.9% |
| U of Florida | 309 | 305 | 299 | 98.0% |
| U of Michigan | 357 | 348 | 342 | 98.3% |
| Harvard U | 590 | 511 | 503 | 98.4% |
| U of Iowa | 141 | 133 | 131 | 98.5% |
| Stanford U | 191 | 184 | 182 | 98.9% |
| U of Washington | 194 | 191 | 189 | 99.0% |
| U of Chicago | 196 | 193 | 191 | 99.0% |
| Yale U | 212 | 194 | 192 | 99.0% |
| U of Virginia | 366 | 357 | 355 | 99.4% |
| Marquette U | 229 | 221 | 220 | 99.5% |
| U of Pennsylvania | 246 | 235 | 234 | 99.6% |
| Baylor U | 112 | 109 | 109 | 100.0% |
| U of Wisconsin | 213 | 213 | 213 | 100.0% |