You have /5 articles left.
Sign up for a free account or log in.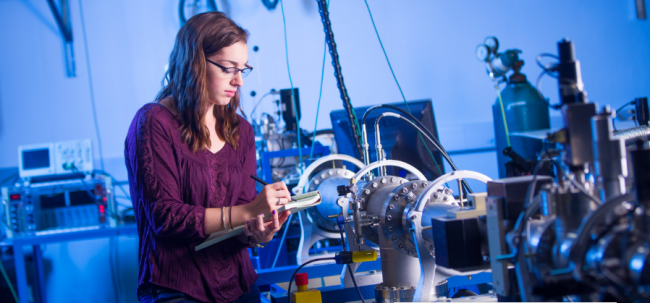 At 492 colleges in the United States, the highest degree available in physics is a bachelor's. And the average number of graduates from these programs is five a year. One institution in that group, though, the State University of New York at Geneseo, produces more graduates each year than the rest, last year graduating 35.
Geneseo's physics department distinguishes itself with its summer research program and the facilities students can access, including a Pelletron accelerator and a nearby laser energetics laboratory.
Geneseo forged an agreement with the University of Rochester in the 1990s that allows Geneseo students to use Rochester's laser energetics lab. And Geneseo faculty members, in a notable achievement for a teaching-oriented department, in November landed a $420,000 research grant to support an ongoing research project with a long-term goal of creating fusion energy.
Geneseo's physics program also differentiates itself with a machine called the Pelletron accelerator, installed in 2007. The 10-foot-long machine is used by faculty and students to accelerate proton and alpha particle beams. Geneseo uses its accelerator to support its fusion energy project at Rochester's lab.
"We are very fortunate to have such a nice machine, because there are only a handful of Pelletron accelerators that are in operation at undergraduate colleges like Geneseo," said Charlie Freeman, the department chair.
Access to the accelerator spurred junior Barak Stockler of Scarsdale, N.Y., to enroll at Geneseo. Stockler had known since his early high school years that he wanted to pursue physics, and he applied to about 20 colleges in search of a small campus with a robust physics program.
"I was very interested in going to a small school. But a lot of the time you lose the resources and opportunities that big schools have," Stockler said.
Geneseo's small size and lack of graduate-level programs works to the physics department's advantage, Stockler said -- undergraduates are able to use the accelerator in their research, an opportunity that larger universities may reserve for their graduate and doctorate-level students.
Since his first year, Stockler has spent his summers participating in a research initiative administered by the department of physics and astronomy, called SURGE -- Supporting Undergraduate Research at Geneseo. The 10-week program pays admitted students about $15 an hour to conduct research in small groups.
"During nine or 10 weeks in the summer, the department is a busy, active place with people working in the labs and learning by doing," said Kurt Fletcher, a longtime physics professor at Geneseo.
Alexis Irwin, a senior Geneseo physics student, was accepted for a summer position at the end of her sophomore year to pursue research in astronomy. Irwin said she chose Geneseo primarily because it was a public institution in her state, but she was surprised by the quality of the program.
"It still feels like a small community," Irwin said. "As I continued through the program, I realized the benefits of it being a larger department." Irwin is currently fielding offers from several universities for further study in astrophysics.
Longtime physics professors at Geneseo struggle to pinpoint when the department first began to grow. Freeman, the chair, said the program has been robust for decades, already averaging 20 or so graduates a year when he arrived in 1997. But the number of graduates jumped from 20 to 30 in 2009, when the physics department moved to a new science building. Freeman also suggested that the global financial crisis might have encouraged students to study science, due to its high demand in the work force.
Physics is one of the least diverse postsecondary majors in the nation -- the majority of faculty and students are white men. While Geneseo's physics program is slightly more diverse than average, nonwhite and women students remain vastly underrepresented compared to the population as a whole. Of nine full-time physics professors at Geneseo, two are women and two are of South Asian descent, according to the college. Among Geneseo's physics students, 170 are male and 48 are female. In terms of ethnicity, 167 students in the physics program are white, 18 are Asian, 12 are Latino, another 12 are multiracial, four are black and five did not specify their race.
Savi Iyer, who started at Geneseo in 1993, was the first woman to work as a physics professor at the college, she said. While Iyer said that Geneseo has a ways to go in bridging the gender and racial gaps among physics faculty and students, she said the university has pursued some initiatives to help solve the problem. Iyer pointed to an on-campus advocacy group for women and minorities, GROW STEM, as one example.
Geneseo president Denise Battles, who was a professor of geology, concurred with Iyer's sentiments about diversity. "As a woman in science myself, I have a long-standing interest in this issue," Battles said. "It's something that's a priority for us."