Modest Gains in Faculty Salaries
Pay is up 1.7 percent, CUPA-HR study finds, with slightly larger increases for those off the tenure track -- who tend to earn much less.
College faculty members are earning about 1.7 percent more this year than last year, according to a study released Wednesday by the College and University Professional Association for Human Resources.
The figure is down slightly from the increase reported last year. As the chart below shows, the gains were greater for non-tenure-track faculty members than for those on the tenure track. But non-tenure-track faculty members tend to earn much less than do those on the tenure track, and they typically lack comparable benefits. A number of adjunct unions have been organized in the last two years, with some negotiating healthy increases in salaries and benefits.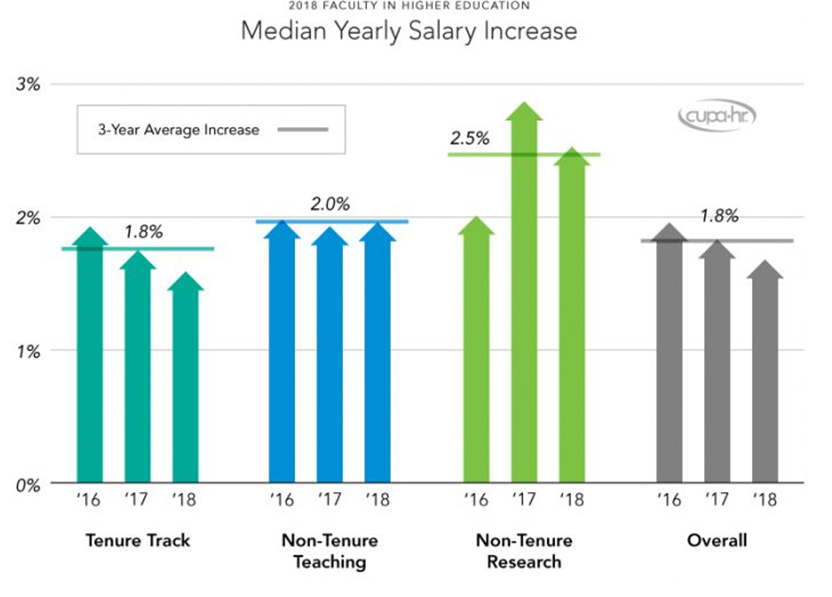 The CUPA-HR study is one of two major analyses of faculty salaries released each year. CUPA-HR releases only limited information, although it sells detailed reports to colleges. The other study is released by the American Association of University Professors, in April. That study features data, sorted by faculty rank, with an institution-by-institution breakdown. Data from past years are available from Inside Higher Ed here.
The AAUP is expecting to report a slightly larger percentage increase than that found by CUPA-HR, officials at the labor organization said. The rate of inflation for the year -- estimated by the AAUP at 1.9 percent -- suggests that many faculty members may be earning a little more but may be losing spending power this year.
The CUPA-HR analysis is based on data from about 238,698 full-time faculty members, including 9,419 identified as department heads, as well as 70,000 adjunct faculty positions.
Other findings released by the association are generally consistent with past studies.
Adjuncts earn the highest salaries at doctoral institutions and the lowest salaries at community colleges. At the latter, they make up a majority of those teaching.
Doctoral institutions are the most likely to provide extra pay to those who become department heads. Master's and bachelor's institutions tend to provide course relief.
The ranks of assistant professors include a greater share of women and nonwhite scholars than do the ranks of associate and full professors.
The greatest number of faculty hires in 2017-18 were in nursing and other health professions.