You have /5 articles left.
Sign up for a free account or log in.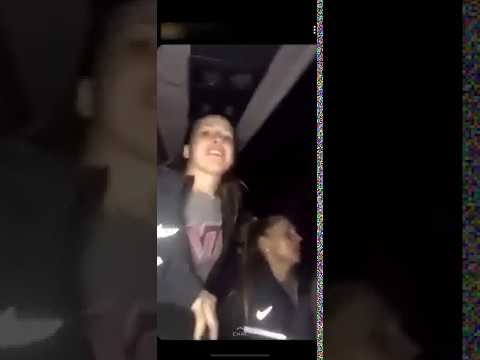 When a video surfaced of the Virginia Tech women's lacrosse players singing a hip-hop song on the team bus, something was immediately apparent. A predominantly white team sang a song that repeatedly uses a racial slur -- the N-word -- and was captured on camera.
The internet reacted accordingly, with many panning the women. The head coach has since apologized on the team's behalf and called it a "teachable moment."
"Shout out to whoever exposed the Virginia Tech women's lacrosse team," one Twitter user wrote. "Please continue to expose clowns like them."
But missing in the conversation thus far has been the fact that the campaign for diversity in college sports has completely skipped lacrosse.
Despite the sport's origin among the Native peoples of North America, collegiate lacrosse has historically not included many students of color. Originally, programs were much more club-based, which meant players had to shoulder a larger portion of the fees, as ESPN detailed in 2011. Players could spend hundreds of dollars on equipment and gear, which excludes those from lower-income backgrounds. When colleges have added teams -- and the sport is rapidly growing in popularity -- the rosters are largely filled with white players.
Bob Cook, a youth sports blogger writing in Forbes, said lacrosse seems to have been designed exclusively for the "upper crust," a common criticism.
"The growth model, intentionally or not, for lacrosse is built on white people who have seen their kids squeezed out of more mainstream sports and were happy to realize they found an activity that could ensure their children could hobnob and make connections with only the best," Cook wrote in 2016.
Tina Sloan Green, president of the Black Women in Sport Foundation, told ESPN that students of color tend to be concentrated in major cities, which often lack facilities and the large swaths of land required for lacrosse. If minority students want a strong connection to lacrosse, they need to see role models in the sport, but those role models have not yet emerged, she said. In Washington, the heart of the mid-Atlantic region and a long-standing center of U.S. lacrosse, only two out of the 20 traditional public high schools field lacrosse teams, The Washington Post reported last year. (Green was formerly a lacrosse coach known for fielding diverse teams.)
This translates to the college level.
National Collegiate Athletic Association data reveal that lacrosse remains one of whitest sports in Division I. In the 2016-17 season, about 85 percent of female lacrosse players were white. In the Atlantic Coast Conference, which Virginia Tech participates in, 91 percent were white.
Less than 1 percent of the ACC's female lacrosse players last year were black. And across Division I, a little less than 3 percent of female lacrosse players were black.
So unusual is a majority-black lacrosse team that when Hampton University, a historically black institution, launched a men's program two years ago, ESPN's SportsCenter on the Road trekked to the campus to broadcast the team's inaugural game against Roberts Wesleyan College, a Division II institution. (Howard University's women's squad proclaims itself the nation's only all-African-American women's lacrosse team.)
No historically black college or university had fielded a men's varsity team since Morgan State University's was cut in the 1980s. Morgan State's was highly ranked, among the top 20 teams in the country for several years in the mid-'70s.
"It's been 35 years since the 'Ten Bears' at Morgan State, and very little has changed," sportscaster and ESPN analyst Quint Kessenich wrote in Inside Lacrosse. "Improving diversity must be addressed. Hampton is a catalyst. While the Pirates won't radically transform the landscape of the game overnight, they will be a destination and finish line for African-American youngsters who are cradling a stick and ball. Hampton gives them a vision, a dream and a purpose. It's time to advance the dialogue of diversity."
But seemingly little has changed since Kessenich's call for diversity in 2016, newly highlighted by the Virginia Tech incident.
The institution's head women's lacrosse coach, John Sung, declined an interview through Pete Moris, an associate athletics director.
In a statement, Sung said he had "confidence that the team will learn from this mistake and understand that these actions reflect poorly on our program and do not represent the values of our program or the principles of the university."
Moris declined to clarify what Sung had meant by a "teachable moment," which Sung referenced in an interview with The Roanoke Times.
Sung told the newspaper that the players were "good kids that made a bad decision" -- they were excited coming off their win against Elon University and were simply singing along to a song, he said. The other tunes immediately prior to the one in question were Disney, Sung said.
The song, "Freaky Friday," by white rapper Lil Dicky, features a verse by Chris Brown (who is black) singing "nigger" over and over. Deadspin reported that a junior on the team recorded her teammates chanting Brown's verse and posted it on Snapchat.
"There's nobody of any color that should say it. Period. There's nobody that should say it," Sung said in the interview. When asked if players would be punished, he told the Times, "We're working through everything still."
The Virginia Tech case in some ways parallels a controversy at the University of Oklahoma in 2015. A fraternity there, Sigma Alpha Epsilon, was filmed on a bus singing a racist jingle -- to the tune of "If You're Happy and You Know It" -- with the line "There will never be a nigger in SAE."
The intent of the song in that incident seemed much more malicious than the Virginia Tech team, and Oklahoma's president, David L. Boren, expelled two students who "played a leadership role" in the chant.