You have /5 articles left.
Sign up for a free account or log in.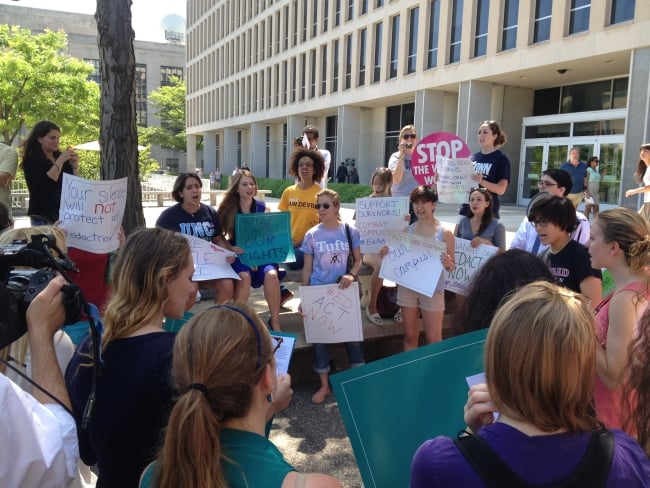 The omnibus spending package passed by Congress last week will give a serious boost to the Department of Education's civil rights enforcement arm, even as that office narrows the scope of its investigative work.
The legislation provides a total of $117 million for the Office for Civil Rights for fiscal year 2018. That's about $8.5 million more than the office's funding levels for the previous year. And it makes the third straight budget cycle in which the office has seen Congress increase its funding -- despite proposals from the Trump administration to cut support for the office.
OCR, however, has taken steps recently to streamline its investigation of civil rights complaints, limiting its use of broad systemic reviews and mandating that cases be automatically dismissed under a range of circumstances. Those and other changes, department leaders have argued, are necessary to clear a substantial backlog of open investigations that has persisted since the Obama administration. 
Some sexual assault survivor advocates have said the infusion of new funding -- and explicit instructions from lawmakers to beef up staffing -- weaken justifications for the adjustments to OCR's functions under the Trump administration.
But the Department of Education isn't second-guessing those changes.
"Secretary [Betsy] DeVos has been clear and consistent that one of the Department's most important missions is to protect the civil rights of all students," said spokeswoman Liz Hill via email. "The Office for Civil Rights continues to improve its efficiency, delivering justice for impacted students in a timely manner. We will responsibly use the resources provided by Congress to continue that work."
OCR's former head under the Obama administration, Catherine Lhamon, has been a frequent critic of policy changes at the office under DeVos and interim Assistant Secretary for Civil Rights Candice Jackson. She said she is thrilled that Congress continued to support civil rights enforcement at the office.
"This is an increase that is substantial even as compared to several other civil rights agencies that received substantially more than requested," she said.
Language in the spending bill also prohibited the secretary of education from closing any of OCR's 12 regional offices where most civil rights staff are based. DeVos was reportedly considering shuttering some regional offices as part of a departmental reorganization, although department officials said those discussions focused on reducing leasing of space, not staff. (Note: this article was updated to reflect more information on the department's discussions concerning regional civil rights offices.)
Lhamon said that with an infusion of funding comparable to the increase in the omnibus bill, she was able in 2016 to hire 50 additional lawyers and investigators as well as backfill another 50 positions that had stood empty through attrition. The vast majority of those new hires -- about 98 percent -- were added to OCR's regional offices.
She said those staff were incredibly consequential in terms of completing the office's work. OCR investigates discrimination at any institution receiving federal funds via the Department of Education. In higher education, that work includes issues such as gender equity in athletics and assuring equal treatment of all races and ethnicities.
The office saw a surge in complaints in recent years related to colleges' handling of sexual misconduct and harassment cases as a bigger national spotlight was shined on the issue and the Obama administration rolled out new federal guidance making clear the responsibility of institutions to investigate discrimination.
Carly Mee, interim executive director at SurvJustice, an organization that advocates for assault survivors, said the new support for staffing at OCR is a welcome development.
"They really need to add staff," she said. "The rate at which they're processing complaints is so slow."
Mee noted that the funds for new hires come as the department moves to dismiss many complaints on a variety of grounds and resolve others through options such as early resolution agreements. She said the department has approached her organization with that option recently for some cases that had been pending for years.
Although the omnibus spending package has been interpreted as Congress rejecting several DeVos priorities, it won't undo the change in course her department has already charted for the Office for Civil Rights.
Unpacking New Policies
The department last year signaled that it would restrict the scope of its investigations by no longer conducting systemic reviews of institutional practices when OCR received complaints about discrimination by an institution. Although the department did not announce that change publicly, Jackson sent a memo to regional directors advising them of the new policy, and that document was subsequently leaked to the media.
A new case-processing manual that took effect March 5 further codified the new policy in the office's practices. The manual also included other changes mandating that complaints be dismissed under a range of circumstances. Those circumstances now include a failure to state a violation of a law or regulation enforced by the Office for Civil Rights; an allegation that lacks sufficient detail; or a failure to file a complaint in a timely manner.
Another item in that section of the manual directs that a complaint be dismissed when it is similar to other complaints filed against other institutions and would place "an unreasonable burden on OCR's resources." At least one lawyer who works on higher ed issues said the civil rights office has already closed some investigations citing that provision.
Others who work on higher ed legal issues and specifically Title IX agree that the various updates to the civil rights office's manual have the practical implication of seriously streamlining the investigative work to reflect limited resources.
"From OCR's perspective, they're saying, 'We're completely overburdened and we're not positioned to respond to complaints in a prompt fashion, so anything we can do to lower our caseloads is a good and positive development,'" said Scott Schneider, a New Orleans-based lawyer who specializes in issues related to higher education.
But Schneider said the more narrow scope of the civil rights office's work means some significant problems will likely not get a serious look.
"Everybody is looking for an easy way to deal with these issues, and it doesn't exist. It just doesn't exist," he said.
Schneider said systemic investigations are the only way to fundamentally address policy violations and culture on a campus. While the Obama administration was keen to pursue those reviews, he said, the Office for Civil Rights was never appropriately staffed to handle broad investigations and the high volume of complaints in recent years.
The policy changes at OCR may reduce the total caseload at the office to a more manageable level. As of March, the department's website listed 317 active Title IX cases involving sexual violence at postsecondary institutions. There were about 300 active Title IX sexual violence cases when the Trump administration entered office.
But some advocates warn that the standards now being used to dismiss complaints lack clarity.
Faith Ferber, an organizer with Know Your IX, said some language in the new manual is so vague, it's "a recipe for disaster." One bullet point, for example, directs civil rights staff to dismiss a complaint if "credible information" indicates the allegations have been resolved or are no longer appropriate for investigation. Ferber said it's unclear what constitutes credible information or under what circumstances an investigation would be "no longer appropriate."
And she said the mandate that a complainant provide documentation of an allegation within 14 days of being contacted by OCR in writing is an "absurd" standard because of the short turnaround time it would afford complainants.
Ferber said she took a pessimistic view of the new case-processing manual. Under the Trump administration, she said, "it seems many of the policy changes are designed to sneakily discriminate against more and more people."
S. Daniel Carter, president of Safety Advisors for Educational Campuses LLC, said changes at the office are consistent with a readjustment of priorities the Trump administration has long advanced.
"The changes to the case-processing manual are particularly aligned with OCR's approach to reduce systemic reviews and, importantly, close the overwhelming amount of cases currently pending, the delay of which has been a disservice to all involved," he wrote in an email.
Carter said less support for those functions is disappointing but not surprising, and added that more consistent funding is preferable to the cuts proposed by the Trump administration.
Josh Richards, a lawyer who advises colleges and universities, said the revisions to the case-processing manual mean the civil rights office will be more restrictive in what complaints it accepts and broaden the circumstances under which it dismisses complaints without an investigation. All of his higher ed clients, he said, share the goals of OCR in advancing equality on campus. But a more narrow approach to civil rights will likely be seen as a positive by many institutions.
"OCR investigations have in recent years been extremely broad and extremely burdensome for institutions," he said. "To the extent that OCR is going to be more focused in its approach, I think that will be a welcome development for institutions."
Richards said those policy changes may result in students pursuing more remedies through campus-based processes before going to the Office for Civil Rights. It could also mean they pursue avenues for resolving complaints such as state enforcement agencies or the courts.
"It does seem like OCR's more restrictive approach could result in an uptick in lawsuits being filed by students if they don't view the office as a viable means to achieve a resolution of their complaint," he said.
Additional funding for more OCR staff is a positive development, survivor advocates say, but those investigators could be clearing an increasingly small number of complaints sent to the office. Some advocates have already opted to pursue avenues outside the OCR complaint process. Mee of SurvJustice said under that the Trump administration the organization has focused on filing Clery Act complaints, which are handled by a separate office in the Department of Education.
"It has a lot to do with this administration's hostility toward enforcing Title IX," she said. "I think you'll find that across the board."