You have /5 articles left.
Sign up for a free account or log in.

The Affordable Care Act has helped reduce the number of uninsured college students in the country, though nearly 1.7 million of students still remain without coverage, according to a new report.
The analysis comes from the Lookout Mountain Group, a collection of university health officials and other experts who came together after Barack Obama's first election. They anticipated changes to student insurance plans with Obama's pledge to reform health-insurance law, and wanted to investigate the effects.
Since 2010, the proportion of students without health insurance has dropped from a little more than 19 percent to 8.7 percent, as of 2016. Though college students remain the largest cohort of Americans without insurance, this equates to 1,680,855 uninsured students in 2016, the group found, compared to 3,805,719 students in 2010.
"That's pretty significant," said Jim Mitchell, a spokesman for the Lookout Mountain Group and head of Montana State University's health program.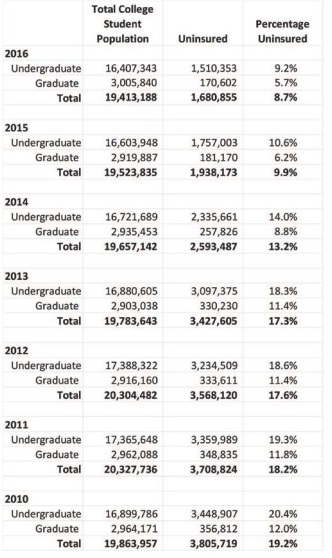 Mitchell highlighted two particular data points, which he described as "not new information" -- that students of color were uninsured at higher rates compared to their white counterparts, and that states that had expanded Medicaid had fewer uninsured students.
In its research the group relied on data from the U.S. Census Bureau, specifically the American Community Survey, which is given monthly to 295,000 households across the country.
The survey found that in states that did not expand Medicaid, about 11 percent of the student population was uninsured. States with the expanded program had a little less than 6 percent of the student population uninsured.
Mitchell said the most striking disparity was with large-population states that had chosen to expand Medicaid versus those that had not.
In California, one of the Medicaid-expansion states, nearly 94 percent of students, at both public and private universities, were insured. Compare this to Texas, which did not expand Medicaid, and had an insured-students rate of just under 83 percent.
Looking at demographic data, about 93 percent of white undergraduate students at both public and private institutions were insured in 2016. For Hispanic students and black students, the insured rates were about 85 percent and 88 percent, respectively.
"The takeaway for institutions of higher education is that access to health care is critical," Mitchell said. "And access to health care is determined [by] whether you have insurance. Assuring that your students have reasonable, affordable access to health care is key. And that's why Lookout Mountain Group supports colleges and universities requiring some sort of health insurance."
Many institutions do require students to carry health insurance, and an even higher number offer a campus plan. While the Affordable Care Act extended the age until which students can remain on their parents' insurance plans, to 26, for low-income students this isn't always an option, Mitchell said.
Prior to the Affordable Care Act, some plans marketed to students were "junk plans," Mitchell said -- cheap, with little coverage. The law did away with some of the most problematic elements of those plans, such as coverage caps and not providing coverage for pre-existing conditions, Mitchell said.
"The impact from the Affordable Care Act on the college student population has generally been very positive," he said.
Mitchell's group was studying the uninsured rate simultaneous to the Trump administration's attempts last year to dismantle the health-care reform law. Though Congress failed to repeal the law, it did take away the requirement for Americans to enroll in a health-care plan, referred to as the individual mandate, in the tax reform legislation.
Next year, the individual mandate won't exist, Mitchell said, which begs for more research into how the change could influence college students in four to five years. The Lookout Mountain Group hasn't figured out if or when they'll study this again, he said.
"In my personal opinion, it calls out for that," he said of further research.