You have /5 articles left.
Sign up for a free account or log in.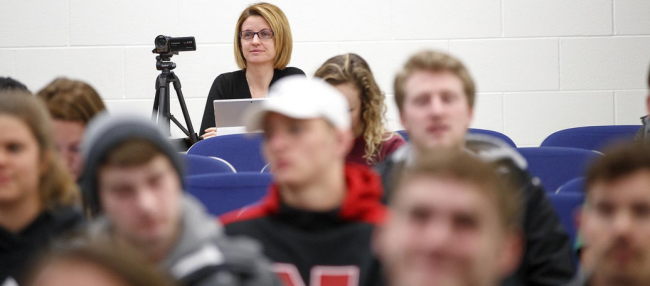 University of Nebraska at Lincoln
You've heard about the revolution in STEM teaching? About how professors are retooling their courses to focus on active learning? About how the flipped classroom has made the traditional lecture obsolete?
It turns out that the revolution hasn't quite taken place, at least broadly, in higher education.
A new analysis (summary available here) of more than 2,000 classes in science, mathematics and technology, at a range of colleges and universities in the United States and Canada, has found that the lecture remains dominant -- in 55 percent of the classrooms, class time was spent on "conventional lecturing."
Another 27 percent of classes were based on lecturing but also had some interactivity, such as students answering multiple-choice questions during class via clickers.
Only 18 percent of classes could be classified as emphasizing "a student-centered style heavy on group work and discussions."
The findings suggest that major efforts to promote improved science teaching -- such as those by the Association of American Universities -- may not have reached most professors.
The study, published in Science, is significant because of its approach. And that may be part of the explanation for why you are hearing more talk about reform of college-level STEM teaching than may actually be reflected in the classroom.
Many past studies have surveyed faculty members on their use of various teaching strategies. This study was based on observations of actual classes -- many of them more than once. The Science article states that it is the largest ever observational study of science teaching at the college level.
The findings should concern educators, the authors write, because so much research has found that reliance on the traditional lecture is far less effective at promoting student learning than are "active learning" strategies.
Marilyne Stains, associate professor of chemistry at the University of Nebraska at Lincoln and the lead author of the study, said via email that the findings point to the challenges of any large-scale change in pedagogy.
"I think there is a growing awareness and recognition among the STEM professoriate of the benefits of active learning strategies on students' learning and attitudes toward STEM," she said. "However, there are numerous factors that can preclude faculty from adopting these practices even if they recognize their value."
Faculty members have to not only know that certain teaching techniques are preferable, but they need to feel confident in their ability to use those techniques, which they may have never experienced when they were students, she said.
Stains cited an article (abstract available here) of which she was co-author in The Journal of Research in Science Teaching that found that "instructors' confidence and beliefs about teaching related to their instructional practices."
That is why, she said, the paper urges colleges and universities to focus more on training faculty members in active teaching methods, not just sharing articles about their effectiveness.
Interviews with faculty members found that many of them said they agreed in theory with the idea of active teaching and learning but felt that implementing the style of teaching was impossible because they teach large courses. And indeed, at many colleges and universities, introductory STEM courses are among the largest classes taught.
"When you talk to faculty, you often hear, 'I teach in an amphitheater. I could never do group work; it's just not practical. But if I had a small class, I could do it,'" Stains said
Stains said that prior surveys have also found that faculty members "perceive" that class size and classroom layout block active approaches to teaching and learning. But she puts the emphasis on "perceive," which she said does not necessarily reflect the potential for changing the way science is taught.
She noted that 12 percent of the large classes observed in this study were based on active teaching and learning techniques.
"This demonstrates that it is possible," she said. "STEM faculty are implementing active learning strategies in large classes."
She said that her advice for those trying to adjust their teaching styles in large classes is "to start with one change at a time. Do not try to change everything you are doing at once." In addition, she said that professors can start with a small change.
As an example, she pointed to a technique developed by Eric Mazur, the Balkanski Professor of Physics and Applied Physics at Harvard University. The approach starts with clicker-style questions but then goes further.
He asks a question of the students in the class. If some students appear not to be understanding whatever the question is about, he doesn't explain it himself. But he asks students to talk among themselves in small groups and then to vote on the question again.
He generally finds that students have successfully taught fellow students the concept. (Details on the approach are available here.)
"The process takes about five minutes," Stains said. "At first you can do it once a week. Then as you become more familiar, you can start doing it once every class, and so on."
The research team included professors from Armstrong State, Auburn, Otterbein, Saint Mary's (Halifax) and Simon Fraser Universities; and the Universities of British Columbia, Calgary, California (Los Angeles and San Diego campuses), Colorado at Boulder, Iowa, Maine, Michigan and Virginia.