You have /5 articles left.
Sign up for a free account or log in.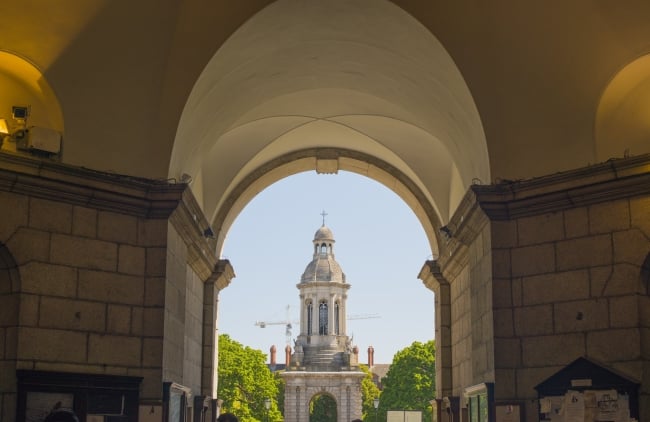 English majors will split their studies between the home cities of James Joyce and James Baldwin. In four years, undergraduates can earn degrees from the oldest university in Ireland and an Ivy League institution in the U.S.
Trinity College Dublin and Columbia University are launching a new dual B.A. program, with the first class matriculating this fall. The new program with Trinity is similar to an existing dual undergraduate program Columbia established with Sciences Po, in France, in 2010.
"Columbia has had something similar with Sciences Po in France for the last decade, so it really came about through their experience with having a dual degree with a European university, and there were already research links between Trinity and Columbia," said Juliette Hussey, the vice president for global relations at Trinity. "They felt that Trinity was an appropriate university to approach in terms of a high-ranking, research-led university."
Hussey said she thinks the dual program will be an attractive option for students who want to study in Europe but also want a degree from an American institution. Americans are the largest group of international students at Trinity. In fall 2017, Trinity enrolled 693 Americans, a mix of degree-seeking and study-abroad students.
Columbia and Trinity officials say they expect to enroll about 40 students in the inaugural dual B.A. class, about 10 each across four programs: English studies, European studies, history, and Middle Eastern and European languages and cultures. Students will spend their first two years at Trinity taking classes in their chosen area before coming to Columbia in years three and four to take up a related major. Victoria Rosner, the dean of academic affairs for Columbia's School of General Studies, which houses the program, said that most if not all students in the dual B.A. program will complete a senior thesis that will be jointly advised by faculty at Columbia and Trinity.
In addition to the major requirements, students will complete core curriculum requirements for Columbia in years three and four -- although Rosner said the expectation is that students will be able to fulfill "a fair number" of their core requirements at Columbia through classes they take at Trinity.
"We would prefer not to have them do all their core requirements at Columbia," Rosner said. "It's better to have the course of study spread over four years, and at the same time they are of course getting the benefit of working across two different institutions, two different national contexts, two different faculties. The faculty collaboration has for me been one of the highlights of this program. There's been so much faculty enthusiasm on both sides. Without having begun to bring students from Trinity to Columbia, we've already had probably half a dozen different faculty events, Trinity faculty coming here for conferences and presentations and our faculty going there for the same."
The schools have signed separate memorandums of understanding between the Heyman Center, which is Columbia's humanities center, and the humanities center at Trinity, Rosner said.
Rosner said that the conversation with Trinity about beginning the dual B.A. program began with Columbia's dean of the Faculty of Arts and Sciences, David Madigan, who is a Trinity alumnus. "As we began to explore the possibilities, we found there was a strong institutional match between the two schools, well-aligned curricula and a great deal of faculty enthusiasm on both sides of the partnership," she said.
The partnership comes at a time when the uncertainty over Brexit could pose complications for an Irish university wanting to partner with a British one -- and make a trans-Atlantic partnership more appealing. But Hussey said talks with Columbia began before the 2016 Brexit vote.
Students pay tuition to -- and receive financial aid from -- the institution they attend. Annual tuition and fees for a student from outside the European Union studying English at Trinity equates to about $23,560 per year, while the listed tuition price at Columbia is $52,680. American students can apply for federal loans to attend Trinity, but they are not eligible for Pell Grants while attending a foreign institution.
Jessica Sarles-Dinsick, the associate dean for international programs and special projects at Columbia's School of General Studies, said that in the first year -- and in a shorter-than-usual recruitment cycle -- the dual Trinity/Columbia program received about 160 applications, mostly from Americans, for 40 slots. Similarly, Sarles-Dinsick said, the admission rate for the dual program with Sciences Po is around 25 percent. That's high for an Ivy: the admission rate for regular Columbia freshmen in fall 2016 was just 7 percent. Asked if the dual B.A. program could be used by a savvy student as a back door of sorts into Columbia, Sarles-Dinsick said the program does not participate in the Common Application and that the application pool is somewhat self-selected. All students participate in a required interview. "I would say when we review applications, the majority of students who apply to this program are extremely strong," she said.
Columbia's eight-year-old dual B.A. program with Sciences Po boasts two Rhodes Scholars among its graduates. According to Sarles-Dinsick, there are currently almost 300 students enrolled in the program, which is offered primarily in English and does not require French proficiency as a condition of admission. Forty-three percent of students in the program are Americans, 21 percent are French, 6 percent have dual American and French citizenship, and 29 percent are international students not from France or the U.S. The population is quite international: 24 percent of the Americans hold dual citizenship in a country other than France. Similarly, about a quarter of the French students have dual citizenship in a country other than the U.S.
The substantial participation of American students in both the Trinity and Sciences Po dual degree programs is unusual. An American Council on Education survey found that the vast majority of dual or joint degree programs offered by U.S. universities and partner institutions abroad report that they mostly or exclusively enroll non-American students.
"Historically the double degree programs or dual degree programs have been seen as kind of a recruitment tool, I would say, for international students," said Clare Overmann, the head of higher education initiatives for the Institute of International Education. The Columbia/Sciences Po program "is a great model in that sense that so many Americans are involved, and we know from our employability studies that we've done that going abroad for a long period of time, as assisted by these dual degree programs, really does help with future employability." An IIE survey conducted last year found that 68 percent of students who studied abroad for an academic year believed that the study-abroad experience contributed to them receiving a job offer, compared to 43 percent of alumni who studied abroad for less than eight weeks.
Nearly two-thirds (63 percent) of American students studying abroad do so for short periods of eight weeks or less. On the other extreme, IIE estimates that in 2016 at least 48,000 Americans completed full degrees abroad.
Overmann described the Columbia-Sciences Po collaboration as "the gold standard" in dual degree programs. Overmann said these types of programs require significant administrative resources and investment on the part of the two institutions.
Dual degree programs have "risen in popularity over the last couple of decades, but I think they can be challenging just in general to have thrive," Overmann said. "And then at the undergraduate level, I think it is difficult sometimes because, especially in the U.S., you have so many core classes that you have to get in, so to have students going away for two years or so is quite challenging because there's so much up-front administration and cooperation that has to happen in order to make the dual degree a success -- so much articulation, so much curriculum alignment."
Columbia also has a joint undergraduate degree program with City University of Hong Kong. However, that program differs from both the Trinity and Sciences Po programs in that it draws exclusively from students already enrolled in certain City University programs rather than students who apply for entrance into the dual degree programs as freshmen.
In the Sciences Po program, the students take an interdisciplinary social science curriculum at one of three Sciences Po regional campuses, each of which has a particular area studies focus, before they matriculate at Columbia in their junior year. A dual program may not be for everyone, but for some students they say it proved a good fit.
Adam Wei, a junior in the Columbia/Sciences Po program, is originally from Quebec and grew up speaking French.
"When I was 12, my family moved to China for work, and being from Quebec and having gone to school in French my entire life, I was enrolled in French school there," Wei said. "So my middle and high school years were done in a French education system. That's how the whole Sciences Po and Columbia choice became apparent. I kind of wanted to go back to North America for university, but in some sense I wanted to find out what life in France was like." Wei studied at Sciences Po's Le Havre campus, which has a focus on Asia, and is now in his second semester at Columbia, where he's majoring in economics.
Mónica Villalón, a second-year student in the program currently studying at Sciences Po's campus at Reims, is from Gainesville, Fla., but lived in Senegal for a few years as a very young child.
"The main thing for me was the area studies focus that you were required to do, which you don't really get in the U.S., I think," Villalón said. "It's hard to be an undergraduate with a region of the world that you specialize in, whereas here I could study African studies as an undergraduate, which was quite a big appeal to me."