You have /5 articles left.
Sign up for a free account or log in.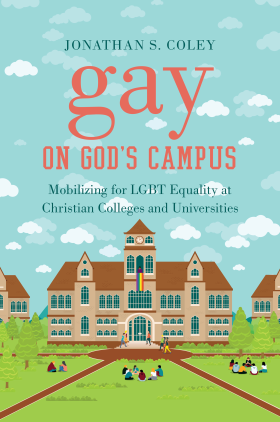 At numerous Christian college campuses in recent years, gay students and alumni have demanded recognition and equitable treatment. Meanwhile, at other Christian colleges, steps taken to be more welcoming of gay students have been met with backlash.
Gay on God's Campus: Mobilizing for LGBT Equality at Christian Colleges and Universities (University of North Carolina Press) explores these trends and the conflicts facing LGBT students and leaders of Christian colleges. The author is Jonathan S. Coley, assistant professor of sociology at Monmouth College. He responded via email to questions about the book.
Q: What drew you to this topic?
A: I personally attended a conservative Christian university -- Samford University in Birmingham, Ala. -- and worked with other students and several faculty members to establish an unofficial Gay-Straight Alliance there. I then attended graduate school at Vanderbilt University, and during my first semester there, students at another nearby school, Belmont University, erupted in protest over the sudden departure of a lesbian soccer coach. The student protesters actually succeeded in convincing the school to approve an official LGBT student group and a nondiscrimination policy inclusive of sexual orientation. The topic seemed impossible for me to get away from, so I decided to study it in an academic way.
Q: There have always, no doubt, been gay students at Christian colleges, but they were invisible. What changed?
A: In some ways, the story of LGBT equality at Christian colleges and universities is the same as the story of LGBT equality in the nation at large. LGBT people increasingly began coming out to their family members and friends. Public opinion and public policy then began to change, which encouraged yet more LGBT people to come out. You could say that it has been a virtuous cycle (or vicious cycle, depending on your perspective). Amid this backdrop of a changing society, a growing number of Christian denominations (e.g., the Disciples of Christ, the Episcopal Church, the Evangelical Lutheran Church in America, the Presbyterian Church USA and the United Church of Christ) have begun to embrace their LGBT members. This has affirmed many LGBT students' beliefs that they can be gay and Christian and thus allowed them to come out at their Christian colleges and universities.
Q: Do you think more gay students will opt not to attend Christian colleges in the future?
A: If anything, I expect the opposite. LGBT students attend Christian colleges and universities for many of the same reasons that their straight peers do. Many LGBT students are deeply religious and seek to attend a school where they can grow in their faith at the same time that they earn a degree. Other LGBT students, secular and religious alike, attend these schools because they are the best schools to which they were admitted, because these schools offered them the most financial aid, because these schools are located in an exciting city and/or because their parents encouraged them to attend these schools. Finally, some LGBT students attend Christian colleges and universities because more and more of these schools are becoming LGBT friendly. In fact, the majority of Christian colleges and universities now have nondiscrimination policies inclusive of sexual orientation (55 percent in my 2013 count). So I expect that Christian colleges and universities will see more and more openly LGBT students enrolling at their schools in the coming years.
Q: Many Christian colleges have attempted to deal with these issues by stating that they welcome gay students (and employees) provided that they don't have gay relationships. In other words, people can be in straight marriages or celibate. Is this a viable strategy?
A: No, I don't think so. The colleges that continue to hew to such discriminatory policies are increasingly coming under fire from LGBT student and alumni groups, which work to shame these schools in the media and in some cases pledge to withhold donations until the colleges adopt inclusive nondiscrimination policies. This is causing some colleges -- including my alma mater, Samford, which recently announced it will refuse further funding from the Alabama Baptist State Convention (but not yet approve an LGBT student group) -- to plot changes in strategy. Furthermore, I think that a reckoning with public policy is quite possible. Although the federal government is currently granting religious schools waivers from various nondiscrimination protections, some policy makers and legal commentators have begun raising questions about whether these schools should continue to be entitled to tax-exempt status and federal aid. Even at Christian colleges and universities, money talks, and this will force some difficult conversations in the coming years.
Q: When a few (then) members of the Council for Christian Colleges & Universities outlined a path forward to have some gay married faculty members, the organization faced serious divisions. Could Christian higher education split over these issues?
A: I think it is only a matter of time before the Council for Christian Colleges & Universities experiences a significant fracture over LGBT issues. As it is, the CCCU represents a minority of the Christian-affiliated colleges and universities in the U.S. -- its biggest constituency is schools affiliated with white evangelical Protestant traditions. And, lately, the CCCU has been shedding members -- one of the four colleges I profile in my book, Goshen College, is no longer part of the CCCU partly because of the association's stance on LGBT issues. As white evangelical Protestants become more and more accepting of LGBT rights -- according to a 2017 report by the Public Religion Research Institute, the majority (51 percent) of white evangelical Protestants under 30 now support same-sex marriage -- I believe the CCCU will find it increasingly difficult to maintain its stance against LGBT inclusion.
Q: How difficult is the activism you describe in your book for the gay and lesbian Christian students at these colleges?
A: I devote Chapter 5 of Gay on God's Campus to this very question. Although some students face some ostracism from family members and peers, in the end the vast majority of students report their participation in LGBT activist groups to be deeply empowering. Some students decide to become engaged in social movement or other political organizations after graduation. Other students pursue humanistic careers (such as teaching or social work) in which they can continue to promote values of tolerance and inclusion. And nearly all students find that they are empowered to engage in conversations about religion, gender and sexuality with family members and friends, thereby serving as change agents in their everyday lives. Activism was certainly empowering for me: I doubt I would have ever written this book were it not for my own experiences at a Christian university.
More from Books & Publishing