You have /5 articles left.
Sign up for a free account or log in.

After a backlash to one of his columns for Vassar College's institutional student newspaper, Andrew Solender says, he decided to start his own news website, a project meant to boost the political diversity on a left-leaning campus.
The Vassar sophomore, a self-identified centrist liberal, argued in The Miscellany News that William A. Jacobson, a recognized conservative blogger and Cornell University professor, was not a white supremacist, as some students on the campus had deemed him.
Jacobson visited Vassar's campus in October to lecture on hate speech and free expression. He was met with protests. But they were the silent type, with attendees dressed in black as a hushed display of activism. No one attempted to shout him down, as students have done in several high-profile incidents in recent years, perhaps most infamously at Middlebury College.
Solender's words inflamed the campus, he said. And he proceeded to resign from the newspaper to avoid getting more heat. Solender also was a little baffled. He was a former campaign volunteer for Hillary Clinton and held some progressive beliefs -- but because his views didn't match what he calls the "status quo" on a campus that is considered a bastion of liberal politics, Solender said, he was marginalized.
It's not uncommon that campus conservatives at least perceive that their voices are stifled in higher education, which broadly skews left, particularly so at selective liberal arts colleges. And sometimes the response by conservative students can be more controversial than starting a new campus paper.
For example, campus Republicans at the University of California, Berkeley, said in an interview last April that they invited agitators to campus rather than academics to generate more publicity. Riots broke out after they brought in Milo Yiannopoulos, the former Breitbart editor, last year -- with the campus sustaining thousands of dollars' worth of damage and a police vehicle being set on fire.
A recent Gallup poll -- which followed similar findings from the Pew Research Center on the public's view of higher education -- revealed that 67 percent of conservative respondents had only some or very little confidence in colleges and universities. Among those conservatives, most said they weren't confident about higher education because they felt it was too liberal.
Solender described his worries about a lack of political diversity on campus to Elizabeth H. Bradley, Vassar's president, who encouraged his idea to start a new publication. The result is The Vassar Political Review, a revival of what was the Vassar Chronicle, a politically oriented publication that has died and been restarted in various iterations since the 1940s.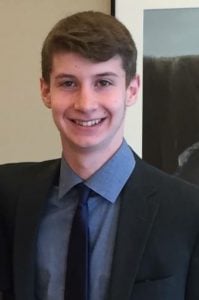 The Review departs from the Miscellany's model, which focuses more on features and coverage of campus squabbles. It critiques and analyzes national issues with lengthy pieces, such as a breakdown of how white men are predominantly responsible for school shootings, a push to drop the voting age and an argument for why President Trump may not be bad for the economy.
One of most recent postings is a question-and-answer piece with Michael Wolff, a Vassar alumnus and controversial author of the Trump tell-all Fire and Fury. In the article, Solender asks how Wolff got access to the president and talks about Russia's meddling in the 2016 election. He said he hoped this interview would catapult the publication to more visibility. It appears to have worked, as conservative media outlets in particular latched on to a quote from Wolff: "I am barely a journalist, actually. I am a writer."
In true college student form, Solender partially measures the website's success by its number of Instagram followers -- about 170 on a recent day. The publication is officially affiliated with Vassar, though Solender said it doesn't get any of the institution's money.
Though he doesn't consider the Review right-leaning, Solender said that it has come to be known that way among some on campus because the founders will publish pieces from any political perspective. Meanwhile, he said the Miscellany has struggled with some common recent pitfalls of print journalism -- few students like picking up a physical product -- and the staffers have little motivation for reinvention, he said. He also accused the paper of perpetuating the campus liberal bias. (Miscellany editors didn't respond to a request for comment.)
The Review staffers --  at the moment only a few editors and a communications officer -- want to aggressively promote free speech, which Solender said is an ideal endorsed more by conservatives nowadays.
"We go beyond turning the other cheek," Solender said of criticism of the Review. He said that posters advertising the website have been vandalized and it has been bashed online. "Because our goal is to create a conversation that everybody can be a part of -- all political types and political activists. That includes the marginalized ethnicities and groups that progressive activists are trying to uplift as well."
In an interview, Vassar president Bradley said she believes strongly that it's critical for students to learn by hearing minority views on campus -- including conservatives on a progressive campus.
Though Solender characterized the campus as unfriendly, at times downright hostile, to right-leaning views, Bradley said in her experience students "engage with the other side" quite well. She pointed to Vassar's campaign with the Andrew W. Mellon Foundation, Engaging Pluralism, in which the college received a $800,000 grant to "advance the college's mission as an inclusive and affirming learning community."
"Fundamentally, we are learning what it is to be a pluralistic campus," Bradley said. "And working hard not to demonize the other side. Of course students are learning, and learning is messy."