You have /5 articles left.
Sign up for a free account or log in.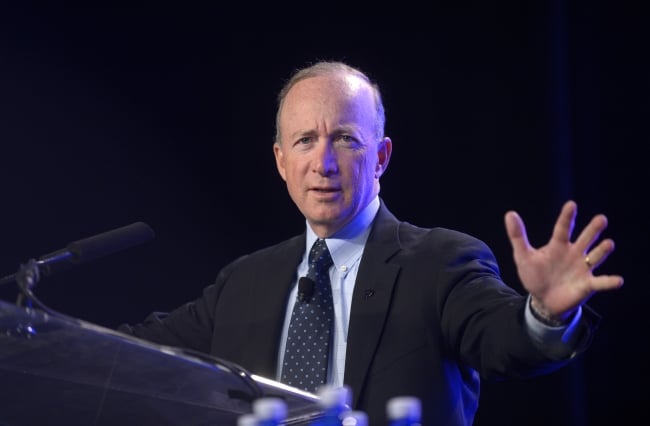 A high-profile multiyear tuition freeze has catapulted Purdue University to the top of many observers' lists of well-managed public universities, casting President Mitch Daniels as a budget cutter without peer.
Bloomberg Businessweek last December summed up public sentiment, asking, "Can Mitchonomics Fix the Broken Business of Higher Ed?"
The university is understandably proud -- it even created a page on its website to crow about media coverage of the feat.
Last week Daniels said the tuition freeze, which began upon his arrival in 2013, will stretch into the 2019-20 academic year, meaning that at his planned departure from the renowned land-grant university in June 2020, Daniels will be able to boast that he never raised in-state tuition -- period.
But the move has also led Purdue to focus more on serving students from outside Indiana and pushed academic departments to consider difficult cuts.
Tuition freezes are often derided as short-term budgeting gimmicks that ultimately force institutions to raise tuition or severely trim offerings. For five years now, Purdue seems to have largely avoided the first fate. Whether it escapes future cutbacks is an open question, but Daniels's ability to enact and sell the idea has even skeptics curious about the outcome.
"People think there's some voodoo in here. There's not."
-- Mitch Daniels, Purdue's president
Holding tuition flat since 2013 has raised the land-grant university's profile and helped it grow: undergraduate applications and enrollment, graduation rates and several other key indicators have risen, in a few cases to record levels. Since Daniels arrived, enrollment on its flagship West Lafayette campus has grown to 41,573, up about 7 percent since 2013.
Last fall, Purdue's in-state tuition clocked in at just under $10,000 -- $9,992, to be precise, after Daniels eliminated a $10 gym fee that was bugging him.
In the real world, students are paying less, the university said: adding up tuition, fees, books and living expenses, Purdue's actual sticker price last fall dropped to $22,812, down from $23,242 in 2013. Since the freeze went into effect, Purdue students and their families have saved more than $400 million, according to the university. Purdue did not immediately respond to a request to provide its discount rate.
But even as enrollment has grown, Purdue has enrolled fewer students from Indiana in West Lafayette: last fall, about 600 fewer Indiana students showed up than in 2013, a 3 percent drop. Meanwhile, the number of students from nearly every other state rose. Over all, out-of-state student enrollment has risen 34 percent since 2013. The number of California students, for instance, is up 65 percent since 2013 to nearly 1,500, according to a university database.
Purdue disputes these enrollment figures, saying residency data cited by Inside Higher Ed are based on headcounts of students with an Indiana address but who don't necessarily qualify for resident tuition rates. Based on tuition-paying status, it said out-of-state enrollment has grown just 15% since 2013, with 167 fewer Indiana students, or 0.8 percent, enrolled in 2017. Tuition data also show that about 45 percent of students were from Indiana last fall, down from 49 percent in 2013. 
Out-of-state tuition last fall stood at $28,794, also frozen at 2013 levels.
Meanwhile, Purdue enrolled more than 9,100 students from about 125 countries other than the U.S., including nearly 3,700 students from China and about 2,000 from India, according to Purdue data. International students made up about 22 percent of enrollment. About 46 percent of international students are graduate students.
International tuition last fall stood at $30,954, more than three times what Purdue charges Indiana students and slightly higher than in 2013.
In all, Indiana residents accounted for just under 47 percent of students in West Lafayette last fall, according to university figures.
By contrast, about 51 percent of students at the Indiana University system's flagship Bloomington campus last fall hailed from within Indiana, according to university statistics. About 18 percent were from outside the United States.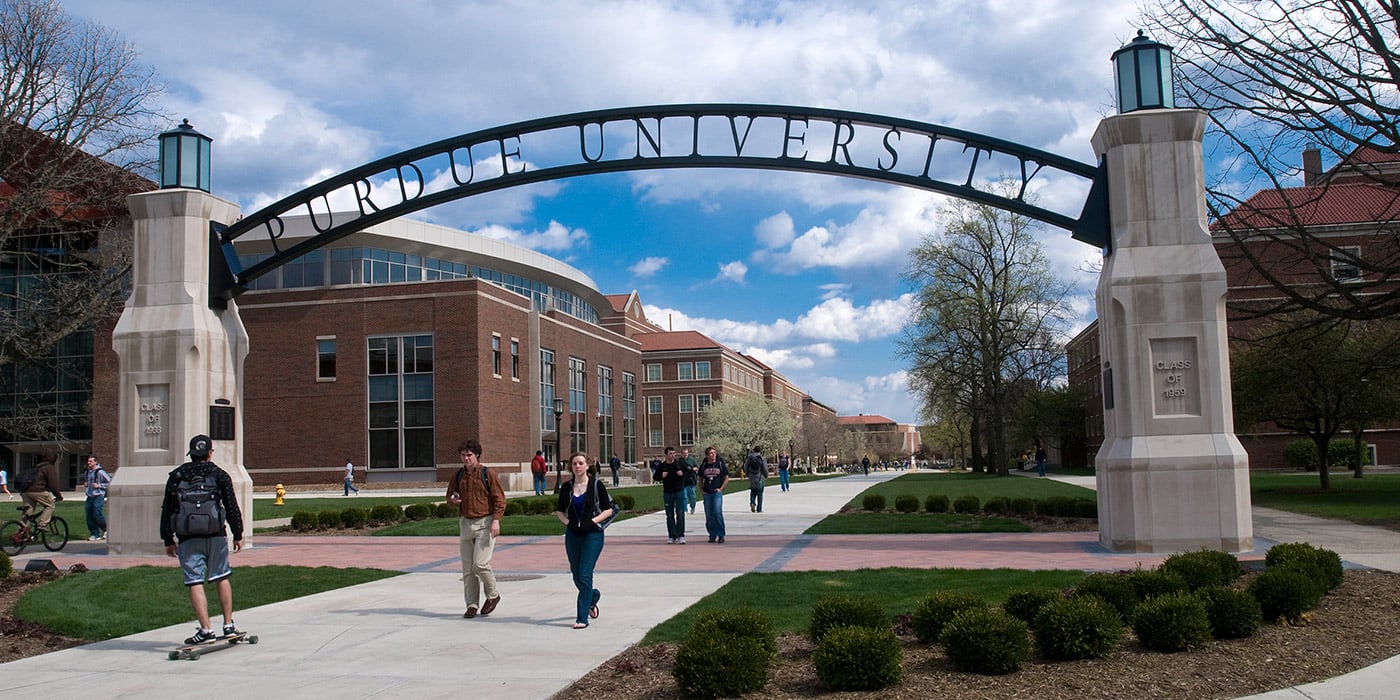 David H. Feldman, an economics professor at the College of William & Mary who studies the economics of higher education, said Virginia caps the college's out-of-state enrollment at 35 percent. Other big Midwestern flagship universities, he said, have also added out-of-state students. "Purdue just has done it a bit more intensely. That generates extra revenue. What you do with that revenue is a choice."
Purdue has chosen to "freeze list price," he said. "Other schools have chosen to make tuition completely free for certain income ranges."
In an interview, Daniels predicted that as much as 54 percent of the incoming freshman class this fall would be Indiana residents, and that going forward, Purdue will actually lower its percentage of international students.
"We are educating more Hoosier students -- significantly more," he said.
The university maintains that a more accurate way to look at Purdue's demographics -- and its demographic strategy -- is to analyze the recent freshman class, which included 627 more Indiana students than in 2013, despite the fact that Indiana's high school graduating class has remained fairly flat. In the five years before Daniels's arrival, from 2009 to 2013, the university noted, the number of Hoosiers in the freshman class dropped by 355.
Daniels has earned high marks for finding waste and cutting it by implementing better procurement systems, more financial transparency and a less costly health-care plan, among other changes. He has insisted on "budget targets based on reality," he said.
"People think there's some voodoo in here. There's not."
But he said much of the trimming has been hidden from view. Daniels used a butcher's metaphor, noting, "The fat is marbled through the animal -- you look in vain for too many great big strokes. There may be a few -- the health-care plan was one -- but mainly it's the accumulation of small economies, and that comes just from putting our students and their families at the top of our list. It's not more complicated than that."
David Sanders, an associate professor of biology and immediate past chair of Purdue's University Senate, said the tuition freeze has been popular with students and their families.
"I speak with a lot of them," he said. "They're very happy. They've saved thousands of dollars."
He applauded Daniels's ability to keep housing and meal costs down, saying the former Indiana governor and one-time director of the federal Office of Management and Budget under President George W. Bush "was able to make that a more efficient, more economical enterprise."
And Sanders, who is also a West Lafayette, Ind., city councilor, said the tuition freeze has likely attracted a larger number of talented students.
He actually applauds the rise in out-of-state and international enrollment.
"Bringing outside students can potentially enhance the experience for our Indiana students," Sanders said. "We're in a global marketplace. We're more than just a state university. We're one of the top science and engineering universities in the country."
Most students, he said, are in favor of the freeze, but many faculty and staff members are "largely resigned to these straitened circumstances."
The freeze has meant higher health-care costs, he said, though the university said employees now pay lower premiums. For the first time, it said, Purdue has added dental insurance and autism coverage. Purdue projects that employees will pay just 25.9 percent of health-care costs this year versus 31.7 percent in 2014, but Daniels didn't immediately have information on whether co-payments or other out-of-pocket costs are going up.
Sanders also said the freeze has contributed to tightened revenue for instruction, pitting department against department. "It's become a less collegial place," he said. It has also pressured instructors to eliminate small classes that hew closely to students' interests. "If you don't know they weren't there, you don't miss them," he said.
In a few cases, professors have been forced to forgo teaching assistants. As a result, he said, they must often rely on more rudimentary assessments, among other measures.
And Purdue's rise in enrollment has affected student life, he said, forcing resident assistants to share rooms -- a move that compromises student privacy and makes fraught conversations with troubled students more difficult.
In general, Sanders said, he wishes Daniels would match his budget-cutting skills with more forceful advocacy for funding from state lawmakers.
"The revenue from the state is just not keeping pace with historic contributions," he said. "I wish our president, who is the former governor, would be a stronger advocate for us with the state Legislature. I think he and potentially our Board of Trustees also do not feel like it is an important part of his tenure at Purdue."
Actually, Daniels, who disagrees with most of Sanders's criticisms, might agree on that last point. He said leaders of many public universities are "too quick to assign all [their] financial difficulties to state authorities."
When he addresses lawmakers every two years, he vows to operate Purdue "within whatever you deem an appropriate level."
Feldman, the William & Mary economics professor, said Daniels's tuition freeze is "clearly not a parlor trick. The question is whether this is truly sustainable and there are predictable consequences five years from now."
He added, "Obviously you can hold costs constant, but you can't hold quality constant unless you have discovered the secret sauce" of cutting systemic waste.
The university noted that it has added 52 tenured or tenure-track positions since 2013, and that faculty over all have received 11 percent merit pay raises since 2016.
Daniels actually balked at the "Mitchonomics" question, which asks whether his approach holds the secret to fixing "the broken business of higher ed." He admitted that he's "very shy" about the experiment's larger implications.
"We're just simply trying to do what we think is right for this institution," he said.
But Purdue's Board of Trustees clearly believes in Mitchonomics. On Tuesday it extended Daniels's employment agreement, allowing him to stick around "until such time either party gives one year's notice." In a statement, board chair Mike Berghoff said Daniels "is enhancing the reputation of Purdue nationally and worldwide through leadership and a steady stream of successful initiatives and innovations."
William & Mary's Feldman suggested that observers stay tuned.
"The question is: Once he's gone, is it possible there will be a small explosion as all the pent-up needs finally bubble up to the surface and get addressed?"