You have /5 articles left.
Sign up for a free account or log in.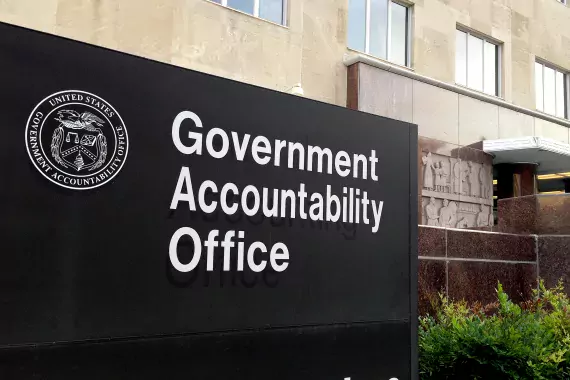 The chief accountability rule that applies to colleges and universities in the U.S. cuts off federal student aid money when institutions see a high proportion of students default on their loans in consecutive years.
But a Government Accountability Office report released Thursday finds that colleges, with the help of consulting firms, are gaming the rules by steering student borrowers into options like forbearance -- a status that allows students to postpone making loan payments on a temporary basis -- even when they had better options. That makes institutions' default rates appear lower than they would otherwise and protects their access to federal student aid, but it can be more costly in the long run for borrowers and the government.
The report suggests that the so-called cohort default rate isn't just a toothless benchmark; it also distorts the behavior of colleges and student loan borrowers in a way that has long-term consequences for their student loan debt.
Multiple observers said that the report illustrates the need to move from an accountability system based only on default rates to one that incorporates borrowers' progress paying down their loans.
The GAO reviewed colleges' strategies to improve cohort default rates in response to media reports and requests from House Democrats. It found that in pushing forbearance, some consultants sent borrowers who were past due on loans emails and letters that only included an application for forbearance -- possibly suggesting to borrowers that it was their only option.
Another company sent borrowers a letter inaccurately stating that defaulting on their student loans could cause a borrower to lose access to federal benefits such as food stamps. And another in the past offered gift cards to borrowers who put their loans in forbearance. (The report didn't identify specific colleges or consulting companies.)
Borrowers in forbearance aren't paying down their student loans, and interest still accumulates on their debt. But they're assured of not defaulting. For the colleges who contract with those third-party firms, there is a clear financial interest in making sure students just don't default.
Institutions can be sanctioned when 30 percent of students default on their federal direct loans within three years of leaving the college. Colleges that hit that number for three consecutive years can lose access to all federal aid programs. Those with a 40 percent default rate in a single year can lose federal aid immediately.
Representative Rosa DeLauro, the ranking Democrat on the House appropriations education subcommittee, said Congress and the Department of Education should take steps immediately to stop default-management companies from taking advantage of student loan borrowers.
"These companies are giving borrowers bad advice in order to protect their own bottom line and to make sure certain schools' default rates do not raise any red flags at the Department of Education," she said. "Some consultants have even falsely threatened that the government will take people's away nutrition and Supplemental Security Income benefits if they default on their loans. Their reckless disregard for people's lives is shameful -- and it needs to stop."
But the chances of any immediate federal response aren't high. Legislation to reauthorize the Higher Education Act appears to be going nowhere in Congress this year.
And while the Department of Education agreed it could make more information available about colleges' cohort default rates, it disagreed with several of the report's recommendations. Officials from the department argued in comments on GAO's findings that it does not have explicit statutory authority to issue requirements for specific information in communications between schools and their default consultant firms and students.
James Manning, the acting chief operating officer of Federal Student Aid, also argued that GAO based its conclusions on a limited sample. And he wrote that the report did not consider whether the availability of income-driven repayment options in recent years would remedy an overreliance on forbearance by borrowers or the consequences of alternatives to that status.
"In other words, all options have consequences for borrowers," Manning wrote to the agency. "GAO's analysis does not appear to balance the costs to borrowers, including the avoidance of default, against the benefit of increasing the rigor of the cohort default rate as a measure of institutional accountability."
Data from the Department of Education show the number of loans placed in forbearance status has risen steadily in recent years. In the 2009 borrower cohort used to assess schools, 10 percent of borrowers were placed in forbearance for 18 months or more. In the 2013 cohort, that number had risen to 20 percent.
GAO didn't examine how practices differ between various sectors of higher ed institutions. But federal data shows colleges with default rates of 30 percent or more are concentrated in the community college and for-profit sectors.
Michael Itzkowitz, a senior fellow at the think tank Third Way, said a larger sample size would have been preferable for GAO's study. But he said the report shined a light on the weakness of the cohort default rate as an accountability standard and showed the need for large-scale reforms at the federal level.
Itzkowitz said a loan repayment metric, which would capture the number of graduates actually making progress paying down their loans, would be preferable to the cohort default rate.
"We can see through this report that it has created incentives for institutions and loan servicers to encourage borrowers to enter a certain type of repayment status that may not ultimately be to their benefit," he said.
GAO's report found that at least one consultant was paid by a college based on the number of borrowers served -- it didn't matter what repayment or loan status option they steered borrowers toward. And forbearance is a much quicker option for those companies to process. It can be granted by a loan servicer based on a verbal request from a borrower over the phone, while income-driven repayment requires a written application.
"It's quicker and easier to get students into forbearance," Itzkowitz said. "It also makes it impossible for them to default while they're in forbearance. While it may be more advantageous for students to enter into an income-driven repayment plan, there still remains a small likelihood that they miss a payment and end up defaulting on their loans."
Itzkowitz said it's not clear what other options the Department of Education has to conduct better oversight of the information colleges and default-management companies provide to borrowers. But institutions themselves, he said, should take the report as a sign that just because their cohort default rate is low, that doesn't mean they are serving students well or that students are getting decent-paying jobs after graduating.
As GAO noted, spending the full three years of a cohort default period could add significantly to a borrower's loan debt. The typical borrower who takes out $30,000 in federal direct loans would pay an additional $6,742, or 17 percent more than a borrower on a fixed repayment schedule who spent no time in forbearance.
Campus financial aid professionals have argued for years that colleges need more authority to advise students on their student loans while they are on campus. Justin Draeger, president and CEO of the National Association of Student Financial Aid Administrators, said the best time for colleges to help students with loan debt is before they borrow their first dollar. Currently, students are only required to get loan counseling when they take out federal loans and when they leave their institution.
"This leaves schools in a situation of trying to help borrowers navigate a complex repayment process after they have already left the institution," Draeger said. "Schools need more authority to help students avoid the pitfalls of overborrowing, and ultimately default, up front, before students have taken out their loans."
He added that default rates are fundamentally a poor proxy for the quality of a college, and they should be only one measure in determining an institution's eligibility for federal aid programs.