You have /5 articles left.
Sign up for a free account or log in.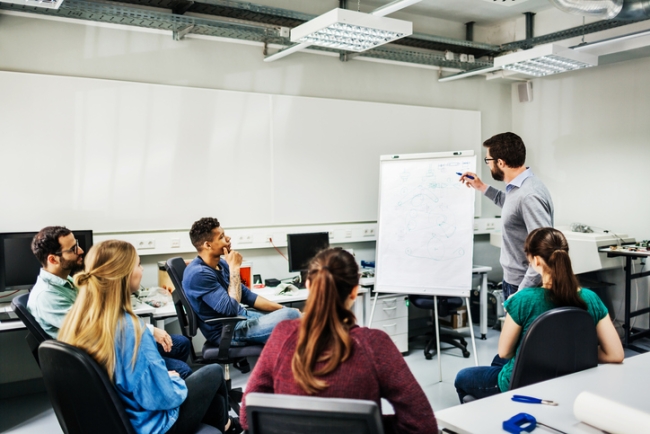 Private lenders hold just a fraction of the outstanding student loan debt in the U.S. -- about 7.7 percent as of last year. But those companies have plans to grow their student loan holdings.
And they argue that with the help of Congress, they could play an even bigger role in the student loan marketplace -- as they formerly did.
Purposefully expanding private lenders' piece of the student loan pie would be a reversal for Congress more than a decade after serious federal reforms followed a major scandal concerning the misleading marketing of loan products to borrowers and conflicts of interest involving campus officials and lenders.
Private loan companies have graduate student borrowers specifically in mind. Key players in the industry -- as well as some policy advocates -- are pushing for lawmakers to adopt new limits on federal lending to graduate students.
Since 2006, grad students have been allowed to take out federal loans up to the cost of attendance for their programs. Capping federal lending to those students would allow the private sector to play a bigger role in the student loan market -- a priority for Republicans. It would also, the thinking goes among industry proponents and some members of Congress and policy advocates, address tuition inflation and allow for more scrutiny of the loans awarded to students thanks to underwriting standards in the private market.
Loan companies are talking up their potential to grow in the graduate market to investors and lawmakers.
In an earnings call last month, Sallie Mae chairman and CEO Ray Quinlan said the company continues "to think that there is a mood to cut back on the federal dominance of the student lending market. So, we think that we're tilting the right way."
Private banking representatives expect that policy makers could be receptive to that message as student loan defaults increasingly occupy the minds of federal lawmakers. Ninety-eight percent of borrowers repay their private loans on time, they argue, in part because of strong underwriting standards that limit who get loans in the first place. Federal loans, by contrast, don't require a credit check of a potential borrower.
But student advocacy groups have raised equity concerns about access to graduate education for students without strong credit records. And they note that graduate students are the most likely student borrowers to pay off their federal loans.
Conservatives who hope to shrink the federal role in student lending have set their sights on the Grad PLUS program and the Parent PLUS program (which has a less stellar track record than the graduate program, thanks to numerous reports of parents who have seen wages, Social Security checks or tax refunds garnished when they struggle to pay back loans taken out to finance a child's education).
Some private companies are already planning the rollout of new financial products targeting the grad student market. But capping federal lending to those students would provide a new opening for those lenders.
New Offerings From Private Lenders
Quinlan told investors in the recent earnings call that the company "will not leave untouched areas where we think we can profitably play for parts of that portfolio."
He said that Sallie Mae was disappointed Washington hadn't made more progress over the past year addressing student loans. But the company plans to be ready when that changes.
The PROSPER Act, House Republicans' opening bid to update the Higher Education Act, would raise undergraduate lending limits and add new annual limits for graduate student borrowing. Those students would have their total annual borrowing capped at $28,500 annually. Currently, graduate students can borrow up to the cost of attendance.
The legislation has gone nowhere since it was voted out of committee in December. But private lenders are taking the language -- along with discussion around federal policy elsewhere -- as a signal to focus on the graduate borrower market.
Graduate loans also offer a higher loan volume for private lenders. As Quinlan noted to investors, grad students make up 16 percent of the borrower market but hold 40 percent of student loan debt. So the average borrower holds more debt, they're older, and they're better educated, too, making it more likely that they will pay off their loan.
Sallie Mae is releasing six new loan products targeting those borrowers this year in anticipation of changes from Congress.
There are key differences in benefits from taking out a federal or private student loan. Private loans may have significantly lower interest rates as opposed to the fixed rates of federal loans. But they don't come with other benefits on the back end, like loan forgiveness or participation in income-driven repayment plans.
Private lenders, though, have argued to lawmakers that there is a correlation between the amount of federal aid available and rising tuition prices -- a notion that's appealing to Republicans but for which the evidence is mixed, especially at the graduate level. And they say that their financial products have stronger transparency requirements than do federal loans.
Many of those requirements were imposed on the private sector by Congress in 2008, however, in response to a high-profile investigation by then New York attorney general Andrew Cuomo into abuses in the alternative loan market that had grown rapidly during the first part of that decade. In what some lawmakers referred to as the "Wild West," Cuomo found lenders paying kickbacks to colleges that directed student borrowers to those companies, sending large payments to some colleges to drop out of the federal direct loan program, and providing incentives like credit lines and special funds for institutions to put the companies on their preferred lender list.
The 2008 reauthorization of the Higher Education Act prohibited lenders from offering gifts to colleges or financial aid officials, barred lenders from engaging in "co-branding" campaigns with higher institutions, and required that they make borrowers aware of the availability of federal student aid, among other reforms.
In another step affecting the market share of private lenders, the federal government in 2010 began to phase out the Federal Family Education Loan program, in which private lenders made loans backed by the federal government, in favor of 100 percent federal direct lending.
Justin Draeger, president and CEO of the National Association of Student Financial Aid Administrators, said that the limited role of private lenders could be traced to the creation of Grad PLUS loans and other changes in the market.
"I would say that at the end of the last decade when you started to see less private student lending, it was mostly attributable to expansion of PLUS loans to graduate students and the seizure of the financial markets that kicked off the Great Recession," he said.
Advocacy on the Hill
While the private loan companies found the PROSPER Act a mixed bag over all -- the Consumer Bankers Association found it "troubling" that the bill would lift annual and aggregate borrowing limits for undergraduate students -- industry representatives praised the proposed limits on federal lending to grad students.
In a January letter to Senators Lamar Alexander and Patty Murray, the top Republican and Democrat, respectively, on the Senate's education committee, Consumer Bankers Association president and CEO Richard Hunt argued that "due to the outsized role of the federal government," private-sector banks play a much smaller role in the student loan market than they could.
CBA's education funding committee -- which includes Discover, Citizens Bank, Sallie Mae and Wells Fargo -- have continued to push that message to members of Congress and their staffs even as the prospects of a higher education bill this year have diminished. In recent months, the industry group has focused its attention on members of the Senate education committee.
"We're just explaining the way we think private lenders can play a role in helping college affordability," said Nick Simpson, a CBA spokesman.
The industry group spent about $10,000 lobbying Congress in the first quarter of 2018. Companies in the graduate loan market have had an even bigger lobbying presence.
Discover Financial Services spent $770,000 in the first quarter lobbying on a number of regulatory issues, including student lending. Sallie Mae spent a combined $630,000 on lobbying by in-house and outside representatives on regulatory issues.
Private lenders' efforts on graduate loan regulations are sure to encounter opposition from student advocacy groups. After the release of the PROSPER Act, student groups and graduate school organizations warned that capping federal lending would have implications for access and the diversity of students pursuing advanced degrees.
Beth Buehlmann, vice president for public policy and government affairs at the Council of Graduate Schools, said there has been a long-standing "push-pull" over the proper role of the private sector in financing higher education. The council argues that graduate students should have the option to take out private loans if they so choose but should also be able to borrow federal loans up to the full cost of their education.
Students who aren't able to do so, the group argues, lose access to benefits like income-driven repayment plans and Public Service Loan Forgiveness.
Buehlmann said it was logical that loan companies would see the GOP's position on lending limits as an opening to plan around.
"People watch these things and want to be prepared," she said.
Barmak Nassirian, director of federal relations and policy analysis at the American Association of State Colleges and Universities, said that federal interest rate policy has already created the conditions for private lenders to chip away at the federal portfolio, thanks to higher fixed rates for federal loans.
"They are getting a pretty sweet deal," he said of private-sector lenders.
Many students may decide that the benefits of loan forgiveness or the availability of income-driven repayment options outweigh the attractiveness of lower interest rates. Other borrowers attending elite graduate professional programs like top 10 law schools won't find those benefits of federal loans appealing. But those students can take out private loans now, Nassirian said.
And he said that even if more Republicans are interested in federal lending caps, it's tough to see them overcoming the political obstacles any time soon.
"These conversations will contribute to future federal policy somehow," Nassirian said. "But it's really tough to see the stars aligning in ways that would result in the kind of environment some lenders are looking for."
More from Financial Health