You have /5 articles left.
Sign up for a free account or log in.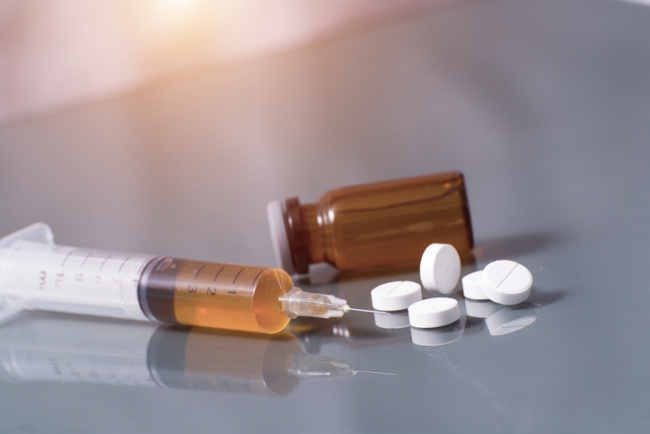 While the opioid epidemic continues to ravage American communities -- opioid-related fatalities tripled from 2000 to 2015 -- colleges largely have been spared by the crisis so far.
The opioid epidemic is often called the "equal opportunity" crisis, because the abuse of prescription opioids historically has hit white people harder than minority groups. (However, opioid-related overdose mortality rates are increasing at a faster rate among black people than white people.) But the epidemic does discriminate in terms of education, as it disproportionately affects poorer, more rural and less educated communities.
Individuals with less education are more likely to develop an addiction to opioids, recent research has found. This is for a few reasons: people with low education levels have fewer job opportunities, leaving them more vulnerable to depression and addiction; they usually work in areas with higher risks of workplace injuries, making opioid painkiller use more likely; and they have fewer resources to combat drug addiction, like money for rehabilitation.
College students are by no means exempt from the epidemic. The American College Health Association was concerned enough to release a set of guidelines in 2016 to universities on prevention and treatment strategies for opioid misuse.
Jessica Higgs, director of health services at Bradley University, who chaired the task force that produced the recommendations, said while rates of opioid use on campuses are lower than in the general population, cases can be difficult to identify. "We do believe that there is probably more abuse on campus than we are aware of."
According to the association, a small but significant number of students are misusing opioids. Between 7 and 12 percent of college students reported using opioids for nonmedical reasons, according to the 2016 guidelines report, while 2 to 3 percent reported moving from using prescription opioids to heroin. The college health group's recommendations on opioid-misuse prevention including a push for college prescribers to give opioids very sparingly, and only if the benefits outweigh the risks. They also encouraged colleges to train employees to treat overdoses and distribute naloxone, the opioid overdose reversal drug.
"Colleges definitely have an obligation to address the opioid epidemic as it manifests on their campuses," said Beth DeRicco, director of higher education outreach at Caron Treatment Centers. "While a small percentage of students misuse pain relievers, the danger of opioids and the way in which use has risen makes it an incredible concern."
Following the release of the guidelines, a flurry of colleges introduced opioid-related policies. Many distributed naloxone to campus police and health centers. Some colleges offered training sessions for students and employees on opioid use.
For example, the University of Wisconsin Madison forged an agreement with a nearby Walgreens that enabled students to purchase naloxone from the pharmacy, and the university has also hired two new substance abuse counselors in recent years. However, opioid misuse at the flagship university is exceptionally rare, said Angela Janis, director of psychiatry and co-director of mental health services at Madison. According to a 2016 university survey, 55 students, or 0.8 percent of the campus population, reported having a substance-use disorder. Of that group of 55 students, 76 percent had an alcohol-related disorder, while only 5.4 percent had issues with opioid misuse.
Community Colleges React
Community colleges also are grappling with the opioid crisis.
A handful of students at Asheville-Buncombe Technical Community College in North Carolina died of opioid overdoses in the past year. In response, Asheville-Buncombe announced in August several measures to improve prevention and treatment. The college gave campus officers naloxone, changed the locks on single-stall restroom doors and offered staff training on signs of opioid use.
Anne Arundel Community College in Maryland's governing board last month passed an opioid addiction and prevention policy. The change followed a law passed last year in Maryland that requires elementary, secondary and postsecondary students to be educated on the dangers of opioids, including heroin. The policy mandated that campus police receive training to recognize and treat an overdose, give incoming full-time students in-person training on opioid use, submit an annual report to the Maryland Higher Education Commission documenting each time naloxone was administered, and include instruction on opioid-use disorder in the physician assistant program.
No cases of opioid misuse or overdoses had been reported at Anne Arundel, Tiffany Boykin, dean of student engagement, said. However, Anne Arundel County has been devastated by the crisis. Between January and mid-March, 37 people in the county died of drug overdoses, compared to 27 people in the same period the year prior.
"It may not be a student who is actively engaged in practicing. They may have a parent or spouse or a friend who is affected," Boykin said. "The majority of our students are working professionals. When they're trying to cope with a family member or a loved one who is affected, it's very difficult for them to be successful."
Colleges Distribute 'Life-Saving' Drug
Nowadays, few dispute the effectiveness of naloxone, a drug that reverses the effects of an opioid overdose and can save the affected person's life.
"There aren't a ton of side effects. If you gave it to someone who wasn't having an overdose, you wouldn't make them terribly sick," Higgs, of Bradley University, said. "The benefits do pretty significantly outweigh the risks."
The U.S. surgeon general released a rare national advisory last month urging all Americans to carry and learn to administer naloxone. (The last time the surgeon general's office issued a warning of this kind was a 2005 call for women to avoid alcohol while pregnant.) "We know that 77 percent of opioid overdose deaths occur outside of a medical setting and more than half occur at home," the surgeon general tweeted last month.
While naloxone was approved by the U.S. Food and Drug Administration in 1971, and a nasal-spray version, Narcan, was approved in 2015, many states have only legalized its over-the-counter purchase in the past few years.
A flurry of universities have recently followed suit, giving campus police officers and health centers supplies of the drug.
For example, the University of Tennessee Knoxville's police department stocks naloxone, but it is only carried by patrol supervisors, according to Mike Richardson, a spokesman for the campus police force. He said no officers have administered naloxone to date.
Bridgewater State University in Massachusetts introduced a public-access naloxone program in September, installing the drug in 50 defibrillator boxes in campus buildings, including all 11 residence halls. And Ohio University has given naloxone to campus police officers while distributing the drug to several college community programs. This month, the university plans to start stocking naloxone in its free medical clinic.
But DeRicco said that while it is important to distribute naloxone on campuses, treatment can't stop there. "We need to give students access to support, recovery. A comprehensive approach is so important."
More from Physical & Mental Health