You have /5 articles left.
Sign up for a free account or log in.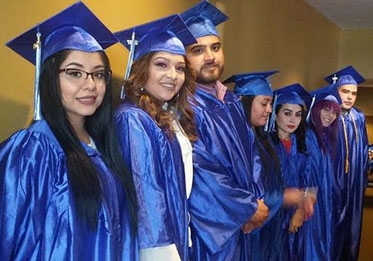 A new analysis from Civitas Learning shows that many students are dropping out of their colleges despite having earned the majority of the credits they need for their degrees.
Civitas found that on average nearly one in five students who leave college without a degree complete 75 percent or more of the credit threshold for a degree before leaving. And one in 10 dropouts has reached at least 90 percent of the credit threshold.
The analysis is based on data from 30 two-year and 23 four-year universities that use Civitas student success tools and represent more than 300,000 degree-seeking students.
"Student success in higher education is heavily focused on the front door and basically saying, 'we've got to get them through the front door and revamp orientation and get students on the right pathway and do all of this advising up front,' and people have put in a lot of time and effort doing that," said Mark Milliron, co-founder and chief learning officer of Civitas Learning. "But then we saw, especially with the community colleges, that they had a big number of students right by the finish line who aren't finishing."
Near completers, or students who stop out when they're a few credits, classes or even a semester away from graduation, could be facing a range of issues, from not having enough financial aid to dealing with family health issues.
"What we found is with some pretty low-cost, high-precision outreach, we can make a difference with these students," Milliron said. "Yes, the starting line is important, but … small moves at the finish line might have as much of an impact on the graduation rate."
Take Del Mar College, in Corpus Christi, Tex. The two-year institution saw an increase in graduation applications from 687 in 2016 to 865 in 2017, and the number of graduates increased from 549 in spring 2016 to 747 the next year after focusing some interventions on those students who had the lowest persistence and showed signs of not completing once they had passed the 75 percent benchmark in credits earned.
Rito Silva, vice president of student affairs at Del Mar, said that in 2016 the college identified about 3,000 of its 12,000 credit-seeking students as being 75 percent of the way to an associate degree or certificate. The college divided those students into three target areas -- those in high-, middle- and low-persistence groups. Del Mar used Civitas software to identify students and their persistence levels based on a number of factors, including whether they had been engaged in their classes or not.
Those students in the high-persistence group were sent emails congratulating them for being close to graduation; the emails included the graduation application and details on when they should submit their information.
For those students in the middle persistence group, they were invited to a graduation workshop on Del Mar's two campuses that offered advice from the college's three graduation coaches and assistance from the registrar's office and advisers to help them apply for graduation and review their degree plans.
And students in the lowest persistence group received phone calls to set up one-on-one meetings with the graduation coaches to discuss how close they were to graduation and to figure out the barriers keeping them from finishing and help them overcome them.
"Financial aid is always a variable that students tell us [is a problem] … Second is always something to do with family, either a family emergency, medical emergency or change of status in the family, and transportation is another one," Silva said, adding that 68 percent of the college's students are dependent on some form of financial aid.
A number of colleges have established emergency aid funding or turned to their foundations to help students come up with the small amounts of money they need to cover other financial, transportation or health issues they may encounter shortly before graduating.
Milliron said Civitas identified transfer issues and too many credits that don't count toward a degree as another reason students may leave.
"We're not mapping to various specific degrees, so you have students accumulating a lot of credit but not on track to graduate with a degree in a timely way," he said. "Some students use up their financial aid or they're losing hope because they're accumulating credits and [are] no closer to graduation."
For many community college students, they're receiving financial aid that will cover their tuition and fees, but it doesn't address their cost of living.
"The challenge is students don't have money to live on," said Gail Mellow, president of LaGuardia Community College of the City University of New York, adding that there is often a significant gap between the actual cost of living and what federal financial aid says students need. At LaGuardia, that gap is about $7,000 a year. "That means students have to make that money to live, pay for a Metro card, buy lunch, pay rent."
Through donations to the college, LaGuardia has been able to provide some students with a stipend for work they do around the campus, such as peer mentoring, serving as student ambassadors or tutoring, Mellow said.
But there are also instances where students meet with the graduation coach and learn they have enough credits to achieve their degree or certificate. Silva said these students need a nudge to get back on their guided pathway, because at some point they stopped seeing an adviser or took advice from noncollege officials about the courses to take.
"Sometimes we fall into the fallacy that a student who is 75 percent of the way there has it all together and if you leave them alone they'll figure it out," Silva said. "But that's not always the case. They need that extra nudge and it could sometimes be an academic need or tutoring services, but many times it's nonacademic."
For instance, Silva said, there were students who withdrew from classes last year because of Hurricane Harvey, and the college has received some grants and funding from its foundation to help them. But Del Mar is also exploring food pantries to help those students who are food insecure, and the college's counseling center is working with a women's shelter.
"We understand very much that the nonacademic factors can be a huge roadblock to finishing school, and some of those students are so close -- we're trying everything we can," he said.