You have /5 articles left.
Sign up for a free account or log in.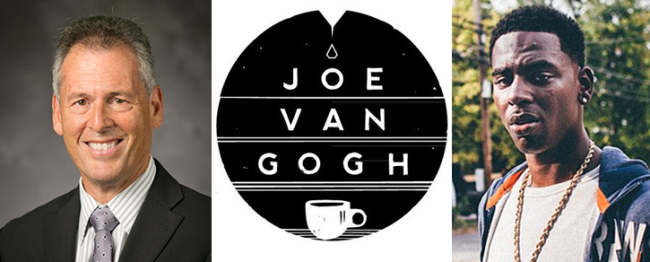 Outrage has flowed freely over the story of Larry Moneta, the Duke University administrator whose distaste for a rap song featuring the N-word reportedly led to the firing of two baristas (one of whom is black) at a campus coffee shop.
Experts in hip-hop culture (and the university's critics) point to this as a contemporary example of racism, a white man who has publicly professed to cherish free expression -- but only when he doesn't find the speech offensive.
Some have called for Moneta's firing. A university spokesman, Michael Schoenfeld, told Inside Higher Ed that Duke supports Moneta.
Moneta, the vice president of student affairs, last week swung by Joe Van Gogh, one of Duke's contracted coffee shops, to pick up his regular order, a hot tea and vegan muffin. At the time, the song "Get Paid," by Young Dolph, was playing -- a rap that repeats the N-word continually in its refrain. Britni Brown, who was manning the register at the time, had picked the Spotify playlist that contained the song, according to the Durham alt-weekly, Indy Week, which first reported the scandal.
He was "shocked" to hear the lyrics, Moneta said in a statement he released this week. He told Brown the words he heard were inappropriate, and Brown, according to Indy Week, apologized earnestly and immediately shut the music off. Brown, who is black, apologized a second time and offered Moneta the muffin on the house, but he refused and insisted Brown charge him.
After Moneta left, he contacted Robert Coffey, executive director of Duke's dining services, to complain. This led to a phone call from the coffee shop owner, Robbie Roberts, to Brown, asking about the incident, for which, Indy Weekly reported, Brown took full responsibility.
On Monday, both Brown and the other barista working the shift, Kevin Simmons, were asked to meet with human resources, and they were informed that Duke had requested they be let go, according to local press accounts. Schoenfeld, in his interview with Inside Higher Ed, denied this and said that Joe Van Gogh solely controls the hiring and firing of employees.
As the story spread, backlash was instantaneous. Moneta already took digital flak last month for his adamant defense of free speech following multiple racially charged incidents on campus.
In April he posted to Twitter, "Freedom of expression protects the oppressed far more than the oppressors," and wrote that universities considering banning hate speech should read a book on the matter by two prominent law scholars.
Last year, Moneta also was derided for equating the destruction of a Confederate statue in North Carolina to vandalism of a Holocaust memorial in Boston. He wrote in an opinion piece to Inside Higher Ed he wanted the statues taken down through "legitimate, law-abiding processes," not sabotage.
In his public statement this week, he said, "To those who feel that I've flipped on my positions on free expression, I say this. The artist who wrote, recorded and performed the music is absolutely entitled to do so, however offensive I might find the lyrics. The employees who chose to play the song in a business establishment on the Duke campus made a poor decision which was conveyed to the Joe Van Gogh management. How they responded to the employees' behavior was solely at their discretion."
Students were still displeased. They stormed Moneta's office in protest Wednesday after gathering outside the coffee shop, playing the very song he found objectionable, and demanded a mea culpa.
On Wednesday, Moneta posted an apology on his personal Facebook page, writing that "he never intended" for the employees to be fired and that he hoped they would be reinstated. (One Duke student wrote on Twitter that she "didn't wanna hear anything else" unless it was about Moneta resigning.)
The coffee shop owner, Roberts, has also since apologized and said in his public statement he has "taken steps to remedy the matter," though his personnel decisions remain private. He told BuzzFeed, however, that the two baristas would be welcome back at the company. Brown said in an interview with The News & Observer she didn't want her job back -- calling Duke a "white supremacist" campus.
No policies expressly prohibit what music is played at facilities such as the coffee shop, Schoenfeld told Inside Higher Ed. But there is a "general expectation" that background music be appropriate for a setting families and their children may frequent, he said.
"It's a commercial enterprise place, where individuals representing all age ranges come in, and there are general expectations when you go into a shop like that, that you will -- unless you choose to find yourself listening to it yourself -- you will not be subjected to that explicit language," Schoenfeld said.
He declined to comment whether Duke felt the firing was an appropriate response, referring a reporter to the coffee shop's statement. The institution has not considered disciplining or firing Moneta, he said. He wrote in a later email that the institution was glad the coffee shop had accepted responsibility for the incident.
Schoenfeld added in his interview that issues of free speech and what is suitable in a public place are "always complicated" and are "rarely able to be settled definitively."
But some academics see what transpired at Duke as racism.
A. D. Carson, an assistant professor of hip-hop and the global South at the University of Virginia, and a rapper himself, was puzzled how Moneta could demand such a temperate response about Confederate statutes -- which many associate with their racist history -- and then react as he did over a rap song being played publicly. Moneta believing in only "law-abiding" activism, said Carson (a reference to Moneta's opinion on the statues), means he is oblivious to the reality where someone in power can make a single phone call and have someone fired for a song he found unpleasant.
This situation happened in the same time that black men are having the police called on them for trying to use a Starbucks restroom, and where they are shot for merely existing in their backyards -- a racist society, he said.
"It's really odd to think that free speech is being dictated by people who have the power to essentially say what legitimate activism is," Carson said.
Carson guessed if the coffee shop broadcasted radio coverage of Donald Trump's now notorious leaked audio about "grabbing [women] by the pussy," there wouldn't be a problem.
"It's not necessarily about the appropriateness, it's how it was presented," Carson said.
Duke has been helped by hip-hop, pointed out Ahmad Washington, an assistant professor in the University of Louisville's department of counseling and human development. He specializes in "critical hip-hop school counseling" and has researched how hip-hop culture and rap music are used in social justice movements.
The institution employs Mark Anthony Neal, a renowned professor of African and African-American studies and founder of Duke's Center for Arts, Digital Culture and Entrepreneurship. Patrick Denard Douthit, better known as rapper/producer 9th Wonder, teaches there, too, and has worked with some of hip-hop's biggest names, including Mary J. Blige and Jay Z.
So while Duke may benefit from these names, the institution, and Moneta, have clearly not recognized how hip-hop could be a legitimate discipline in higher education, Washington said. Hip-hop is not just rap music, he said. It is everything from "street entrepreneurship" to what it means to exist on the margins of society, to how one moves their body.
This type of incident overshadows hip-hop history, Washington said. Duke is dismissing rap music as "grotesque" and not worth of scholarly interrogation, he said.
"Rhetorically, they may embrace diversity and inclusion, but they still dictate the terms around which the diversity -- the speed and aesthetic and optics of what it looks like," Washington said.
For the rapper Young Dolph's part, he theorized in a tweet that Moneta was trying to teach students to be selfish.
"Whoever that VP is," Dolph wrote on Twitter, with thumbs-down and exasperated emoji, "he don't give a dam about nobody but his self."