You have /5 articles left.
Sign up for a free account or log in.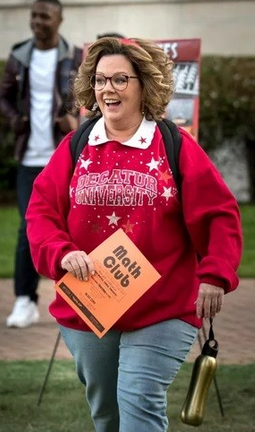 Hopper Stone / Warner Bros.
Melissa McCarthy has blessed us with such charming roles as a crass bridesmaid unleashing her bowels into a bathroom sink and a bumbling paranormal researcher/ghost hunter. Her doting mother turned later-in-life college student in Life of the Party delivers the same quality of comedy -- and a reflection on the life of the adult learner it is not.
Following her husband's unceremonious announcement that he wants a divorce, Deanna (McCarthy), parent to a senior at the fictional Decatur University (no apparent reference to any one institution, though it was filmed around Atlanta), decides she wants to enroll at the university she once attended and scrape together the few credits she lacked to complete her archaeology degree.
A daughter and her mother sharing the same campus? How uproarious -- what shenanigans will ensue?
The story of the dropout whose life plans were derailed -- in this case by pregnancy -- simply isn't the sexiest of storylines. Most adult learners focus not on the frivolities of the college experience, which the film stresses in a stereotypical fashion, but on completing their degrees. It makes sense. Many of them have competing priorities -- full-time work, perhaps, and/or a family.
Deanna's existence has seemingly revolved around her daughter (Molly Gordon) and her adulterous husband (Matt Walsh), who has shacked up with a stony, platinum-locked Realtor (Julie Bowen). When they're not in the picture, she, admirably, decides she wants to fulfill her dream.
But it's unlikely a middle-aged divorcée would move into a college dormitory (the film explains this away by saying the Realtor is selling the home Deanna shared with her husband).
Right away, Deanna slips into the joys of college with a fervor generally only demonstrated by a first-year student. She buys half of the bookstore's Decatur swag (hail Tigers) to decorate her side of the room and arrives fresh-faced at her first class, wearing a garish university sweatshirt.
Besides a brief period of humiliation by her daughter, Deanna effortlessly balances her new life, with no trouble signing up for classes, grasping course material or finding time to study diligently in the library. No mention here, of course, of the learning curve that would likely exist after returning, decades later, to a university climate suffused with technology and other advances.
Deanna's daughter and her sorority sisters decide Deanna simply can't just sit back and be a bookworm. No, no. They drag her to a fraternity party, where Deanna catches the eye of the mean girl for her classic "mom smock."
A quick makeover in the bathroom will fix that! Deanna emerges with cascading curls and immediately vibes with one of the young men there.
She sleeps with him, to her daughter's embarrassment. They both exit the fraternity house in a "walk of shame," on which Deanna proclaims to her daughter that's she been around the block, sexually. Any questions, ask her "va-Google."
Most of the jokes are like that: the fraternity brother so smitten with Deanna's sexual prowess he incessantly texts her and essentially stalks her around campus. An '80s-themed dance off where Deanna discos circles around her nemesis. An accidental binge on weed-infused chocolate.
One glimmer of reality comes with a sorority sister who breaks down after attending a job fair, fearful her kinesiology degree won't be useful postgraduation.
But even the main conflict of the movie, which theoretically could be a legitimate concern involving Deanna paying for her education, comes off unrealistic and a little late in the plot to be effective or scary.
Life of the Party, directed by McCarthy's husband, Ben Falcone, and written by them both, once again cements McCarthy's brand with a degree of absurdity only she can accomplish. But that's pretty much it.