You have /5 articles left.
Sign up for a free account or log in.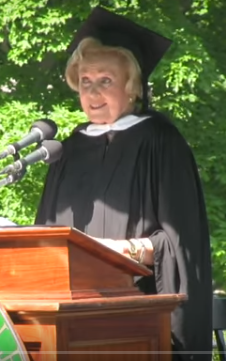 The commencement address at Sweet Briar College Saturday stunned many attendees, who found it sexist and demeaning to the Me Too movement and feminism. Some of the new graduates and other alumnae who have learned of the remarks are expressing anger on social media -- not only about the speech but about an email sent out by the college's president Sunday that noted the controversy but did not challenge the remarks that were made. Many said that the speech and the college's lack of strong reaction to it send the wrong message, particularly at a women's college.
The speaker was Nella Gray Barkley, who graduated from Sweet Briar in 1955 and who founded a career counseling company. Much of her address focused on career advice for students -- and much of the advice wasn't controversial. But in remarks at the beginning and end of her talk, she touched on feminism and sexual harassment.
Barkley said that she was in "partial sympathy" with the Me Too movement and cited as an example of a victim of harassment whom she would back someone who was physically blocked from leaving a room where her boss harassed her.
But Barkley went on to say that she did not have sympathy for women who report being summoned to a boss's hotel room.
"I have little patience with the woman who arrives breathlessly at her boss's hotel room for a so-called conference," Barkley said. "What did she think was going to happen?"
She followed that by telling graduates that "it is you who makes the ground rules" in future careers. Further, she said, it was "only natural for men from Mars to follow the shortest skirt in the room."
The response throughout the speech was tepid, perhaps because Barkley started off by seeming to favor the social mores of her years at Sweet Briar over the present. She talked about how she met her husband while she was in college. "Those were the days when University of Virginia men came to look over the freshmen." And she noted the tradition of the age in which students would gather and examine the engagement ring of a newly engaged student.
In referencing her husband, Barkley said, "I'm no raging feminist. I actually love men, and I married one."
Almost immediately after the graduation ceremony, some of the new graduates started to talk about the speech, noting that the comments suggested that loving men and being a feminist are not compatible, and that there is nothing wrong with male employers being skirt watchers. Much of the discussion took place on closed Facebook groups, but some members shared screen shots from the discussion on condition that names not be used.
Some who were present wrote about how shocked they were. "Sweet Briar should be embarrassed," wrote one student. Others said the speech was "tasteless and insensitive." Many said it was odd to have someone without an understanding of feminism as a speaker at a women's college.
Several comments noted the impact on graduates or others in the audience who have experienced sexual assault or sexual harassment.
One recent graduate called the speech "shameful and disgusting," adding that "there were sexual assault survivors in the graduation class today who had to relive horrible memories as Ms. Barkley participated in victim blaming and internalized misogyny."
Many noted that after Barkley finished her speech, the commencement proceeded without any reference to the comments many found so upsetting.
And some of the new graduates were also bothered by an email sent on Sunday by Meredith Woo, president of Sweet Briar, to those who received their degrees Saturday.
The email noted that Sweet Briar is "a diverse and inter-generational community of women. We cherish this diversity and seek to perpetuate it because the problems we face are complex and require wise and educated solutions. We need to learn from people with diverse skills -- people with different ways of conceptualizing, imagining, and doing things; people with different life experiences, and different memories of what worked and what didn't; people with different referents."
With regard to Barkley, Woo wrote that she was "a distinguished alumna of the college … and she meant to provoke and start a conversation that will get you thinking. She succeeded. Even as I know the deep emotional reaction some of you may have had to her message, I would urge you to remember that she is a trail blazer, who has coached people at various points of their career as they navigate the complex terrain that we call life.
"At this stage in your life, you have not experienced the complexities and contradictions which get presented in so many guises and contexts. Regardless, one principle is unassailable: that you, as woman, have dominion over your physical self, free from coercion, pressure or influence related to your sexuality. The speaker celebrated and applauded women who came forward through the #MeToo movement, to shed light on the vexing problem of power and coercion. But she also raised the question of agency and purpose: how we act responsibly to avoid and thwart situations that happen all too often in life."
Woo added, "You don't have to accept or refuse her perspective -- that is not the point -- but I ask you to think about it. That's what you have earned as [an] alumna of Sweet Briar -- a woman with an ability to listen, cogitate, and take from it what you wish, and get on with your life."
Alumnae who are criticizing that email aren't upset by the call to listen to a range of perspectives politely. And a recording of the speech shows that the students who were graduating got quiet but never interrupted or disrupted in any way. But critics are asking why Woo didn't dispute some of the statements in the speech.
Inside Higher Ed asked Sweet Briar about the frustrations over the speech, and the fact that no one from the college -- during the ceremony or after -- disputed any of Barkley's statements. The college responded Sunday evening by noting that it had not received an advance copy of the remarks (something Barkley noted).
With regard to the questions, the Sweet Briar statement said the following: "The college hopes that the comments over all inspired the Class of 2018 to think deeply and carefully, and we are proud that our graduates listened with discernment on what was a joyous occasion celebrating their triumphs. We have an opportunity to continue a very important conversation -- one that we all should be having and one on which women should take leadership -- about power, responsibility and advocacy. Sweet Briar College has always been an institution that encourages discussion on subjects of profound importance for our women and our society. We hold this truth to be unassailable: Every woman has dominion over her physical self and must be free from coercion, pressure or influence."
When the college announced in March that Barkley would be the speaker at commencement, the announcement noted that Barkley had received a "distinguished alumna" award from the college in 2002 for "her many personal and professional accomplishments as well as her ongoing support of the college."
The college placed the entire commencement ceremony on YouTube. Barkley's talk begins shortly after the 27th minute.