You have /5 articles left.
Sign up for a free account or log in.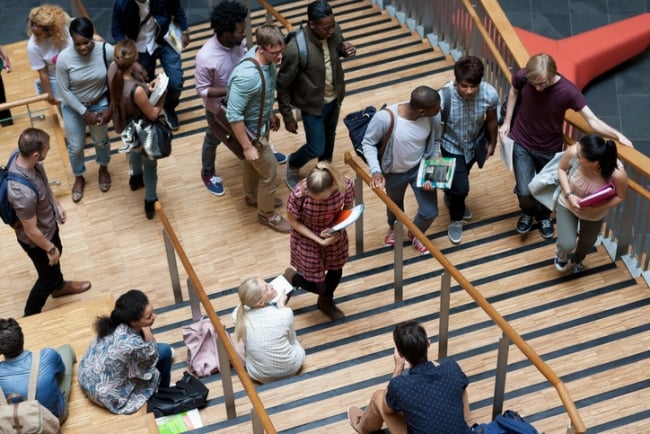 A federal loan program designed to help parents finance their children's college education is seen by many as a tool for access, but it may be exacerbating racial inequality, New America argues in a new report.
While white Americans who use the loan program, known as Parent PLUS, are primarily the middle- and upper-class families it was designed for, it is also heavily used by low-income African-American families with the least ability to repay, the report finds.
When the Obama administration, with little notice, instituted more stringent credit checks for the program, it faced intense backlash from historically black colleges, which experienced serious losses in students and revenue. The Department of Education eventually settled on a modest borrowing standard for the program, and Parent PLUS disbursements have climbed steadily in recent years even as those of other federal loan programs have dropped off.
Recent data on loan repayment, meanwhile, show a crisis of loan defaults among African-American borrowers. Practically nothing is known about repayment rates for Parent PLUS, the report says, but the repayment data for black undergraduate borrowers suggests their families may be struggling to repay those loans as well.
And unlike with federal direct loans, parent borrowers don't have access to benefits such as income-driven repayment, putting them at risk of default and debt collection that could endanger their retirement security.
The report recommends several interim policy fixes to make sure families are not taking on unmanageable debt, among them the addition of an "ability to pay" measure to the credit check for Parent PLUS loans and a ban on colleges packaging the loans in a student's financial aid award letter. And it calls for making the loans dischargeable through bankruptcy as well as adding more accountability for colleges.
Over the longer term, the report argues that policy makers should promote more targeted aid to students of color so that they can pursue a higher education without financing it with serious debt. That aid could be need based or specifically targeted to students of color.
"Saddling both the student and then the parent with debt is a concerning trend and a debt cycle that will be really hard to escape," said Rachel Fishman, deputy director for research at New America's Education Policy program and the author of the report.
Any proposal to reform the Parent PLUS program is likely to receive pushback from some sectors of higher ed concerned about restricting access for minority students. But as loan defaults and other outcomes for student borrowers get more attention from policy makers and higher ed researchers, consumer and student advocates say now is the time to re-examine the program.
The Race Gap in Parent PLUS
Fishman writes that the Parent PLUS program has been heavily utilized by low-income black families because of a racial wealth gap fueled by decades of government policy. That has meant that those families disproportionately turn to debt to finance their children's college education.
Officially colorblind legislation passed after World War II in practice often excluded black families from benefits that lifted white Americans into the middle class. The GI Bill provided guaranteed loans for veterans to buy homes in developing suburbs, but redlining -- a practice promoted by the Federal Housing Administration -- kept black home buyers out of white neighborhoods.
Discriminatory housing and lending policies meant many black families could not build up the same property equity that white families use to finance higher education.
And the higher education benefits of the GI Bill in practice were often awarded in a discriminatory manner. Black veterans were steered toward vocational programs over a college degree by government agencies and otherwise faced a segregated postsecondary system that underfunded institutions serving black students.
In large part because low-income black families have not been able to accumulate wealth through means like home ownership, Parent PLUS is seen as an important tool for access to college for many students.
When the Department of Education unexpectedly raised credit standards for Parent PLUS in 2011, a change resulting partly from the move to 100 percent federal direct lending, tens of thousands of families were denied access to loans. And colleges that relied on the program took a serious financial hit from a resulting loss in enrollment.
The backlash from those institutions eventually prompted a change of course: an apology from then education secretary Arne Duncan in 2013 and a rule-making process in 2014 that ended with a looser credit standard. Policy makers haven't revisited Parent PLUS since that change.
But Ben Miller, director of the postsecondary education program at the Center for American Progress, said the time for such discussions is now with a potential reauthorization of the Higher Education Act on the horizon.
"I think the fact that there isn't as strong of a sense of urgency around the PLUS program the way there was during the rule making should mean there is a window for discussion," he said.
In an analysis of federal data published last year, Miller found that 12 years after entering college, the median black borrower owed more than their original student loan amount. It's one of multiple recent reports that have found significant racial disparities in student loan outcomes.
Judith Scott-Clayton, associate professor of economics and education at Columbia University's Teachers College, found in an analysis for the Brookings Institution that black borrowers in particular are at risk of becoming delinquent or defaulting on their loans. She projected that nearly two in five borrowers who entered college in 2003-04 would default on their loans by 2023.
The New America report argues that even those findings don't take into account the additional debt burden of parent borrowers and suggests that outcomes for Parent PLUS loans likely correlate with those of student borrowers. Fishman recommends that policy makers promote additional transparency around the program by releasing better data and requiring that institutions stop packaging the loans in students' financial aid award letters.
More significantly for students, the report urges that ability to pay be considered when making Parent PLUS awards. And in the longer term, it calls for more targeted aid to reduce the cost of college education up front for low-income students of color.
Fishman acknowledged that any attempt to restrict lending to parents would be met with concerns over access. But taking on the loans is risky for some families, she said.
"The bottom line is these students need more money, and the money cannot be loans," Fishman said.
Tiffany Jones, director of higher education policy at the Education Trust, which advocates for closing gaps in access and affordability for college students, said any consideration of restricting lending should be mindful of restricting access to college for black families.
"We would much prefer that low-income students are paying for college with grant aid, rather than loan aid," she said. "In the absence of that, we want to be careful that we're not limiting opportunities."
Historically black college groups took issue with a previous report from New America that suggested institutions had used PLUS loans to hide prices from students and limit exposure to defaults. Lodriguez Murray, the vice president for public policy and government affairs at the United Negro College Fund, said he appreciated that the latest report took care to spell out how many black families have come to rely on PLUS loans to finance higher education.
But he said the recommendations of the report should have gone further in addressing the needs of black families overburdened by the PLUS program, possibly by offering income-driven repayment or loan forgiveness. And he said work-force discrimination and salary disparities contribute to the wealth gap in ways the higher ed system alone cannot address.
"What we don't need to work on is symptoms," he said. "We need to make recommendations that get to the root and help level the playing field."