You have /5 articles left.
Sign up for a free account or log in.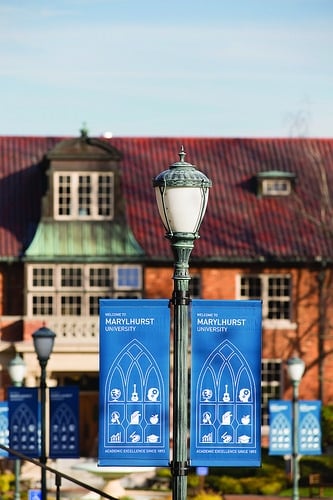 Marylhurst University, a Roman Catholic institution located on the outskirts of Portland, Ore., announced Thursday that it would close by the end of the year, after nearly 125 years of operation.
The university has seen its enrollment plummet from 1,409 in 2013, when many colleges' enrollment swelled as people returned to college during the Great Recession, to half that (743) in 2017. Because the university has a history of serving adult students -- two-thirds of its enrollees attend part time, and 80 percent are over the age of 25 -- its enrollment patterns look more like those of community colleges and for-profit institutions, which have taken a beating as the labor market has (partially) recovered.
Marylhurst said in a written statement that it would help 81 students graduate by the end of this summer and work with more than 320 remaining students to help them transfer to other colleges and universities.
The university plans to turn its campus back over to the religious order with which it is affiliated, the Sisters of the Holy Names.
Marylhurst's Board of Trustees, during "months of extensive analysis and thoughtful deliberation," considered "numerous reorganization scenarios and strategies," but found "no viable financial path that would have enabled us to sustain the high level of academic programming for which we have always strived without putting an extreme, unsustainable burden on our students, faculty and staff," Chip Terhune, the chair-elect of the board, said in the statement.
The university also said the decision to close now would ensure that Marylhurst "didn't encounter the accreditation issues, recalled loans or negative audits that often accompany other universities' closures."
Marylhurst shares some things in common with the growing number of small private colleges that have closed or merged in the last year, including shrinking enrollments and a modest endowment ($20.5 million in 2016). It also is a religious institution, many of which have been disproportionately challenged because their demographic bases are ebbing. 
But the university differs from them in some other ways. First, it isn't in the Midwest or the Northeast, which are struggling most with declining populations, especially of traditional-age young people. And while Oregon as a whole also faces a declining college-age population, that is most true in the state's rural regions, whereas Marylhurst sits 10 miles outside Portland, which is booming.
And Marylhurst is not one of those small private institutions that is undifferentiated from the rest. A former women's college, it has historically been an early experimenter, establishing a prior learning assessment program in 1976, going online in a meaningful way in 1996 and beginning a degree completion program in 1998.