You have /5 articles left.
Sign up for a free account or log in.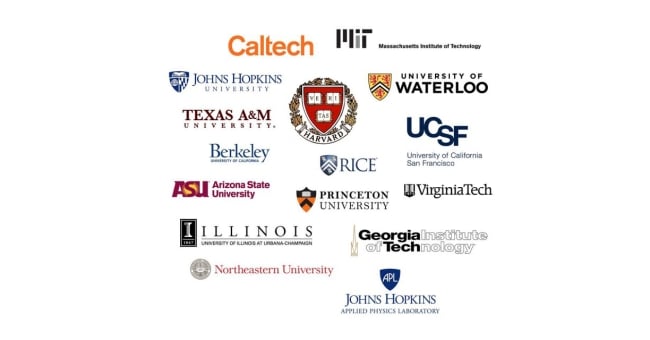 At the end of 2016, 16 universities entered into an agreement with Facebook to help the company quickly develop new technologies.
Now, a total of 30 institutions have signed up to the Sponsored Academic Research Agreement, or SARA, according to Facebook. But little is known about what they've been working on.
Contacted by Inside Higher Ed, none of 16 original universities in the agreement disclosed any details of their work with Facebook, nor identified any researchers involved. Many did not respond to requests for comment. But those that did, such as Princeton University, made statements such as "unfortunately we don't have anything on this for you now."
Some institutions, such as California Institute of Technology, said they did not have any active projects under the agreement at this time. Asked for details of any past projects, Caltech suggested we direct our questions to Facebook or institutions with active projects. 
It's possible that the institutions working with Facebook may have been concerned about violating non-disclosure agreements. Some may have joined the agreement but never conducted any research. Given recent political scrutiny of Facebook, it's also possible that the institutions involved were simply trying to keep a low profile.  
Institutions With Facebook Agreements
Arizona State University*
California Institute of Technology*
Carnegie Mellon University
Cornell University
Dartmouth College
Georgetown University
Georgia Tech*
Harvard University*
Johns Hopkins University*
Johns Hopkins University Applied Physics Lab*
Linköping University
Massachusetts Institute of Technology*
Northeastern University*
Princeton University*
Purdue University
Rice University*
SRI International
Stanford University*
Technical University of Madrid
Texas A&M University*
University of California, Berkeley*
University of California, San Diego
University of California, San Francisco*
University of Central Florida
University of Illinois Urbana-Champaign*
University of Michigan
University of Texas at Austin
University of Washington
University of Waterloo*
Virginia Tech*
Washington University in St. Louis
(*original members)
Under the SARA, institutions can apply for funding from Facebook to develop technologies led by a division of the company called Building 8 – a unit frequently described as "secretive" in the news media.
According to descriptions from Facebook, Building 8's charge is to develop "seemingly impossible products" as quickly as possible. Areas of development include augmented and virtual reality, artificial intelligence and connectivity.
Pressure to innovate quickly was a driving factor in the development of the agreement, which was led by Regina Dugan, Building 8's soon-to-depart director, and former head of the Defense Advanced Research Projects Agency, as well as Google's product development and research team.
When the SARA was announced, Dugan posted on Facebook that it would make it "easier and faster" for Building 8 to establish collaborations with university researchers -- not in the 9-12 months that's typically required, but "within weeks."
A spokesperson for Facebook explained that all members of the SARA sign "a universal agreement with terms that are project-by-project and designed to be fair and appropriate for universities."
This universal agreement, which presumably addresses the intellectual property rights of the research partners, allows Facebook to build relationships with research partners "quickly, and at scale," the spokesperson said. Asked if it would be possible to see a copy of the universal agreement, Facebook said that all contracts are confidential and cannot be shared.
One of the aims of SARA is "to seed continuous conversation between our research groups and the academic community" in order to help Facebook identify "new areas and investigators to invest in," the spokesperson said. 
Recently, Facebook has started using the SARA network to solicit advice from academics on how to solve the company's most pressing research questions by sharing "request for information" documents with SARA members. Conversations from these RFI documents can lead to funding for researchers with good solutions, or more formal requests for proposals.
In the future, Facebook plans to share internal documents outlining areas of technology interest with SARA members so that any investigator at a SARA university "can read that document, get a good sense of what we work on and where we need help, and find the right point of contact within the company to start conversations about how their tech might help solve our problems."
Asked for examples of work conducted under the SARA, Facebook said that current projects include the development of brain-computer interfaces to turn thoughts into text. Researchers are also working on haptics with the aim of helping people to hear sound through their skin. Facebook identified two researchers working on the brain-computer interface project for interview, but unfortunately neither were available prior to publication.
Though a growing number of universities are lining up to work with Facebook, Siva Vaidhyanathan, professor of media studies at the University of Virginia, and author of Antisocial Media: How Facebook Disconnects Us and Undermines Democracy (Oxford University Press), said that universities should think carefully before collaborating with the company in developing technologies.
"We know that Facebook depends on user data to make its products work and work well," said Vaidhyanathan. "We have seen that Facebook's accumulation of data is a serious problem. One that legislators are finally taking seriously. Universities should therefore be careful about the prospect of being implicated in the development of any product that could cause harm."
Given national research funding constraints, Vaidhyanathan said he understands that industry collaborations are necessary for universities, adding that he doesn't think universities should write off working with tech companies like Facebook. But Vaidhyanathan does think that universities should be more transparent about their partnerships with these companies and the emerging technologies that come from them.
"It worries me and it saddens me that universities have been less than forthright in explaining the terms of these deals, and the safeguards that they are taking," said Vaidhyanathan.