You have /5 articles left.
Sign up for a free account or log in.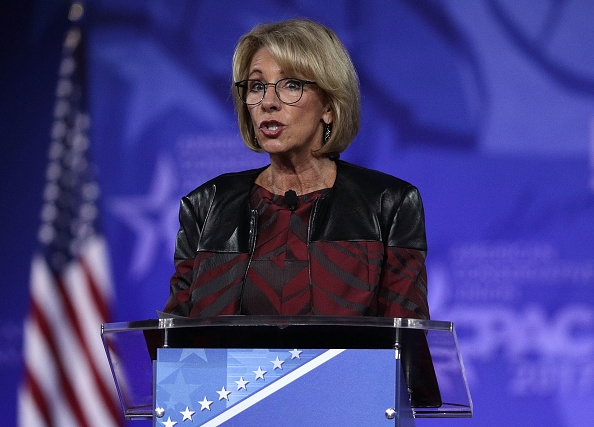 After granting student borrowers a temporary victory last month against the Department of Education, a federal judge this week will consider larger questions about whether all Corinthian Colleges students misled by their former institution should get full relief of their student loan debt.
A handful of former Corinthian borrowers, represented by the Project on Predatory Lending at Harvard University, are suing the department over a plan, announced in December, to award partial relief of student loan debt to defrauded borrowers. Federal Magistrate Sallie Kim ruled last month that the system violated the Privacy Act by improperly using average earning data from Social Security records, and issued an injunction against collecting on those loan debts.
What remains at question, though, is whether a de facto policy previously existed at the department that dictates any misled borrowers who attended Corinthian institutions should get full debt relief. If such a policy did exist, it could aid the arguments of borrowers seeking full debt relief.
Kim will hold a hearing today to try to determine whether a so-called Corinthian rule was in place at the department, as well as other questions involving loan forgiveness for defrauded students.
"It comes down to how formal that rule may have been," said Clare McCann, the deputy director for federal higher education policy at New America's Education Policy program and a former department official under the Obama administration.
Corinthian shut down in 2015 after reaching a peak enrollment of more than 80,000 students. Tens of thousands of those students have sought discharge of their loan debt in recent years through borrower-defense claims, alleging that their program inflated job placement rates, misrepresented career services, made false claims about credit transfer or otherwise misled them. The Obama administration found many of those claims were justified, issuing debt relief for 31,000 borrowers by January 2017.
After going nearly a year without approving a new claim, Education Secretary Betsy DeVos unveiled the partial relief system, saying it would ensure taxpayers aren't forced to shoulder unjustified costs. That also meant going forward, borrowers who successfully demonstrated they were misled by their institution could still be on the hook for thousands in loan debt.
Borrowers and their attorneys have argued in court that a policy of full forgiveness for Corinthian students was codified in several internal department documents that would require DeVos to issue full debt relief to Corinthian students.
In a court filing last week, the department said one of those documents was already available in the public record and provided no evidence of a written policy. The other, government lawyers said, was a deliberative internal document and should not be released or even viewed as indicative of any department position.
But student advocates have argued that the department under the previous administration consistently and publicly said that Corinthian borrowers would get full debt relief -- before DeVos announced the new policy.
The department additionally said last week that it was considering options for determining the appropriate amount of debt relief for borrowers that wouldn't violate the Privacy Act. Those options could include using publicly available earnings data or having borrowers directly submit salary information themselves.
That latter possibility worries some student advocates concerned about making the loan forgiveness more complicated for defrauded borrowers.
"If there was a requirement that not only each student apply individually, but that they also supply individual documentation as well, it would make it much more difficult to get relief in the hands of students that need it," said James Kvaal, president of the Institute for College Access and Success.
The findings in the lawsuit could also have implications for a new borrower-defense rule currently being promulgated by the department. DeVos last year blocked a new regulation issued by the Obama administration from going into effect and said she would craft her own rule. The department has said it will continue to review claims based on 1995 statutory language.
New data published last week by the Century Foundation shows that borrower-defense claims have continued to pour in to the department despite little federal outreach to students.
Between August and March, the number of pending claims increased by 29 percent, to more than 127,000. Most of the new claims -- about 9,000 -- came from Corinthian students. The biggest increase among any institution came from students of the online DeVry University.