You have /5 articles left.
Sign up for a free account or log in.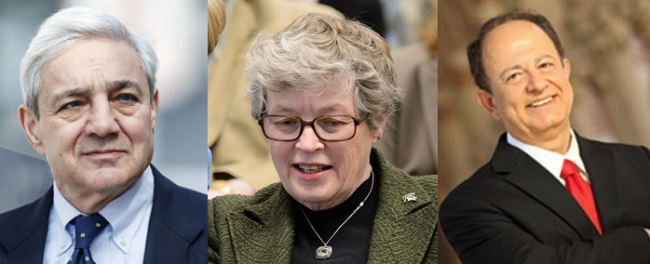 When horrific, large-scale cases of sexual abuse emerged at Pennsylvania State University in 2011 and more recently at Michigan State University, higher education leaders expressed shock and vowed that such abuses would never happen again.
Then last month, it happened again. The Los Angeles Times reported on a University of Southern California gynecologist accused of decades of "serial misconduct" at a student health clinic, accusations now being investigated by police.
In each of the abuse cases, critics say key leaders failed to act on abuse reports until it was too late and dozens or even hundreds of victims came forward. How could the complaints fall through the cracks?
In several recent cases, presidents who mishandled abuse cases made one key error, said Susan Resneck Pierce, president emerita of the University of Puget Sound, who now serves as a consultant to presidents and trustees. She said they hadn't created a campus culture in which it was expected that they'd be informed of allegations of inappropriate behavior.
"I don't care how large the institution is," said Pierce, an Inside Higher Ed columnist and author of the 2011 book On Being Presidential: A Guide for College and University Leaders. "I fervently believe that presidents share the responsibility with their boards for the health and integrity of the institution and all of its aspects. They not only need to understand that, but it needs to be understood on campus."
In cases where presidents know about misbehavior but don't act, she said, fears of bad publicity often drive inaction. But she noted that in many cases, "The cover-up creates more negative publicity than actually acting on an original allegation would have done."
At Penn State, Michigan State and USC, anger at senior administrators has been mostly focused on the abuse cases discovered after someone should have recognized and reported the problem.
After the Times last month detailed nearly three decades of complaints at USC against George Tyndall, more than 400 people contacted a USC hotline with reports that he photographed patients' genitals, touched women inappropriately and made "suggestive and sometimes crude remarks about their bodies." Tyndall has denied wrongdoing and told the Times that his exams were thorough but medically appropriate.
The scandal cost USC president C. L. Max Nikias his job, which he'd held since 2010.
The Tyndall revelations came a year after the Times reported on drug and alcohol abuse by Dr. Carmen A. Puliafito, the onetime dean of USC's medical school who reportedly led "a second life of partying with young criminals and addicts." Puliafito's replacement, Rohit Varma, resigned amid allegations that he sexually harassed a colleague in 2002.
USC says Nikias first learned of the allegations against Tyndall in the fall of 2017, but the Times reported that Tyndall was the subject of staff and patient complaints stretching back decades. The university barred him from treating patients only after a nurse reported him to the campus rape crisis center. An investigation found that Tyndall had sexually harassed students and performed pelvic exams that departed from "current medical standards," but USC agreed to allow him to resign with a financial payout. It also didn't report him to the Medical Board of California or tell his former patients, but later acknowledged that it should have.
At least 20 plaintiffs have filed civil lawsuits against USC and Tyndall, the Times reported. The Los Angeles Police Department has also opened an investigation.
Laura L. Dunn, a Washington lawyer who specializes in campus sexual assault cases, said a kind of "institutional loyalty" often blinds presidents to lurking potential dangers.
"There really is a sense of some people that there's no way anyone on their campus could do harm," she said. "Their campus is a great place and a great culture, and they don't leave the possibility there might be a bad egg in the mix. And there always can be."
Too often, Dunn said, because colleges and universities don't anticipate that there could be "a serious predator" on campus, they don't establish chains of communication that could handle the problem quickly and appropriately. "And that really is a failure at the top."
Peter McDonough, general counsel of the American Council on Education, said that once university leaders hear about abuse claims, they must ask themselves whether the cases are truly one-time events or an indicator of more criminal behavior on campus.
"Do you really press as to whether it's more likely that it's the tip of an iceberg?" he said. "Maybe you do. Do you really, really press as to whether it's indicative of a cultural or operational problem that has a much larger scale to it?"
If anything, McDonough and others said, college presidents suffer from the opposite problem: they tend to view their campuses as better prepared for such crises than others.
While it measures a slightly different phenomenon, an ACE survey released last April found that 55 percent of presidents said staff and administrators at other institutions were "good" or "very good" at seeking out and listening to differing viewpoints; 73 percent said the same of their own staff and administrators.
The problem affects most organizations, said McDonough, not just colleges and universities. He noted that the top commander of the U.S. Navy's Seventh Fleet lost his job last year after a pair of collisions involving the destroyers Fitzgerald and John S. McCain cost the lives of 17 sailors.
"I kept thinking, 'How likely is it that he was actually responsible for those accidents?'" said McDonough. "'Was it something about the culture, or was it something about the priorities that caused some slippage in focus on safety?'"
A review last December found that the collisions were the result of an "over-bureaucratized" Navy with "misaligned authorities, complicated command and control responsibilities, and diffuse accountability structures."
McDonough said the coffee chain Starbucks offers a more helpful leadership model. After police in Philadelphia arrested two 23-year-old African-American businessmen who were sitting in a Starbucks shop in April, the company could have simply "refocused" that location's staff on customer service without bias. Instead, "They shut down all of the stores in America, basically. The leadership there said, 'We are not going to presume this is an isolated situation or issue.'"
Just as importantly, he said, Starbucks executives took a larger view of the incident. "They were recognizing that whatever they thought was probably less relevant than what the world thought."
But unlike Starbucks, he said, college and university presidents can't easily make big, sweeping decisions, since faculty are, in essence, running their portion of the institution, with students and donors keeping an eye on the process.
"It's not a pyramid in which the president can decree to two people who report to her what is going to happen, and then they decree down, and it happens," he said. "A president, at some level, needs to be in a negotiation with constituencies on campus in a way that corporate leaders are never in negotiations with constituencies." Public institutions have even more players, he said, including lawmakers and taxpayers.
In large colleges and universities, where the president is, for instance, a political scientist by training, he will naturally rely on the dean of the medical school to evaluate serious issues there and bring them to his attention only when necessary.
Before he became president at USC, Nikias was an engineering professor. Graham Spanier, Penn State's former president, was a well-known professor of human development and family studies, sociology, demography, and family and community medicine.
"The larger the institution, the more likely that you are counting on people who run the sections of it, what we might call the silos, to frankly only bring to you something that demands your attention," McDonough said. "Because a president's time is a zero-sum game."
Pierce, the former University of Puget Sound president, said presidents of any background -- historians or poets or engineers -- must still be held accountable for what happens. "I was an English major," she joked. "If you're going to be a college president, you really should understand, in at least broad strokes, what is permissible and what's not and what's expected of you in your role as president."
That includes familiarity with the law. "And there are pretty clearly established laws about the requirement that any allegation of sexual harassment must be investigated."
Similarly, the president of a large university like Michigan State or USC can't make an excuse about layers of bureaucracy between them and the department where abuse took place.
"In a larger institution, there are more layers of people with various responsibilities below the president than on a small campus," Pierce said. "Nevertheless, the principle is still the same: the buck stops here. It is the president's responsibility."
All the same, she cautioned that it's difficult for most of us to fully understand exactly how most college presidents handle misbehavior, since in most instances the investigations and their results are behind a wall of legal silence.
"We're looking at it through only a partial lens, because so much of what is happening is governed by confidentiality," she said. "So we don't know about the cases where things have been handled effectively and legally."
But Pierce said college and university leaders who handle such cases well have a few things in common. They have clearly articulated procedures for reporting abuse or harassment. "And you can't just send those out in one email."
Students and staff know where to go and whom they can tell when they suspect abuse, she said. "And I feel strongly that there have to be multiple people across campus who are trained to receive those complaints and who are identified" as such. "There is often a good deal of discomfort that people who want to make an allegation have about going forward, so you want to give them a number of options."
Then, she said, "You need to make it very clear what your policies are forbidding retaliation."
Dunn, the D.C. attorney, agreed. "As the leader, as the president, you really do have to have foresight. There may be emergencies on your campus. There may be active shooters. There may be serial predators. You have to prepare for the worst even if you expect the best."