You have /5 articles left.
Sign up for a free account or log in.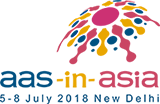 Pakistani scholars won't be able to attend the Association for Asian Studies' upcoming conference in India.
The AAS is moving ahead with the July conference despite the Indian government's explicit restrictions on Pakistani participants, outlined in a February letter sent by India's Ministry of External Affairs to the university co-organizing the conference, Ashoka University.
The letter states that the ministry "has no objection from [a] political angle for the proposed event with foreign participants … (except participants from Pakistan)" (emphasis per the original text). It further states that the ministry "does not recommend participation from Pakistan in the proposed event."
In a joint statement, AAS, which is based in Ann Arbor, Mich., and Ashoka said that planning for the conference had been underway for several years before organizers learned of the Indian government's decision. Proposals for conference panels were due in November, and the conference -- one of a series of regional conferences in Asia that AAS organizes in addition to its annual conference in North America -- is scheduled for July 5-8 in New Delhi.
"The fact that the Ministry of External Affairs of the Government of India has decided to deny visas to Pakistani scholars (including scholars of Pakistani origin who are citizens of other countries) to attend the AAS-in-Asia conference in Delhi is not in tune with the open exchange of ideas and knowledge that is the very purpose of the conference," the joint statement said. "However, neither the Association for Asian Studies nor Ashoka University has the authority to tell the Government of India, a sovereign nation, to whom it may and may not grant visas, and nor have we been able to influence the Government of India to reverse its decision in this case."
"We deeply regret the governmental decision preventing Pakistani scholars from physically attending the conference. The affected delegates were informed in March, and since then, we have refunded registration fees for them and have made efforts to facilitate their participation by arranging for them to present their papers via Skype."
The statement was posted on the conference website Thursday after news of the restrictions on Pakistani participants was first reported in an India-based publication, The Wire. The letter from the Ministry of External Affairs had previously been posted on the conference website as a hyperlinked document under a section on visa information.
"It's a weak response," Farhat Haq, the president of the American Institute of Pakistan Studies and a professor of political science at Monmouth College, said of the statement. The institute withdrew as a sponsor of the conference after the Wire article was published.
Haq said she wouldn't want to see the conference scrapped at this point, but she would have liked to see a stronger response from AAS saying it would not hold conferences in India in the future if such a blanket ban were to continue.
"The Indian government should realize that there's a price to be paid for this kind of general ban of a whole nationality in a conference that is supposed to be an Asian studies conference," Haq said.
One would-be participant from Pakistan, Annie Zaman, an independent researcher and journalist, was scheduled to speak about political narratives from Balochistan, an area of Pakistan that's home to a violent secessionist movement, and also was to participate in a session titled "Framing Spaces: Encountering Affective Geographies in South Asia." Zaman said she learned via an email from conference organizers on May 1 that she was unlikely to get a visa and was eligible for a full refund of registration fees, but she didn't learn of the ministry's letter until earlier this week. (Of the fact that Zaman received notice in May, not March, it appears from the context of the full email exchange that there was confusion on the part of conference organizers about her registration status and that there may have been an earlier attempt to contact her.)
"What's emerged is a severe limitation on the principles of academic freedom," said Mira Mohsini, a visiting assistant professor of anthropology at the University of Akron, one of two co-organizers of a session at which Zaman was to speak. "The whole point of academic conferences is to have open dialogue, as much as possible open and free dialogue with exchange of ideas. What this directive and what in my opinion implicitly AAS is saying is this is not a space for that. It does call to question: As a conference, ethically, what are we all doing here if we are deliberately excluding voices from Pakistan, if we are deliberately excluding the Pakistani perspective? This is not to say that Pakistani topics are not going to be addressed in the conference. I'm sure there are excellent scholars who are addressing Pakistan, but we're not hearing voices from Pakistan. We're not hearing voices of Pakistani nationals. This is a huge exclusion."
"I'm sure if AAS had been more transparent about this directive, that they had received this letter, I am sure that many people might have chosen not to attend," Mohsini said.
"I didn't expect anything better from the government. But I did expect better from AAS," said Sinjini Mukherjee, a Ph.D. candidate in anthropology at the University of Heidelberg and the co-chair, with Mohsini, of the session at which Zaman was scheduled to present. "They're supposed to be one of us; they're supposed to be on the side that resists these measures and these sort of fascist tendencies of states to curtail freedom, but instead of being transparent -- fine, I understand there's a lot of financials involved in all of this and I get it -- but you could have at least made a statement and informed us so it didn't hit us so late in the day."
"With this lack of transparency things have been set in motion in a particular way. Now the decision is not just whether Mira and I back out [of the conference]; there are so many people involved in our panel who have made plans," Mukherjee said. "That's why I'm even more angry with the AAS that it took away our right to protest in the way we wanted to. If we'd had this information earlier, things might have been planned completely differently."
The president of AAS, Anne Feldhaus, the Foundation Professor of Religious Studies at Arizona State University, declined to comment beyond the joint written statement. The press office at the Indian embassy in Washington did not respond to an emailed request Thursday seeking information about the reasons for the prohibition on scholars from Pakistan, a country with which India has tense relations.
Some scholars have initiated boycotts of U.S.-based academic conferences in the wake of President Trump's travel ban, which restricts entry into the U.S. for citizens from a group of mostly Muslim-majority countries. Many have promoted the idea of moving international conferences outside the U.S., but the circumstances surrounding the AAS conference in India are a reminder that concerns about restrictions on scholar travel are not unique to the United States.
Haq, of the American Institute of Pakistan Studies, described "a sense of helplessness that this kind of blanket prohibition [on] a whole set of people can happen by our governments and there's not much we can do about it."
"It's an oversight both on the part of AAS and of Ashoka University not to have had a guarantee in advance that scholars of any national origin would be admitted to the conference," said James Scott, a professor of political science and anthropology at Yale University and the keynote speaker at the AAS-in-Asia conference, which he still plans to attend.
"In a sense, the meeting ought never have been held until those guarantees were secured, and I suppose the first order of business at the meeting will be to have a petition that I think most everyone will sign condemning the Ministry of External Affairs or I suppose the [Narendra] Modi government, for that matter," said Scott, a past president of AAS.
"At this point it's a question of protesting at the conference itself," Scott said, "but if the information that a conference is going to be restricted in this way is received well in advance, then the conference should be canceled."