You have /5 articles left.
Sign up for a free account or log in.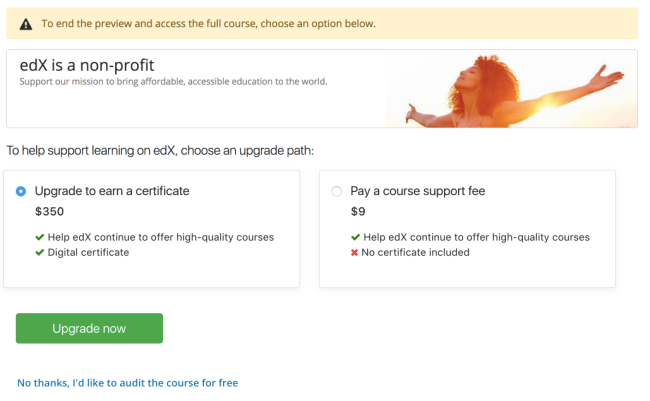 Massive open online courses got a little less open with edX's recent announcement that it is introducing support fees for some of its MOOCs.
Midway through an innocuous-looking blog post, Anant Agarwal, CEO of edX, said the nonprofit would be "moving away from our current model of offering virtually everything for free."
On May 3, edX began testing the introduction of a "modest support fee" that will "enable edX and partners to continue to invest in our global learning platform."
Adam Medros, edX COO and president, said in an interview that the support fee was just one option being explored to ensure the long-term sustainability of the MOOC provider.
Medros described the testing of the support fee as "complicated" with multiple implementation experiments running concurrently for different subsets of users.
Previously edX users were able to take most of its courses at no cost, an option that edX calls "auditing" a course. Those who want a certificate to show they have completed a course typically pay between $50 and $300. Some options, such as edX's MicroMasters programs, cost over $1,000.
Now some users will be asked to pay a support fee, "from $9 up to some portion of the certification cost," said Medros. The price of the support fee "will be aligned to the value and experience" that a course gives to a learner, said Medros, suggesting that the best courses will also be the most expensive.
By introducing a support fee, Medros said, there is a possibility that completion rates may go up. "There is a lot of evidence showing that having some 'skin in the game' is beneficial in online learning," said Medros.
Medros did not say how many courses the support fee would be applied to, but he said it was edX's intention that "some portion" of its content "will always be free." He said edX had not decided which content will remain free and what proportion of the total catalog it will represent.
As a nonprofit, edX is not introducing the fee to meet the demands of shareholders, said Medros. He said that every dollar generated in excess of costs would be invested into creating new programs and providing financial assistance to support prospective students who don't have the money to pay for courses. 
The support fee would only be applied to courses provided by edX's institutional partners on edx.org, said Medros. These institutional partners will share the revenue generated by the support fee with edX. The support fee will not be applied to courses that universities run on the Open edX software. Universities providing courses using the open-source software will continue to be able to set their own prices and can continue to offer courses free if they wish.
Writing about the introduction of the fee, Dhawal Shah, founder and CEO of Class Central, a review site for online courses, said the announcement was the latest in a phenomenon he termed "the shrinking of free." Regardless of MOOC provider -- be it edX, Coursera, Udacity or FutureLearn -- "all have cut back on what was originally free in MOOCs."
Phil Hill, co-founder of Mindwires Consulting and an author of the e-Literate blog, agreed that the edX announcement was not surprising. Early MOOC providers like edX thought they would be able to "get really big for free," said Hill. "Magic didn't happen, and now they're facing reality."
Some providers, like Coursera, have moved into the online program management space as their primary source of revenue. But edX doesn't seem to have gone "all in" on the OPM route, said Hill, despite its successful partnership with the Georgia Institute of Technology.
Hill doesn't think edX will have a problem finding students to pay the support fee. He pointed to providers such as Pluralsight that have built a good business charging moderate prices for online courses. Hill thinks the problem edX will run into is around its messaging.
"They touted so strongly early on that their content was free, I think that will be the most difficult thing to get over," said Hill.
Though edX said it is trying to be transparent about the changes, Hill said that the MOOC provider is "not doing a good job of sending a new message" due to a lack of detail about the changes and failure to publicize them on the main site.
"It's like they feel guilty that they have to do it," said Hill.