You have /5 articles left.
Sign up for a free account or log in.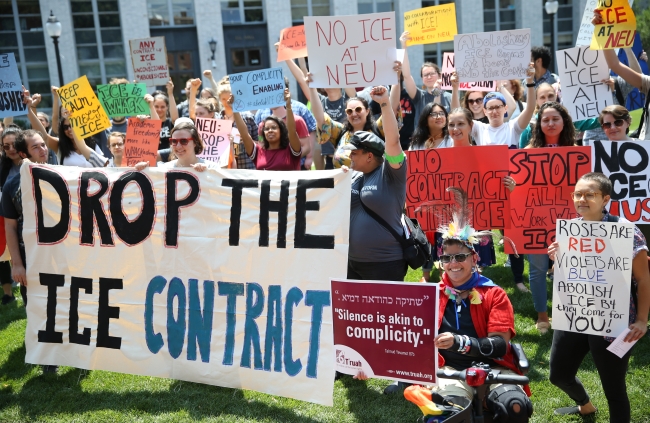 As anger over the Trump administration's immigration policies has mounted, universities are facing calls to sever their contracts with U.S. Immigration and Customs Enforcement.
Just a handful of universities have active contracts with ICE, which has come under increasing criticism and calls for its abolition in recent weeks. Activists say that universities should not collaborate with an agency they say is guilty of human rights abuses -- even if some of the projects that are being funded do not relate to ICE's most controversial functions in detaining and deporting undocumented immigrants but instead relate to other functions of the agency, like preventing terrorism and stopping illegal trade in drugs and weapons.
In response to the protests and petitions, universities variously cite their track records of partnering with the federal government to offer work-force training and the freedom of faculty members to accept funding from whichever government agency they see fit.
A petition written by a faculty member at Johns Hopkins University calls on the university to sever its relationship with ICE, citing the agency's "brutal policy of raids, deportations and family separations of immigrants, some of whom are apprehended at the border, some of whom have lived peaceably here in our country for decades before being stripped of their rights and ripped from their families and communities."
Johns Hopkins has multiple contracts with ICE for education and training services and tactical medical training. A university website describes the partnership between ICE and the university's School of Education as dating to 2009. More than $1.6 million has been allocated to Johns Hopkins through six contracts with ICE that are currently active, and the university has received about $6.6 million from the agency since the 2008 fiscal year.
"We recognize that a range of views about the politics of immigration and border security are possible," the petition states. "We do not expect that you will publicly respond to each new policy or statement made by this administration. Furthermore, we understand that there is a historic relationship between this university and the federal government which has enabled decades of life-saving and innovative research. We do not expect you to enforce a partisan stance or a party affiliation with any narrowly particular political position. But if our school is to live up to its stated values of free intellectual inquiry, human rights, human flourishing, and 'knowledge for the world,' -- a quote from Hopkins' first president -- it cannot do so while assisting ICE agents."
Drew Daniels, an associate professor of English at Johns Hopkins, said he wrote the petition after he saw a tweet from the graduate student worker organization that made him aware of the university's partnership with ICE. Daniels said he plans to gather more signatures before delivering it to Hopkins's president before the start of the fall semester. As of late Monday afternoon he said there were 1,026 signatures, about three-quarters of which come from individuals who variously identify as Johns Hopkins students, alumni and faculty and staff members.
One of the students who signed the petition, Mira Wattal, an undergraduate math major who's involved with Students Against Private Police, a coalition of student groups that mobilized to counter the university's push to establish its own police department, described the university's relationship with ICE as an example of "Hopkins championing progressive values while going against those behind our backs. It's just part of this larger trend of militarization of college campuses that we're particularly concerned about."
"Johns Hopkins University faculty have longstanding service contracts with federal law enforcement agencies to provide education, training, and medical expertise," the university said in a statement. "The School of Education's Division of Public Safety Leadership has taught leadership and management courses and workshops to employees of police departments, law enforcement agencies and other public safety organizations at the local, state and federal levels for more than 20 years, including under a contract with the Department of Homeland Security that is open to U.S. Immigrations and Customs Enforcement and other DHS agencies. The School of Medicine's Center for Law Enforcement Medicine provides physician oversight and education for federal personnel who are cross-trained as paramedics and emergency medical technicians, including under contract with the U.S. Secret Service; the Bureau of Alcohol, Tobacco, Firearms and Explosives; the U.S. Marshals Service; and U.S. Immigrations and Customs Enforcement."
Northeastern University has a contract with ICE worth up to about $7.8 million, of which about $2.7 million has been allocated for what a government website describes as "exploratory methods mapping process services for big data sets." The university says the funds were received by a faculty member to study data related to the movement across borders of materials used in weapons of mass destruction.
The faculty member, Glenn L. Pierce, the director of Northeastern's Institute of Security and Public Policy and a principal research scientist in the School of Criminology and Criminal Justice, declined an interview request. Pierce referred a reporter to a recent Chronicle of Higher Education article about the research, in which he was quoted saying that the ICE-funded research relates to his analysis of data on "dual-use technologies" -- technologies that can have both military and commercial applications -- that are exported from the United States. Pierce told the Chronicle he looks for cases where such technologies are sent to countries or companies that the U.S. might find problematic.
Activists are still concerned. An online petition calling on the university to drop its contract with ICE states, flatly, "Having any kind of contract with ICE at this moment in history is irresponsible and immoral."
The Boston Globe reported that more than 100 people protested Northeastern's contract with ICE on the Boston campus earlier this month. The university reported that the number of protesters was smaller, at fewer than 50, while one of the organizers, Meghan Thomas, said the group of protesters indeed numbered around 100 and was made up of a mixture of law students, graduate students, undergraduate students and community activists. Thomas, a third-year law student, said the university needs to be more transparent about sharing information about the ICE contract.
"The central issue is that this money is coming from an organization that is abusing people on such a wide scale," said Thomas. "I think the university has some responsibility because of that plain fact to let us know about why these funds are so critical, if these funds could be taken somewhere else or taken from somebody else. There are lots of questions that are just being dismissed instead of dealt with."
In a written statement, a Northeastern spokeswoman, Renata Nyul, defended the contract with ICE on academic freedom-related grounds. "Our commitment to academic freedom goes beyond protecting what professors say; it also means allowing faculty members to freely pursue research funding in their fields of expertise," Nyul said. "Efforts to restrict which federal agencies a faculty member can approach for research funding are antithetical to academic freedom."
A search of a government database shows three other universities or university systems with active contracts with ICE, though two of the three -- the University of Alabama at Birmingham and the Vermont State Colleges -- said the contractual work is completed.
The University of Alabama at Birmingham has received $73,003 to date for its two-year contract with ICE, which officially expires in September. "UAB's Center for Information Assurance and Joint Forensics Research had a contract with the Homeland Security Investigations Cyber Crime Unit to aid in preventing harmful drugs -- both counterfeits and opioids -- from being smuggled into the country illegally," the university said in a statement. "We believe our digital forensics and criminal justice expertise was a valuable asset to HSI's efforts. Our contract has now ended and the investigations were closed."
The Vermont State Colleges has had multiple contracts with ICE in recent years, including a contract for $12,470 that officially ends this week. A statement from the president of Vermont Technical College, Patricia Moulton, said the college's Continuing Education and Workforce Development department contracted with ICE for work-force training in leadership and financial accounting. CORRECTION: An earlier version of this article misstated Moulton's title. It has been corrected.
"The contracts with DHS are exemplary of CEWD's relationship as a service provider to many businesses, agencies, and organizations for the development of their incumbent employees," Moulton said. "Providing leadership and financial accounting training to the employees of the U.S. Immigration and Customs Enforcement falls within the scope of the college's value to the state in providing workforce training and development to the people of Vermont and the region." A spokeswoman said the college contracted with the ICE location based in Williston, Vt.
The University of Maryland at College Park also has a contract that will end in September with ICE for hazmat technician training. The contract is potentially worth just over $100,000, of which about half has been allocated so far.
A spokeswoman, Jessica Jennings, said the university's Maryland Fire and Rescue Institute conducts training programs for the U.S. military and for various federal agencies, including the Federal Bureau of Investigation, the Secret Service, the National Institute for Standards and Technology, and ICE. "This contract is for eight five-day, 40-hour safety training courses for customs officials to provide information on how to detect, identify and handle any hazardous substances entering the United States from abroad," she said.