You have /5 articles left.
Sign up for a free account or log in.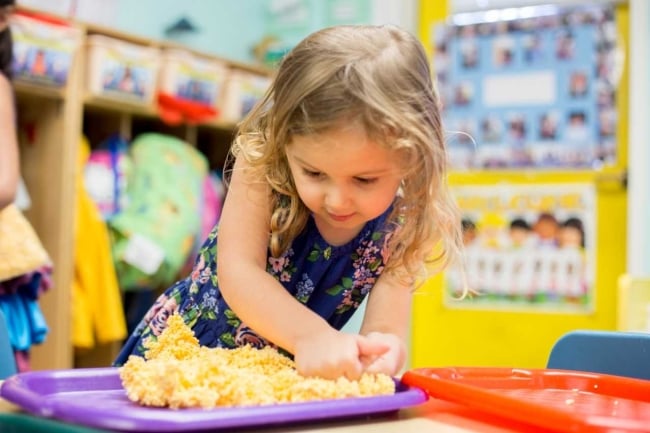 University of Houston Children's Learning Centers
Most mornings Kylie Moss's routine runs like clockwork. She wakes up, makes breakfast, and gets her son, Levi, ready for day care.
Occasionally, though, her 5-year-old has a "morning meltdown" that delays them a bit, but they eventually get things together before the start of their 30-minute commute to the University of Houston's main campus, where Moss drops Levi off at the Children's Learning Centers before going to class or to her part-time job at an oil company.
Like millions of students across the country, Moss, a 21-year-old mechanical engineering major at the university, is also a parent. And on-campus childcare providers like the one at the university enable Moss and students like her to go to college and hopefully complete her studies and earn a degree.
"Before we enrolled here, it was impossible for me to participate in group projects because I would have to run home … and pick him up from day care and then just study at home because [the day-care center] was so far away," Moss said.
On-campus childcare isn't just convenient for Moss and many other student-parents -- it's also affordable. More than 70 percent of the university's student-parents are enrolled in some form of childcare program subsidized through tuition assistance, the majority of which is from the federal Child Care Access Means Parents in School program (CCAMPIS). The program provides grants to colleges that support childcare on campus and helps about 5,000 student-parents nationwide, although that number is expected to increase with increased funding.
Rates at the Houston childcare facilities, which serves children aged 3 months to 5 years old, are $290 a week for infants, $240 a week for toddlers and $200 a week for preschoolers. Student-parents can receive up to a 60 percent discount in childcare costs depending on their need, said Jennifer Skopal, director of the centers, which have the capacity to serve about 221 children.
The Houston childcare service is one of about 85 across the country that will see an increase in CCAMPIS funding after Congress approved increased appropriations in March. The CCAMPIS grant is awarded in four-year cycles, and Houston will receive $559,000 a year for the 2018-2022 cycle -- about $185,000 more than they received in 2014.
"We hope to provide larger tuition assistance and funding for our student-parents," Skopal said, adding that they are considering increasing the discount to above 60 percent for low-income student families.
The childcare centers, which have two locations on campus, are also used by faculty, but about 50 percent of the clients are students and their children, who receive priority enrollment, Skopal said. The centers are also nationally accredited by the National Association for the Education of Young Children and AdvancedED, an accreditor for elementary and high schools.
"Parents who have a 10 a.m. class may bring them in at 8 a.m. and spend that extra time studying or going to work groups or using resources we have on campus," she said. "We do have two accreditations and offer high-quality care, so for them to be able to afford that and access that is huge. Not only are they receiving quality education by attending the University of Houston, but their children are leaving our [centers] school ready."
Moss, who is a junior at the university and a single mom, said although raising her son, juggling a job and going to college is tough, she's staying focused on the long-term benefits.
"It'll be worth it," she said. "Not just for bettering my life but to make sure he has a good life, too."
Despite the importance of on-campus childcare facilities to student-parents, there has been a decline in the number of campuses that offer them as a resource, said Lindsey Reichlin Cruse, a senior research associate at the Institute for Women's Policy Research.
In 2015, less than half of four-year public colleges provided campus childcare, down from 55 percent in 2005, according to IWPR. And the share of community colleges with a childcare center declined from 53 percent in 2004 to 44 percent in 2015.
"It's expensive to provide and institutions often don't see providing childcare in the vein of their academic priorities or academic mission, but it's absolutely in line with their mission and it's probably the most important support for parenting college students to stay in school and graduate," Reichlin Cruse said.
Student-parents are also more likely to live in poverty, be single mothers or people of color, she said.
"If we care about improving [racial] equity and broader economic security … we have to be paying attention to this population," Reichlin Cruse said. "Half of independent students have kids. We have to adapt our higher education system to meet their needs."