You have /5 articles left.
Sign up for a free account or log in.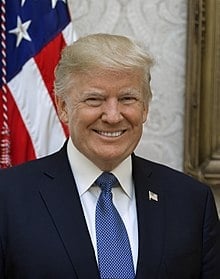 President Trump characterized the vast majority of Chinese students in the U.S. as spies during a dinner Tuesday night with CEOs at his private golf club in New Jersey, according to a report in Politico.
According to the report, which quoted an unnamed attendee:
At one point during the dinner, Trump noted of an unnamed country that the attendee said was clearly China, "almost every student that comes over to this country is a spy."
The White House declined Politico's request for comment. An account of the dinner from CNN is much more mild, noting that during the dinner "Trump expressed concern that some foreign students were acting as foreign agents, particularly from China, according to one of the attendees."
There are more than 350,000 Chinese students studying at U.S. universities -- the largest group of international students by far -- and Chinese students earned about 10 percent of all doctorates awarded by American universities in 2016.
"Generations of foreign policy leaders agree that international students and scholars are one of America's greatest foreign policy assets," Jill Welch, NAFSA's deputy executive director for public policy, said in a statement about what the president reportedly said. "Blanket generalizations about students from any country will undoubtedly make international students think twice before choosing the United States as their destination. If students, particularly from strategic regions around the world, no longer come here, America will lose the ability to build relationships with future leaders abroad and strengthen our own national security."
"Chinese students contribute $12 billion to the U.S. economy, alongside countless other benefits, so even a modest reduction in Chinese enrollment would be devastating, and virtually every community in America would feel the impact if Chinese students decided not to study in the United States," Welch added. "To make America more secure and welcoming to international students and scholars the president must avoid unwelcoming rhetoric and policies. We are already in a global competition for talent, and students around the world pay close attention to the policies and rhetoric emanating from the White House. In order to avoid a further chilling effect in the United States, it is incumbent upon policy leaders to act boldly and decisively to let students know that they are welcome here and that we value their contributions."
This is not the first time in recent months concerns have been raised about rhetoric or policies that would broadly tar Chinese students as potential spies, as conversations about economic espionage and efforts by foreign adversaries to take advantage of the openness of academia to gain information of commercial or military value have taken on new urgency in Washington.
The director of the Federal Bureau of Investigation, Christopher Wray, told a Senate panel in February that academe is naïve about the counterintelligence threats posed by Chinese students and scholars and that the "China threat" is "a whole-of-society threat on their end" that's "going to take a whole-of-society response."
In May, the Associated Press reported that a new policy going into effect June 11 would limit Chinese graduate students in certain high-tech fields to one-year visas -- instead of the usual five -- due to concerns about intellectual property theft. A State Department official subsequently confirmed the broad outlines of the visa changes at a June Senate subcommittee hearing titled "Student Visa Integrity: Protecting Educational Opportunity and National Security." The hearing's name was changed; it originally bore the title "A Thousand Talents: China's Campaign to Infiltrate and Exploit U.S. Academia."
In remarks at the June hearing, Joseph G. Morosco, the assistant director of the Office of the National Manager for Counterintelligence in the National Counterintelligence and Security Center, said that the government's "counterintelligence concern with respect to China is not driven by race or ethnicity of the students that are in the United States. Our counterintelligence concern is driven by the fact that China has a publicly stated policy goal of acquiring sensitive information and technology around the world, to include here in the United States, and that they seek [to] access and recruit global experts regardless of their nationality to meet their science and technology aims."
Also speaking at the Senate subcommittee hearing, E. W. Priestap, the assistant director of the FBI's Counterintelligence Division, added that for some of the reasons Morosco mentioned, a "disproportionate number" of the economic espionage cases the FBI sees involve Chinese nationals.
Despite intelligence officials raising these concerns, none have suggested that most Chinese students represent a threat to the United States.
Congresswoman Judy Chu, a Democrat from California and chair of the Congressional Asian Pacific American Caucus, said in a statement she was "outraged" that the president would "paint an entire ethnic group as spies."
"National security concerns must be taken seriously, but with his words, the president slanders whole groups of people, potentially causing harm to those who've done no wrong," Congresswoman Chu said in a written statement provided to Inside Higher Ed. "His careless words feed into stereotypes that endanger Chinese and Asian American students. Our own economic future could be at risk as these actions discourage these students from entering STEM fields for fear they'll be targeted for the crime of studying while Asian. We've seen where this kind of prejudice can lead, including the cases of Chinese American scientists Sherry Chen and Professor Xioxing Xi, whose lives were upended when they were wrongfully accused of being spies for China. Instead of slurring entire ethnic groups, the president should focus on actual solutions that make the whole country better off."
The Politico report on Trump's Tuesday night dinner also noted that at one point he asked the attendees for advice on how to solve the student loan crisis. And he reportedly expressed interest in immigration policies that would retain top-performing international students after they graduate. According to the Politico report:
Twice during the dinner, Trump yelled over to Chris Liddell, a deputy chief of staff in attendance, and told him to prepare an executive order for Monday that would allow top performers in schools, who he called "first in their class," to stay in the country for at least five years on a visa, the attendee said.