You have /5 articles left.
Sign up for a free account or log in.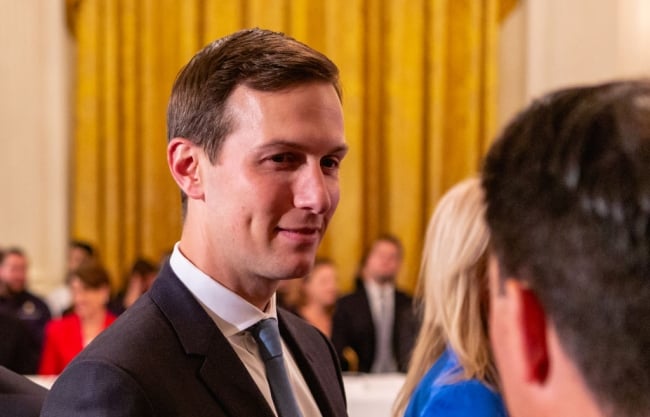 As the Department of Education refines the next phase of its higher education agenda, the White House is apparently weighing in on the new policy direction.
The special office headed by Jared Kushner, a senior adviser to and the son-in-law of President Trump, held a meeting last week with officials from the department, outside higher ed groups and funders of postsecondary research, with accreditation at the center of discussions. The topic reflects the focus of a new round of rule making recently announced by the department, which wants to rethink the role of accreditors as gatekeepers of federal student aid.
The meeting, one of several to take place recently, also signals a closer interest in higher education policy by the White House, which for the first year and a half of the Trump administration has largely limited its interest in postsecondary policy to work-force training issues like apprenticeships.
Among those in attendance at the meeting last week were Diane Auer Jones, the top higher ed official at the Department of Education; Michael Poliakoff, president of the American Council of Trustees and Alumni; and a representative from Strada Education Network, a nonprofit that uses philanthropic investments to identify improved pathways from education to employment.
A spokeswoman for the department confirmed that the White House had held a series of recent meetings focused on higher education and that department officials have been at the table for each.
Lucia Weathers, a spokeswoman for Strada, said the nonprofit was invited to participate in a small group discussion by the White House Office of American Innovation, which Kushner directs. Because the discussion itself was off the record, she said Strada could not share details about the talks.
"We were honored to contribute to a meaningful dialogue focused on innovative ways to improve higher education outcomes for students," she said.
The White House launched the Office of American Innovation last year to make recommendations to the president on policies spanning a broad range of objectives -- among them, improving government services, addressing quality of life issues and boosting job creation. President Trump appointed Kushner to lead the effort, one of several domestic and foreign policy initiatives he was tasked with handling early in the administration.
Ivanka Trump, a special adviser to the president and Kushner's wife, recently made passage of an update to the Perkins Career and Technical Education law a priority, personally lobbying members of Congress. But White House advocacy so far hasn't extended far beyond alternatives to traditional higher ed programs. That contrasts with the Obama administration, which saw many signature higher ed policies originate with the White House, including the push for a college rankings system, which was said to have been pushed directly by the president and his wife.
Dan Madzelan, an associate vice president for government relations at the American Council on Education, said the involvement in higher ed policy is a departure for this White House.
"We think this could be significant given that, you know, it's taken them a year and a half to speak to this," he said.
The White House did not respond to a request for information on the full list of attendees or the focus of the meeting. But the attendees present to some degree were revealing of the tenor and direction of discussions, suggesting a more critical stance toward higher education's approach to quality control.
Strada, when it was still known as USA Funds, was involved in efforts along with the U.S. Chamber of Commerce Foundation to push for incorporating more business interests into accreditation. A set of recommendations produced by the two groups would have pressed accredited institutions to demonstrate their success in metrics relevant to employers.
And Poliakoff, notably, has spoken negatively about higher ed accreditation. His predecessor and ACTA's founder, Anne Neal, has been a persistent and vocal critic of accreditation for many years. A spokesman for the American Council of Trustees and Alumni said he spoke about the urgent need for accreditation reform, citing what he called overreach into the intellectual and religious mission of institutions.
The Department of Education took a somewhat different tone toward accreditation in the notice of proposed rule making it released last week. In an interview with Inside Higher Ed, Jones said that accreditors bear too much of the burden to oversee the quality of colleges and universities. The department, she said, wants to clearly delineate a more limited role for the oversight bodies.
Judith Eaton, president of the Council for Higher Education Accreditation, said she could not comment on the White House meetings as her group wasn't involved in them. But she said it was clear that both Congress and the Department of Education are taking an interest in a comprehensive look at the role of accreditation.
"What we're hearing from both is retaining accreditation but with a continued interest in more accountability, more evidence of performance, more transparency -- and [doing] those things in the interest of protecting students and in the interest of exploring innovation in a responsible way," she said.